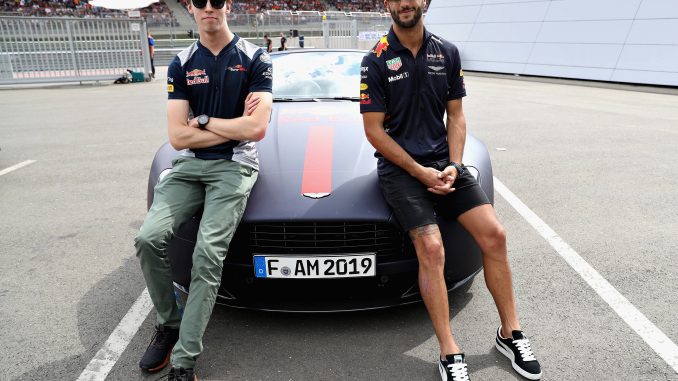 Daniil Kvyat finds himself without a drive for the 2018 Formula 1 season after being dropped by Toro Rosso and the Red Bull family earlier this year. The Russian has completed just under 4 years in F1, securing two podiums and 133 points in his 72 starts.
Many have predicted Kvyat's departure from the Red Bull program will be the end of his F1 career, but former Red Bull teammate Daniel Ricciardo is one of the few backing him to return. The Australian has given quotes to Russian news agency Tass describing the 23-year-old as "very talented", and claims a season away from the sport could do him good. In their only full season as teammates in F1, it was Kvyat who got the better of Ricciardo, finishing three points ahead of the Honey Badger in the drivers' championship, mainly down to an impressive drive at the Hungarian Grand Prix which saw him finish second. In the 14 races they both finished in 2015, Kvyat was the higher-placed driver eight times. Of course, Ricciardo's comments should be taken in context – they were given to a Russian news agency, he was hardly going to be critical of the country's most successful F1 driver, and if Kvyat does return he's unlikely to be challenging Ricciardo for a drive – there was no reason for him to be anything other than complimentary.
But could we really see Kvyat back in 2019? His 2017 performances fell well short of the those by then-teammate Carlos Sainz, scraping just two ninth-placed finishes. Kvyat's season was hampered by clumsy errors, including colliding with his teammate at the British Grand Prix and ending the Singapore Grand Prix in the wall. Mistakes have been a problem for Kvyat throughout his career, resulting in him losing his seat with Red Bull last year. His demotion back to Toro Rosso came just days after the now infamous "torpedo" crash with Sebastian Vettel at the Russian Grand Prix. The frustrating thing about that incident was that it came just two weeks after he claimed his second career podium in China, having also tussled with the Ferrari driver there. On recent performances alone, it's hard to see a team taking a chance on him. On his day he can be brilliant, but over the last two seasons those days have been further and further apart. The Kvyat of 2017 was much more likely to give you a massive rebuild than a points finish, and that's a problem for those in the hotly-contested midfield battle.
Nothing is impossible in F1 though. This time last year, did you think you'd see Brendon Hartley in an F1 car? Thought not! The New Zealander came though the Red Bull young driver's program alongside the likes of Vettel, Ricciardo and Sebastien Buemi, but while they all got a chance in the Toro Rosso team, the opportunity just didn't fall for Hartley. Fast forward a few years, and he's WEC world champion, a Le Mans winner and a Superlicence holder just when Toro Rosso find themselves with a race seat going spare. The Red Bull Junior Team is looking a little sparse at the moment, with Dan Ticktum probably the next in line. At just 18 years old, and with only half a GP3 season under his belt, he needs more time. F2 driver Sean Gelael, who comes with substantial financial backing, has done some practices and tests with the team, but isn't officially part of the junior project. Should Hartley or Pierre Gasly move on after 2018, it wouldn't be beyond comprehension to see Kvyat back in the picture.  He was briefly linked with the vacant seat at Williams as well, but with the likes at Robert Kubica and Paul di Resta in the frame, that interest quickly ended.
If Ricciardo is right, and Kvyat can hit reset and return to F1 after a year off, he'll need to do something special to impress another team. Many former F1 drivers now race in Formula E, but few have done enough in that series to re-enter the F1 conversation. When Renault dropped Romain Grosjean early in his career, he went into the GT1 World Championship, which has since been replaced by the Blancpain GT Series Sprint Cup, while Kimi Raikkonen had stints in the World Rally Championship and NASCAR Camping World Truck series after leaving Ferrari in 2010. DTM has proved to be a popular option for those looking for an F1 seat, with Pascal Wehrlein and Paul di Resta among those to come from the German touring car series in recent years. Few drivers have been confirmed for the 2018 season, so that could be the best shop window for Kvyat, particularly as the calendar includes tracks that will already be familiar to the Russian racer. Regardless of what he does next, Kvyat has shown he has the raw pace to be a competitive driver, but he'll need to cut out the mistakes to earn his place back on the F1 grid.