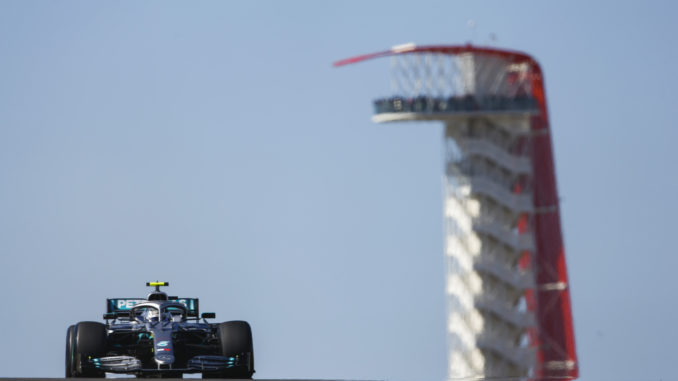 Valtteri Bottas will start at the front of the field for the 2019 United States Grand Prix at Circuit of the Americas after setting a new outright lap record in qualifying.
The Finn completed a lap of 1:32.029 to edge out Sebastian Vettel, while Max Verstappen completed the top three, and will start alongside Charles Leclerc on the second row.
Bottas's Mercedes teammate Lewis Hamilton starts 5th, his lowest start at COTA, after struggling to get the best out of his tyres in Q3.
Alexander Albon will be starting on a different tyre to those around him, having set his best time in Q2 on the soft tyre rather than the mediums – a strategy which helped Kimi Raikkonen to victory in Texas last year. The Red Bull rookie will need to make the most of starting on the fastest compound if he's to challenge for a podium though, after qualifying 6th.
Knowing he'll be starting at the back because of a penalty for missing the weight bridge in practice, Sergio Perez didn't push for a fast lap in Q1, just doing enough to ensure he set a time to satisfy the 107% rule.
Track evolution seemed to have a big impact towards the end of the first part of qualifying, with Lando Norris jumping to the top of the leaderboard, while Alfa Romeo missed out as they crossed the line ahead of their midfield rivals, allowing the likes of Haas and Toro Rosso to post quicker times as the circuit rubbered in.
Daniil Kvyat couldn't follow teammate Pierre Gasly into the top 10, but his efforts were hampered by Lewis Hamilton and Max Verstappen almost tripping over each other while vying for track position at the end of Q2, forcing the Toro Rosso driver to run wide to avoid contact.
Haas also lacked the pace to make it into the final part of qualifying at their home track, while Daniel Ricciardo was the only Renault driver making it through to Q3, as Nico Hulkenberg just missed out.
McLaren continue as the strongest team from the midfield, with Norris and Carlos Sainz taking the fourth row.
Provisional qualifying result:
1 Valtteri Bottas (Mercedes)
2. Sebastian Vettel (Ferrari)
3. Max Verstappen (Red Bull)
4. Charles Leclerc (Ferrari)
5. Lewis Hamilton (Mercedes)
6. Alexander Albon (Red Bull)
7. Carlos Sainz (McLaren)
8. Lando Norris (McLaren)
9. Daniel Ricciardo (Renault)
10. Pierre Gasly (Toro Rosso)
11. Nico Hulkenberg (Renault)
12. Kevin Magnussen (Haas)
13. Daniil Kvyat (Toro Rosso)
14. Lance Stroll (Racing Point)
15. Romain Grosjean (Haas)
16. Antonio Giovinazzi (Alfa Romeo)
17. Kimi Raikkonen (Alfa Romeo)
18. George Russell (Williams)
19. Sergio Perez (Racing Point)*
20. Robert Kubica (Williams)
*Perez has a penalty for failing to stop for the weight bridge, meaning he'll start at the back of the grid.