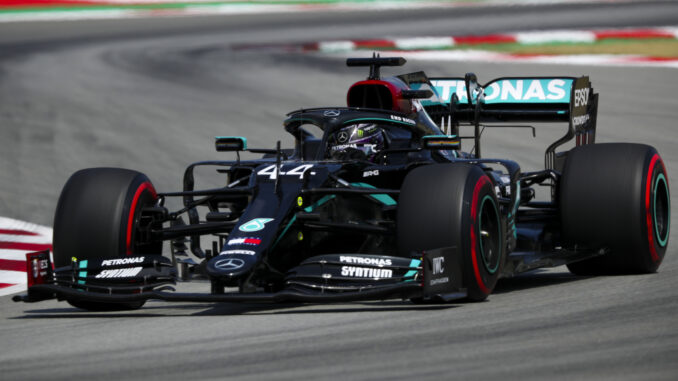 Lewis Hamilton put in a dominant performance to wrap up a comfortable victory at the Spanish Grand Prix, never losing the lead at Circuit de Catalunya.
Max Verstappen split the Mercedes cars, but lacked the pace to stay with Hamilton, while Valtteri Bottas recovered from a slow start to take the final spot on the podium.
Hamilton got away well, but it was Lance Stroll who made the best start, leapfrogging his teammate and Bottas going into the first corner, while Verstappen also picked up a place to move up to second.
Bottas needed five laps to get back ahead of the Canadian, while Verstappen remained close to Hamilton, but as the race leader upped the pace ahead of the first round of pitstops, he started to pull away from his rivals.
Alexander Albon was the first driver to stop, having struggled to clear the Racing Point drivers in fourth and fifth. Red Bull switched the Thai driver onto the hard tyre, which hadn't been favoured in practice.
Verstappen, having expressed his frustration over the condition of his tyres on the radio, followed a lap later, forcing Mercedes to react. A slow pitstop for Hamilton didn't have too much of an impact on his lead, but a strong outlap from Verstappen ensured that he stayed ahead of Bottas.
Midway through the race, dark clouds appeared around the circuit, with teams warning drivers there could be some rain towards the end of the race.
There was an issue for Charles Leclerc when his Ferrari's engine appeared to shutdown midcorner, sending him spinning and leaving him pointing the wrong way. He managed to get the car going again, but had to come into the pits as his seatbelt had come undone. Once the mechanics had given the car the once over, they decided to retire the car.
Bottas looked like he was starting to close the gap to Verstappen when Red Bull brought the Dutch driver in for his second pitstop. Again, Mercedes left their cars out longer, with the Red Bull car remaining in between the two Silver Arrows.
Sergio Perez and Daniil Kvyat both found themselves in trouble with the stewards after being found to have ignored blue flags, resulting in a five-second time penalty for the Mexican and Russian respectively.
Romain Grosjean had a couple of near misses with both Alfa Romeo drivers as they passed the Haas driver late on, resulting in him also being investigated by the stewards.
With the rain missing the track, Bottas came in with two laps to go for a new set of tyres to ensure he wrapped up the extra point for setting the fastest lap of the race.
Stroll was classified fourth despite crossing the line in fifth place due to his teammate's time penalty, while Lando Norris held off late pressure from Daniel Ricciardo to secure the final place in the points.
Provisional classification:
1 Lewis Hamilton (Mercedes)
2. Max Verstappen (Red Bull)
3. Valtteri Bottas (Mercedes)
4. Lance Stroll (Racing Point)
5. Sergio Perez (Racing Point)
6. Carlos Sainz (McLaren)
7. Sebastian Vettel (Ferrari)
8. Alexander Albon (Red Bull)
9. Pierre Gasly (AlphaTauri)
10. Lando Norris (McLaren)
11. Daniel Ricciardo (Renault)
12. Daniil Kvyat (AlphaTauri)
13. Esteban Ocon (Renault)
14. Kimi Raikkonen (Alfa Romeo)
15. Kevin Magnussen (Haas)
16. Antonio Giovinazzi (Alfa Romeo)
17. George Russell (Williams)
18. Nicholas Latifi (Williams)
19. Romain Grosjean (Haas)
DNF:
Charles Leclerc (Ferrari)