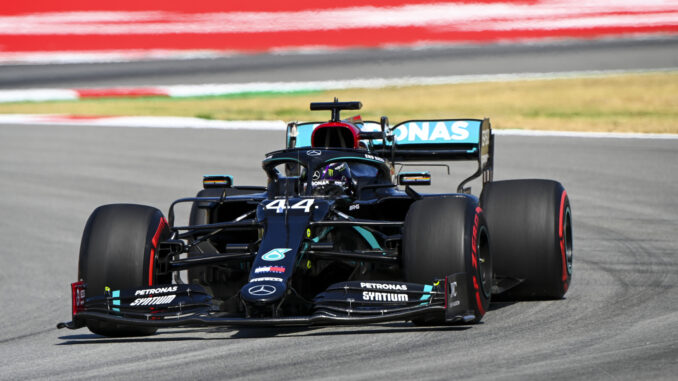 Lewis Hamilton will be at the front of the grid for Sunday's Spanish Grand Prix after narrowly beating teammate Valtteri Bottas in qualifying at Circuit de Catalunya.
The reigning champion was less than 0.06s faster than Bottas, who looked to be going faster towards the end of Q3, but a slow final sector cost him the chance to take pole position away from the Briton.
Max Verstappen edged ahead of the Racing Points, while both McLarens will be ahead of Charles Leclerc, who was the only driver to reach the top 10 shootout.
Alfa Romeo had a car in the second part of qualifying for the first time in 2020, as Kimi Raikkonen did just enough to escape the bottom five, but teammate Antonio Giovinazzi was the slowest in Q1.
The Finn will split the Renaults on the grid, with Esteban Ocon and Daniel Ricciardo both struggling to find pace, denying them a spot in the top 10 shootout.
Sebastian Vettel was also out in Q2, being pushed into the bottom five right at the end of the session as Pierre Gasly found a fast lap late on to deny the four-time champion.
After four straight races reaching Q2, George Russell missed on a spot in the second session, but remains unbeaten by a teammate in qualifying.
Provisional qualifying result:
1 Lewis Hamilton (Mercedes)
2. Valtteri Bottas (Mercedes)
3. Max Verstappen (Red Bull)
4. Sergio Perez (Racing Point)
5. Lance Stroll (Racing Point)
6. Alexander Albon (Red Bull)
7. Carlos Sainz (McLaren)
8. Lando Norris (McLaren)
9. Charles Leclerc (Ferrari)
10. Pierre Gasly (AlphaTauri)
11. Sebastian Vettel (Ferrari)
12. Daniil Kvyat (AlphaTauri)
13. Daniel Ricciardo (Renault)
14. Kimi Raikkonen (Alfa Romeo)
15. Esteban Ocon (Renault)
16. Kevin Magnussen (Haas)
17. Romain Grosjean (Haas)
18. George Russell (Williams)
19. Nicholas Latifi (Williams)
20. Antonio Giovinazzi (Alfa Romeo)