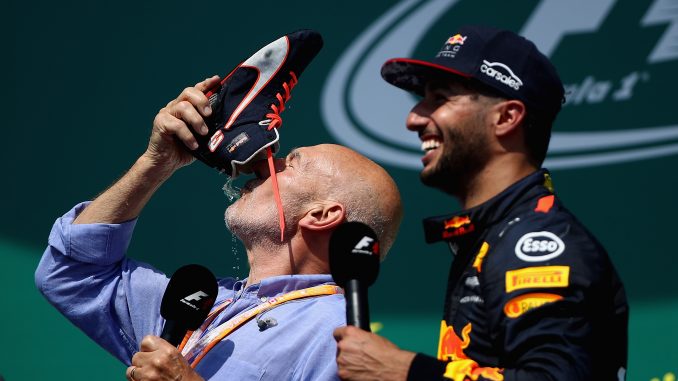 Podcast: Play in new window | Download
Subscribe: Apple Podcasts | RSS
Well that was the antidote to Monaco wasn't it! A great Canadian GP with racing all the way down the field (from 4th place anyway), some great defending, great passing, team intrigue and to cap it all, Sir Patrick Stewart sharing a shoey with Danny Ric on the podium!
This week on the podcast we take our usual look back this weekend's race in Montreal and what effect this is going to have on drivers and teams for the rest of this season. Lance Stroll has finally broken his duck and got in the points, so is this the start of him turning the corner? How are Force India going to manage their drivers after the team orders that weren't really orders but got ignored anyway and was there more to Fernando Alonso watching the last couple of laps from the crowd than just getting close to the fans? (We're good at wild speculation, so why stop now?)
There's a look at Robert Kubica's test in a 2012 car (a Lotus done up to look lie a Renault) and could the be the start of a serious comeback attempt by him after 6 years out after he nearly lost his right hand in the rallying accident in 2011.
There's also the week's Who's A Total Shunt with another theme tune from Chris (that he wouldn't be allowed to play in a guitar shop) and the Formula Lee results from Canada and the new challenge for Baku too.
Thanks as always for your Tweets, Emails & Facebook messages and don't forget there's an extra show that you can get access to by pledging on our Patreon Page too.
Enjoy
As always, you can listen here or on Sticher and iTunes and most other podcast apps too along with TuneIn Radio