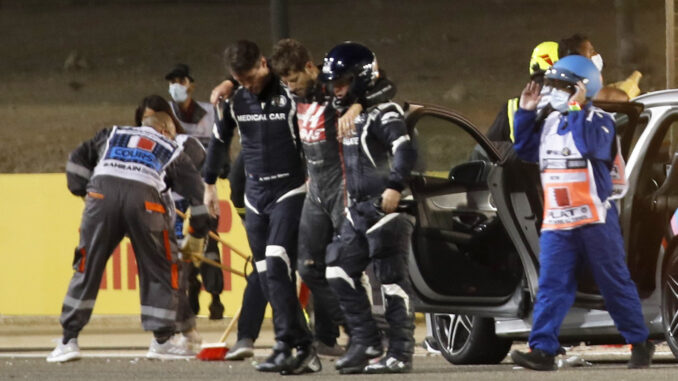 Podcast: Play in new window | Download
Subscribe: Apple Podcasts | RSS
We didn't do a show last week as there was very little to discuss, but Sunday's race in Bahrain more than made up for that. This week we're joined by Technical Guru Craig Scarborough (@ScarbsTech) to take us through the events of Romain Grosjean's horrific looking crash on the opening lap of the race and the safety improvements that we've seen in F1 over the recent years that meant he was able to walk away from it. Then there's the question of the race to look at which nearly gave Sergio Perez his first consecutive podium appearance, which was ruined for him in the closing stages by the rare event of problems with the Mercedes engine.
Also with this morning's news that Lewis Hamilton has tested positive for Covid-19 (get well soon champ) and Nikita Mazepin (Marzipan?) has singed for Haas for 2021, we though it was only right put in a jumpcut, which this week, we've just tacked on to the start of the show. Sorry about the audio quality
on that bit, but as you can probably guess we were a bit rushed today! There would have been predictions this week too, but for obvious reasons we're having a re-think on those, so we'll put them on the site later in the week, but you can still enter or change yours on our league page
As there was so much to talk through tonight we didn't have time for a Total Shunt, but there's plans for something over Christmas for that, and don't forget our Discord server where you can sign up for our iRacing league join in the chat during the races and practice/qualifying sessions along with during the week as well and of course you can keep in touch on Facebook & Twitter as always.
Stay Safe & Enjoy
As always, you can listen here or on Stitcher and iTunes and most other podcast apps too along with Spotify, Acast and TuneIn Radio on your smart speakers.