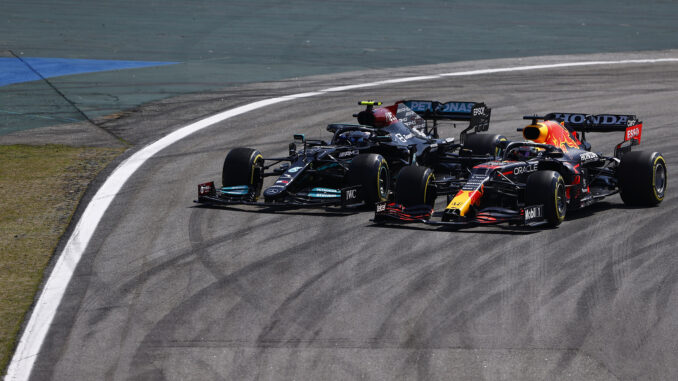 Podcast: Play in new window | Download
Subscribe: Apple Podcasts | RSS
Well that was a weekend in Brazil that will be talked about for a long time to come and may not be all sorted yet as the pod comes out. The newly renamed Sao Paolo City Grand Prix had it all from Friday qualifying with added wing poking, disqualifications, recovery drives up and down the grid and a win that nobody expected on Saturday morning, or possibly Friday for that matter.
This week on the podcast we have a go at unpicking all the events of the last race to feature a sprint in 2021, along with the last race on a circuit or configuration that the teams have actual race experience of too. There's the usual team by team review along with a load of discussion about the major talking points of the weekend along with trying to shoehorn the news that was available at the time in there. This was all recorded before the Tuesday news of Mercedes requesting a review of the turn 4 incident and Alfa Romeo confirming Guanyu Zhou this morning as well!
No shunt this week as we were running a bit long, but it's a 2 hour plus show so you'll probably not notice! But don't forget that we're running a team in Jimmy Broadbent's Race For Mental Health next month, full details and donations at https://www.justgiving.com/fundraising/raceformentalhealth2021
And while you're online, check out our Discord server where you can sign up for our iRacing league as well as joining in with all the chat on there and you can keep in touch on Facebook & Twitter as always.
Enjoy
As always, you can listen here or on Stitcher and iTunes and most other podcast apps too along with Spotify, Acast and TuneIn Radio on your smart speakers.