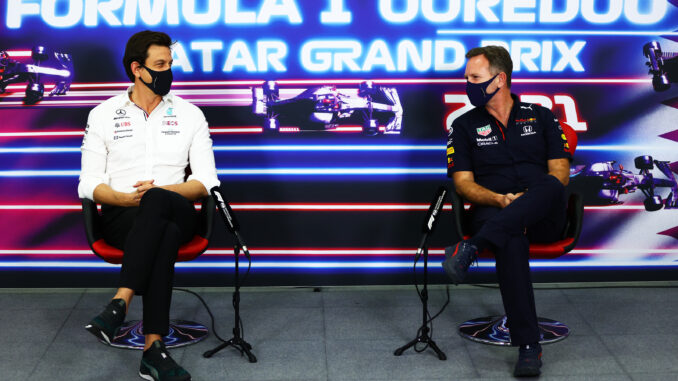 Podcast: Play in new window | Download
Subscribe: Apple Podcasts | RSS
Another Grand Prix and another aero related controversy. This time it was all over the question about some suspect markings on the Mercedes rear wings. Once again the battle between the 2 main antagonists (not the drivers) threatened to overshadow the debut of the Qatar Grand Prix. We needed to look at what's been going on in a bit more depth, so once again this week we're joined by our resident technical expert Craig Scarborough
This week on the podcast we do our usual look back the the most recent race from the back to the front, but with more of a technical slant as Scarbs takes us through how the teams have developed their cars this season (except Haas, who haven't) and how things are looking for their prospects for next year.
Bit of a cut down team as well as being a couple of days late this week thanks to work and illness, but after a this weekend's race we really had to talk about all the F1 issues at the moment ahead of the end of season showdowns in Saudi Arabia & Abu Dhabi next month. Also as we didn't have chance to do a shunt this week, there's a competition with an actual prize and you can win a copy of Maurice Hamilton's new book Murray Walker: Incredible! So listen out for that
And while you're online, check out our Discord server where you can sign up for our iRacing league as well as joining in with all the chat on there and you can keep in touch on Facebook & Twitter as always.
Enjoy
As always, you can listen here or on Stitcher and iTunes and most other podcast apps too along with Spotify, Acast and TuneIn Radio on your smart speakers.