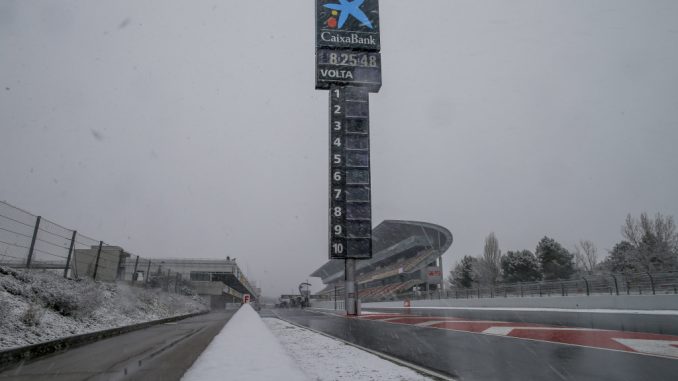 Pre-season testing for the 2019 Formula 1 season could be moved to Bahrain to avoid a repeat of the wintry conditions experienced in Barcelona this year.
F1 teams are reportedly discussing a proposal to relocate the two four-day tests to the Bahrain International Circuit in Sakhir, which hosts the Bahrain Grand Prix. Bahrain's climate would all but guarantee four continuous days of running of dry and hot conditions, whereas Barcelona's weather often varies in February.
The track previously hosted pre-season testing between 2006 and 2009, as well as in 2014, but some teams have raised concerns about the additional cost of getting to the Arab nation instead of a circuit in Europe.
Snow limited running at Circuit de Catalunya in February, resulting in speculation at the time that F1 could introduce a test at a circuit less likely to be affected by such conditions. Haas team principal Guenther Steiner was among a number of figures to speak out about the idea though, insisting the extra cost of travelling to Bahrain would harm the smaller teams, and Sakhir is too far away from the teams factories for new parts to be delivered overnight. F1 bosses would consider contributing to the cost of shipping freight to Bahrain, which could make the move more attractive to the teams.
Testing at Barcelona this year was also affected by the track being resurfaced just a few weeks ahead of the first event. The new surface, which was added at the request of Moto GP, resulted in blistering which forced Pirelli to use tyres with a thinner tread for the Spanish Grand Prix at the same venue.
Red Bull's Daniel Ricciardo was among those to question F1's decision to hold testing in Barcelona this year, bemoaning the fact that data the teams collected from the event wouldn't be representative of conditions teams would experience during a Grand Prix. In 2014, when Bahrain was last used for pre-season testing, a test was also held at Jerez, giving teams one test where they could readily ship out new and replacement parts, while still guaranteeing the teams got plenty of running at Bahrain.
Testing is expected to start earlier next year due to the Australian Grand Prix taking place a week earlier than in 2018. As well as Barcelona being a week further from summer, it also means teams won't have as long to prepare their cars for the new season, making it even more vital they get enough track time in pre-season testing to smooth out any issues. F1 are also reported to be keen on making testing more media accessible, preventing teams from hiding cars behind screens or closing garage doors when they're not on the track.