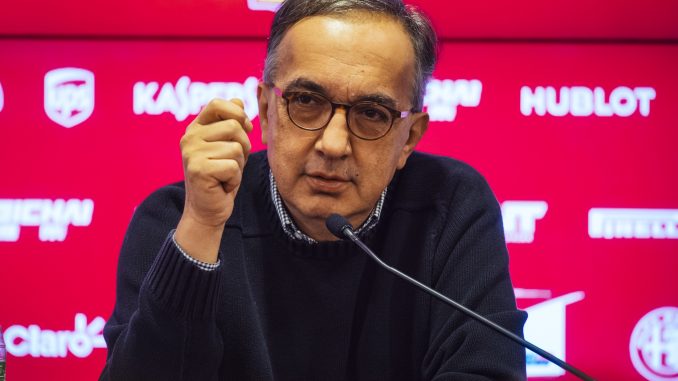 The former CEO of Ferrari, Sergio Marchionne, has died just days after his successor was appointed.
The company announced the 66-year-old's death this morning, having revealed at the weekend that his health meant he would no longer be able to continue his roles with Ferrari and Fiat. Marchionne had been receiving treatment at the University Hospital of Zurich in Switzerland.
John Elkann, who replaced Marchionne as chairman of Ferrari, said: "Unfortunately what we feared has come to pass. Sergio Marchionne, man and friend, is gone."
Elkann also paid tribute to Marchionne at the weekend when he took over the role, saying: "He taught us to think differently and to have the courage to change, often in unconventional ways, always acting with a sense of responsibility for the companies and their people. He taught us that the only question that's worth asking oneself at the end of every day is whether we have been able to change something for the better, whether we have been able to make a difference."
In a statement issued following this morning's news, Formula 1 CEO Chase Carey said: "We are deeply saddened by the passing of Sergio Marchionne. He was a great leader of not just Formula 1 and the automobile world, but the business world overall. He led with great passion, energy and insight, and inspired all around him. His contributions to Formula 1 are immeasurable. He was also a true friend to all of us and he will be deeply missed. At this difficult time we extend our deepest sympathies to his family, friends and colleagues."
A statement announcing Marchionne's departure from the company last week cited complications following shoulder surgery as the reason for his exit. The Italian media reported he'd been left in a coma as a result of the operation.
Marchionne took up his role at Fiat in 2004 before overseeing its merger with Chrysler in 2009, when he was named CEO of the group. He was named president of Ferrari towards the end of the 2014 Formula 1 season and brought in Maurizio Arrivabene as Team Principal, with the pair replacing Luca di Montezemolo and Marco Mattiacci. Arrivabene dedicated Sebastian Vettel's pole position at last weekend's German Grand Prix to the outgoing CEO.