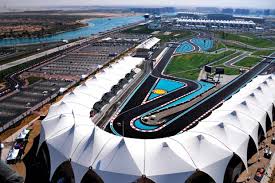 The "Duel in the Desert", the "Sunset Showdown", the "Twilight Tussle". Whatever alliteration you want to use to name it, the 2014 season comes to a head at the Yas Marina circuit this Sunday with the headline act being the World Championship. Starting in the late afternoon in the middle eastern province, racing through a breathtaking sunset with the sky swirling with reds, oranges and purples before the spotlights take over and the race finishes under the darkness of the night.
Night races are nothing new in Formula One, Singapore has been a night race since it joined the calendar in 2008, and this season the Bahrain GP was also held under spotlights.  The Abu Dhabi twilight race (nothing to do with the series of vampire movies) has been on the calendar since 2009, and also closed the season off in 2010, when Sebastian Vettel won his first title. Interlagos has been used to being the season's bookend for the last few years, but when it comes to scenery and visuals alone, none are more dramatic than Abu Dhabi.
The circuit has some unique points that when all put together, should produce quite the spectacle. The start line is surrounded by towering stands and huge pit buildings, almost enveloping the start/finish straight in a tunnel. The pits are on the outside of the circuit, but the exit lane is a sharp turn that crosses underneath the circuit and joins the inside of the circuit on the exit of the high speed turn 2. By then it's a mad rush into the next stadium section where turns 4 & 5 are a chicane and 6 a hairpin, again steeped on one side by a giant grandstand, providing fans with an excellent view as the cars tear off down one of the longest straights in world motorsport.
Another chicane, another long straight and then it's into the Monaco-style harbour hugging section, where tight bends close to steel barriers are followed by dashing under the massive hotel and back around the giant structures of the start/finish straight. Make no mistake, this is an entirely purpose built complex, designed to provide the ultimate experience for all involved in Formula One. This might sound like an advertisement article for Abu Dhabi, and it is one of the Grands Prix I would love to travel to, but this is where it stops.
In 2010, when the season ended there with four drivers able to take the title, everyone carefully trotted around, trying so hard not to cause any damage to their cars or their rubber, because it's such a long lap that any pit stop is likely to be a long, long way away. Alonso was favourite to take the title, but he got stuck behind Vitaly Petrov's Renault, who had nothing to lose and went with a more aggressive set-up. Alonso's decision to go for a safer, more stable set-up proved to be his undoing as Sebastian Vettel comfortably won the race – and the championship.
The same goes for teams fighting to hold on to 3rd or 4th in the constructors, or desperate to hold on to the lucrative 10th place. Everyone seems to play it safe, no one goes for the jugular, because there is too much at stake at a circuit where you really can lose it all. But if it's early enough you can make gains back. In 2012 Sebastian Vettel started from the pit lane and finished 3rd. That was the infamous race that Kimi Raikkonen won for Lotus, when he inherited the lead from the retiring Lewis Hamilton his race engineer got a bit nervous, leading to the "Leave me alone, I know what I'm doing" radio rant.
Pre-DRS, the race featured little overtaking, despite it's very long straights. This is one circuit where it definitely helps cars catch their competitors. So for anyone out front, building a gap of more than a second is going to be paramount. Tyres take a bit of a battering on the kerbs in the slower sections, and also under heavy braking. The big one to watch for though is the engines. Everyone will be running on worn parts of their power units, and they will be under strain through great periods of deceleration and acceleration. No one wants a power unit failure. Least of all Mercedes.
We all know what's at stake here; The World Drivers' Championship. Double points available, between two drivers from one team, in almost identical cars. Historically Lewis Hamilton has gone well at Abu Dhabi. He won the race in 2011. He was leading when his Mclaren gave up on him in 2012. That is something that if repeated this year, will almost certainly hand Nico Rosberg the title.
Permutations are available in an earlier post, but to keep it simple, Lewis needs to finish ahead of Nico, or if he doesn't, stay as close to him as he can. Could the possibility be there for a 2008 style dramatic end? I'm not sure anyone's ever won two World titles on a final corner. Nico can afford to go aggressive here, but Lewis will have to cover him off. The mind games are already underway, but how does each side of the garage approach the race?
I know in the past with Senna and Prost, it was suggested once by Prost that they go aggressive to start with in practice, so he knows where the limit is, then 'fake' it and make a mistake, pit instantly and create a drama that the setup was 'all over the place'. Then go out with a more passive setup, knowing that it was slower, luring Senna into a false sense of security that he was miles faster than his team mate. Then, when Saturday qualifying comes around, go to the aggressive set up, post the fastest time and knock your team mate for six by taking pole and the lead of the race early on. It puts the pressure on the guy who has to follow you, and we all know what happened at this particular race – Suzuka '88.
The world watches two Formula One races, even those who are not particularly fans of the sport. Monaco is one and the final race of the season; especially if it is a title decider is the other. Imagine the message it would send out for F1 2015 if the title was decided by a collision between the two rivals, with each one blaming the other? Surely this is Ecclestone's wet dream. TV audiences would multiply. Cue cameras cutting to Toto Wolff turning into the "Toto-nator" with furrowed brows and Lauda's steely eyes locked on the monitors, gently shaking his head.
We've seen a collision once this year, and they've managed to race closely without contact since. Respect is the key here, but in the last race of the season with so much on the table, who cares about respect? He who respects too much here could end up handing the title to his team mate.
Make no bones about it, Lewis Hamilton's 17 point lead has been well deserved with his performances in this latter half of the season. It took until Interlagos for Nico to get on the same plain as Lewis, but is it too little too late? He knows that if he sees "the other car" (as was referred to during Lewis' spin in Brazil) ahead of him on the podium that it's all over.
The general consensus of those close to the sport say that it's a pendulum event that will either go smoothly without much drama, or there will be a massive swing the other way, a incident and huge drama that will leave everyone on the edge of their seats and biting their nails for the majority of the afternoon. Either way, anything can happen in Formula One, and it usually does. (Thanks for that line Murray Walker!)
The better news for this Grand Prix that broke at the weekend was of course Caterham's announcement that they will race in Abu Dhabi. They've missed the last 2 races in USA and Brazil and I for one welcome the return of the green machine from Leafield. The team have confirmed Kamui Kobayashi will drive for them in the final race of the year, whilst talking to several other drivers who are interested in the vacant seat left by Marcus Ericsson who terminated his contract with immediate effect. I'd love to see Heikki Kovalainen back in but that's quite unrealistic I feel. A return for Giedo van der Garde is more likely. Administrator Finbarr O'Connell (brilliant name, by the way) has confirmed that he will be in Abu Dhabi to talk to a very interested party in taking over the team for 2015. Let's hope it goes well for the sake of everyone involved.
There are hushed rumblings amongst some that BMW are monitoring Honda's progress with Mclaren. If it's possible to compete having not been involved with the initial first generation of V6 turbo powered units, they may be tempted into a return. Also watching from afar are Ford, who may be tempted to invest again in Cosworth Engineering to get their F1 project back underway. Perhaps these are one of the parties interested in buying Caterham?
Either way, this is likely to be a very emotional weekend for the Oxfordshire based team. A real result of points would be treated here like they'd just won the World Championship. They'll settle for not being a lap down on the rest of the field, I feel. However, with safety cars a real possibilty at Abu Dhabi, anything could happen should a lucky pit stop be planned bang on time.
What of drivers that could be playing out their last moments in Formula One? Jenson Button's future in uncertain, although it looks as though he will give way to Fernando Alonso's impending arrival at Mclaren. Esteban Gutierrez was once described as "lightning fast" by Sauber, it just hasn't come to fruition for the young Mexican, who will be desperate to drive in Mexico next year. Adrian Sutil's been in the sport on and off since 07, is this his swansong? Contractual issues with Sauber make it look as though he's out of the door, too. Has Max Chilton raced his last race now that Marussia have folded? He was consistent, to be polite. It remains to be seen of course whether or not Manor will return in 2015; they have entered but have less than two weeks to provide the entry money.
Vettel and Alonso will do battle again this weekend, sadly though it's over 4th and 5th in the championship, with the German being just 2 points ahead of the Spaniard, and only 3 ahead of flying Finn Valtteri Bottas. Felipe Massa in 8th will be hoping to overturn an 8 point deficit to Jenson Button in 7th.  Meanwhile, either Sauber driver will be clamouring for points as they aim to continue their run of scoring in every season in existence since 1993. Elsewhere, there's little that is likely to change. Teams seem set in their constructors positions unless they have extremely good luck and both drivers on form.
Good luck is exactly what both Mercedes drivers will be hoping for come Sunday, if both drivers are on form we could see another classic battle under the desert night sky, although with so much at stake, I doubt we'll see scenes similar to what we all witnessed in Bahrain.