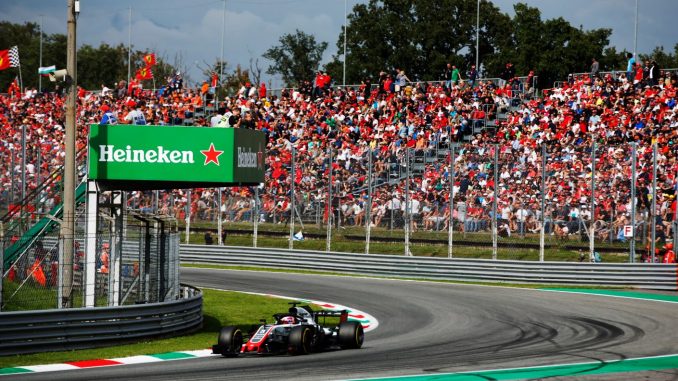 Formula 1 has confirmed Haas's appeal against Romain Grosjean's disqualification from the Italian Grand Prix won't be heard until November.
The hearing will take place at the FIA Court of Appeal in Paris on November 1st, almost two full months after the race at Monza. The appeal is scheduled for a couple of days after the Mexican Grand Prix, when just two races of the season will be remaining.
The Frenchman was initially classified sixth in Italy, but an appeal from Renault meant his car was excluded due to an illegal floor. The move meant Renault moved above Haas in the constructors standings, and there's still just 15 points between the two teams.
The FIA first raised concerns over the legality of Haas's floor at Silverstone, and instructed Haas to correct the issue prior to the Italian Grand Prix or leave themselves open to a challenge from another team. Haas contacted the sport's governing body to say it wouldn't be able to meet that deadline, instead suggesting it would be able to manufacturer replacements in time for the Singapore Grand Prix, but didn't receive a response to their email. As a result, Haas claim they thought their alternative deadline had been accepted.
In a statement released on F1's official website, Haas team principal Guenther Steiner said: "It's 50/50, it could go both ways. I would never say I am confident of winning it because you never know what it happening. We have no control on the decision, you can do the best you can with your lawyers and your technical people to explain what actually happened, the whole process and why we ended up where we were and why they got it wrong. But then again, I'm not on the Court of Appeal. I cannot decide, so I would say 50/50 so it could go both ways.
"You all saw what happened and all read more carefully than me the sentence and why it was done and checked the technical articles. What we did was appeal and then followed up on that appeal, because first you do an intent of appeal and then you do an appeal that you have to prepare for. That's at the beginning of November and we are getting prepared for that based on what we think was not correct in disqualifying us. I don't want to go into technicalities because it will have less effect in the Court of Appeal if play it out here."
If Grosjean's result is reinstated, he'd regain eight points, while Carlos Sainz, who is currently classified eighth from Italy, would drop to ninth and lose two points, cutting Renaut's advantage over Haas to just five points.