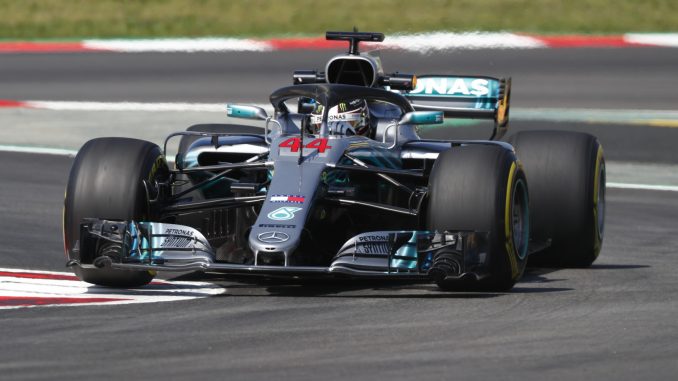 Mercedes secured a front-row lockout in qualifying at the Spanish Grand Prix as Lewis Hamilton set a new track record to start from pole position at tomorrow's race.
The reigning world champion set a lap time of 1:16.173, finishing just 0.1s ahead of teammate Valtteri Bottas, while the two Ferrari cars will start from the second row, ahead of the Red Bull duo.
Daniel Ricciardo and the Ferrari drivers tried to overhaul Hamilton's advantage after the first runs in Q3 by switching to the soft tyre instead of the supersofts, but he wasn't able to improve his time, while the Ferraris couldn't move ahead of Hamilton and Bottas.
Mercedes, Ferrari, Red Bull and Haas all got both of their cars through to Q3, but Fernando Alonso was the only McLaren driver to progress to the final part of qualifying as Stoffel Vandoorne narrrowly missed out on a spot in the top 10.
Force India saw an improvement in the last race, but looked off the pace in qualifying, dropping out in Q2, but Haas's Kevin Magnussen was back on form after a difficult time in Baku, beating his teammate to start from 7th tomorrow.
Brendon Hartley was unable to take part in qualifying after damaging his car in P3, leaving Toro Rosso with too much work to do to get the car ready, while Nico Hulkenberg was hindered by a fuel pressure problem, resulting in him being eliminated in Q1 for the first time since 2015. It'll be a big disappointment for Renault, who saw what their working car was capable of as Carlos Sainz qualified 9th.
Lance Stroll pushed hard to make it out of the first part of qualifying as the session expired, but ran wide coming out of turn 12 into the new gravel bed. Marcus Ericsson missed the chance to improve his time after running wide during Q1, but his teammate progressed, with Charles Leclerc qualifying 14th.
Provisional qualifying result:
1 Lewis Hamilton (Mercedes)
2. Valtteri Bottas (Mercedes)
3. Sebastian Vettel (Ferrari)
4. Kimi Raikkonen (Ferrari)
5. Max Verstappen (Red Bull)
6, Daniel Ricciardo (Red Bull)
7. Kevin Magnussen (Haas)
8. Fernando Alonso (McLaren)
9. Carlos Sainz (Renault)
10. Romain Grosjean (Haas)
11. Stoffel Vandoorne (McLaren)
12. Pierre Gasly (Toro Rosso)
13. Esteban Ocon (Force India)
14. Charles Leclerc (Alfa Romeo Sauber)
15. Sergio Perez (Force India)
16. Nico Hulkenberg (Renault)
17. Marcus Ericsson (Alfa Romeo Sauber)
18. Sergey Sirotkin (Williams)*
19. Lance Stroll (Williams)
20. Brendon Hartley (Toro Rosso)
*Sergey Sirotkin has a three-place grid penalty for causing a collision at the Azerbaijan Grand Prix