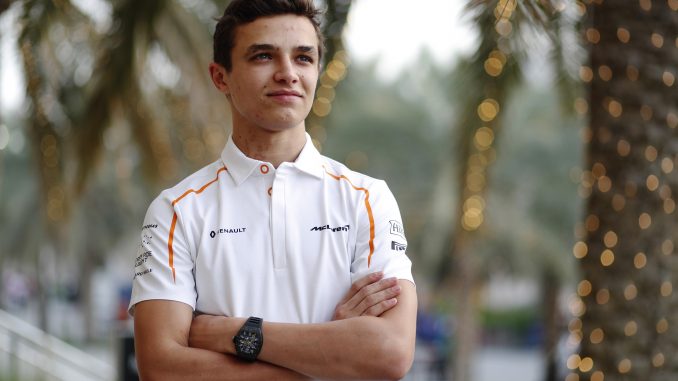 Brendon Hartley appears to be on borrowed time at Toro Rosso after it was reported the Red Bull sister team had approached McLaren over a loan deal for Lando Norris.
McLaren's reserve driver won the European Formula 3 championship last year and is leading F2 this year, as well as impressing during F1 tests at the Hungaroring and Circuit de Catalunya over the last year.
With Hartley sitting 18th in the drivers standings after the opening six rounds of the season with just one point, the New Zealander has quickly come under pressure in F1, with a host of other drivers linked to his seat in the last couple of weeks, including Pascal Wehrlein, Artem Markelov and Robert Kubica.
However, the Press Association has reported that McLaren turned down an offer from Toro Rosso to put Norris in F1 for the rest of the year starting at the Austrian Grand Prix, preferring to keep the 18-year-old in F2. Allowing Norris to join another team would give the teenager more experience should he be required to join F1 full time next year, but it would mean he wouldn't be as readily available for his duties with McLaren this year, and could also help Toro Rosso take points off the Woking team.
Hartley's return to the Red Bull family last year highlighted the lack of young drivers ready to step up to F1 in the Red Bull Junior Team. The current World Endurance Champion earned a second chance after failing to break through to F1 in his first stint with Red Bull, but has struggled to make an impact since his debut at the United States Grand Prix. He inherited a car that had run out of engine components last year, leaving him with a series of grid penalties, but has often looked off the pace compared with teammate Pierre Gasly in 2018. Hartley has also been involved in a couple of strange incidents, including one during qualifying in Azerbaijan where he nearly wiped out his teammate, and a heavy crash in FP3 at Spain which forced the team to replace every engine component in his car.
Sean Gelael has tested regularly with Toro Rosso over the last year, but he currently doesn't have enough points for superlicence. Dan Ticktum is currently the most experienced full time member of the Red Bull Junior Team. The British driver races in the Formula 3 European Championship won by Norris last year, but the FIA has changed the superlicence points structure from this year. Previously, winning that title would give a driver enough points to enter F1, but the championship is now only worth 30 of the 40 superlicence points needed, which could explain why Red Bull made the late decision to also enter Ticktum in a couple of rounds of Super Formula this year. Honda, Toro Rosso's engine supplier, has previously suggested it could look to put Tadasuke Makino or Nirei Fukuzumi in a Toro Rosso car next year, but that would be dependent on either of the F2 drivers doing enough to qualify for a superlicence, and would also mean Toro Rosso are stuck with their current lineup until next year.
With Fernando Alonso's future at McLaren uncertain and the jury still out on Stoffel Vandoorne, it's more than possible Norris will make his F1 debut with McLaren in 2019. If he spent the rest of the season with Toro Rosso and performs well, the Italian team could be tempted to try to buy him out of his contract with McLaren, potentially leaving McLaren short of a driver for next year. McLaren could also risk losing Norris to Red Bull if he really impressed at Toro Rosso with the possibility that Daniel Ricciardo will move on in 2019.