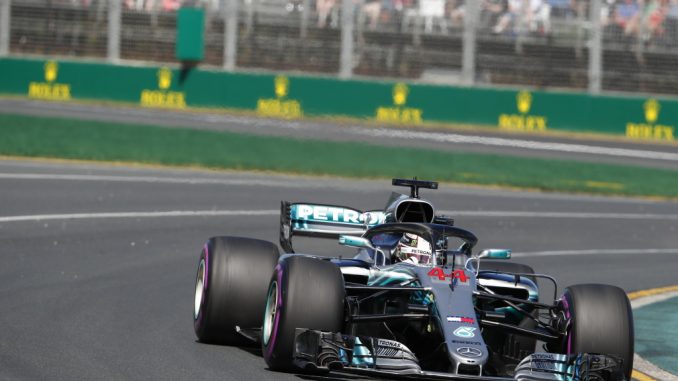 Lewis Hamilton will start from pole position at the season-opening Australian Grand Prix.
The reigning world champion set a time of 1:21.164, 0.6s faster than Kimi Raikkonen, who will be alongside Hamilton on the front row.
The Toro Rossos, Williams and Alfa Romeo Saubers battled at the bottom of the leaderboard in Q1, with a late push from Lance Stroll ensuring the Canadian was the lone driver from the three teams to progress. Pierre Gasly missed a chance to go quicker in the final seconds when he locked up, resulting in a trip through the gravel.
Renault and Force India's Q1 pace suggested they'd be in danger in the second part of qualifying, with Nico Hulkenberg running wide early on.  Hulkenberg and Carlos Sainz both found enough time to progress to Q3, but both Force Indias were eliminated, with Esteban Ocon claiming he was hampered by traffic. Ferrari and Mercedes had the stronger pace in the middle part of qualifying, but Red Bull stayed on the supersoft tyre, meaning Daniel Ricciardo and Max Verstappen will start the race on harder compound tyres than their nearest rivals.
Q3 had barely begun when it came to halt following a Valtteri Bottas crash. The Finn missed the apex at turn one before being thrown into the barrier coming out of turn two, smashing the rear and right side of his Mercedes and resulting in a red flag with just under 10 minutes of the session remaining.
When the action resumed, Hamilton was fastest after the first runs, narrowly beating Vettel. With a fresh set of tyres, the Briton was able to improve his time further, while Raikkonen managed to edge ahead of his teammate. Verstappen pushed hard in the closing moments, but ran wide on his final lap to prevent him moving forward.
With Ricciardo's grid penalty, the Haas drivers will both start on the third row tomorrow, with Kevin Magnussen getting the better of Romain Grosjean, while Hulkenberg won the qualifying battle at Renault despite managing just one timed lap in Q3.
Provisional qualifying result:
1  Lewis Hamilton (Mercedes)
2.  Kimi Raikkonen (Ferrari)
3. Sebastian Vettel (Ferrari)
4. Max Verstappen (Red Bull)
5. Daniel Ricciardo (Red Bull)*
6. Kevin Magnussen (Haas)
7. Romain Grosjean (Haas)
8. Nico Hulkenberg (Renault)
9. Carlos Sainz (Renault)
10. Valtteri Bottas (Mercedes)
11. Fernando Alonso (McLaren)
12. Stoffel Vandoorne (McLaren)
13. Sergio Perez (Force India)
14. Lance Stroll (Williams)
15. Estaban Ocon (Force India)
16. Brendon Hartley (Toro Rosso)
17. Marcus Ericsson (Alfa Romeo Sauber)
18. Charles Leclerc (Alfa Romeo Sauber)
19. Sergey Sirotkin (Williams)
20. Pierre Gasly (Toro Rosso)
*Ricciardo will drop back 3 places after picking up a grid penalty in practice