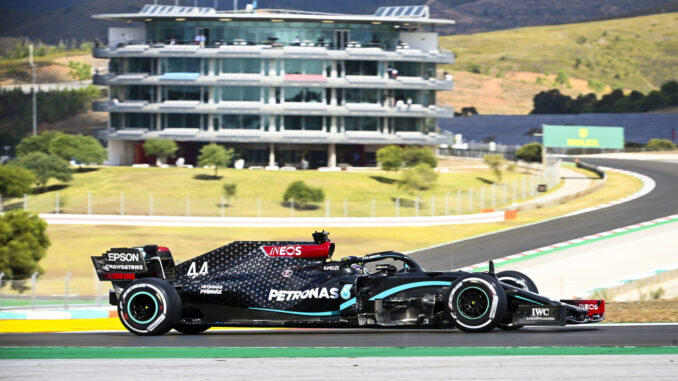 Lewis Hamilton will start the Portuguese Grand Prix from pole position after setting the fastest time in qualifying on Formula 1's first visit to Portimao.
There was a delay to the start of qualifying as repairs were needed on the track after a drain cover came loose towards the end of FP3, with several sections needing additional work to secure the metalwork.
Both Haas and Alfa Romeo drivers were out in the first session, along with Williams' Nicholas Latifi, but the Canadian's teammate George Russell put in a fast lap right at the end of the session to clinch a spot in Q2, beating 16th-placed Kimi Raikkonen's time by 0.27s.
Sebastian Vettel's qualifying struggles continued as he could only manage 15th, with Russell getting the better of him in Q2.
There was a late worry for Daniel Ricciardo in Q2 as he spun into the gravel at the end of the session, but he avoided beaching the car and managed to get back to the pits, having done just enough to secure a spot in the top 10 earlier in the session.
Having been fastest in every practice session, it was Valtteri Bottas who seemed to have the pace again at the start of Q3, but Hamilton went faster on his second run.
Bottas briefly regained the lead, but Hamilton had enough fuel for a second flying lap, beating the Finn by just over 0.1s, while Red Bull's Max Verstappen completed the top three.
Charles Leclerc and Sergio Perez, who previously raced at this track in GP2, both put in good times to get ahead of Alexander Albon, while the McLarens were just ahead of AlphaTauri's Pierre Gasly.
Renault pushed to repair Ricciardo's car after his off in Q2, but the team couldn't fix his rear wing in time, leaving him without a time in the final session.
Provisional qualifying result:
1 Lewis Hamilton (Mercedes)
2. Valtteri Bottas (Mercedes)
3. Max Verstappen (Red Bull)
4. Charles Leclerc (Ferrari)
5. Sergio Perez (Racing Point)
6. Alexander Albon (Red Bull)
7. Carlos Sainz (McLaren)
8. Lando Norris (McLaren)
9. Pierre Gasly (AlphaTauri)
10. Daniel Ricciardo (Renault)
11. Esteban Ocon (Renault)
12. Lance Stroll (Racing Point)
13. Daniil Kvyat (AlphaTauri)
14. George Russell (Williams)
15. Sebastian Vettel (Ferrari)
16. Kimi Raikkonen (Alfa Romeo)
17. Antonio Giovinazzi (Alfa Romeo)
18. Romain Grosjean (Haas)
19. Kevin Magnussen (Haas)
20. Nicholas Latifi (Williams)