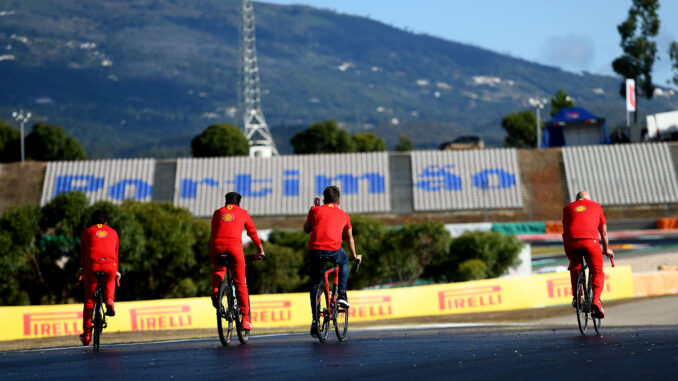 Podcast: Play in new window | Download
Subscribe: Apple Podcasts | RSS
Sorry we're a few days late with the pod again this week, but this having a life and being an adult business isn't what it's all cracked up to be. Anyway it worked out pretty well and saved us having to do one of our patented jumpcuts as we got some big Thursday News this week with the announcement that both Haas drivers, Romain Grosjean & Kevin Magnussen are to leave the team at the end of the season with no mention as yet as to who is going to replace them (that'll probably be Friday news just to spite us) nut it gives us a chance for some more wild speculation as to who we'll see in what car in 2021.
Also this week on the show we look forward to the debut race at the Algarve International Circuit at Portimao in Portugal. This marks F1's return to Portugal since the last race at Estoril in 1996. It's a trip to the mostly unknown for a lot of teams and drivers as the last time F1 was at this circuit for a test was 11 years ago in 2009! Also on the show we have a look at some of the other news stories doing the rounds with a change to the FIA Super Licence rules (another Thursday news story), the rumours of a 23 race calendar with a race in Saudi Arabia in 2021 and are Racing Point going to suffer any fallout after it was revealed that Lance Stroll did have Covid-19 along with his dad and team principle Lawrence?
There's all the usual tangents on the show as well with a Who's A Total Shunt (please send some backup ones as Lee's not on next week's show) and yet another pause on the Formula Lee sesaon (we'll get going properly sometime soon, promise) Don't forget our Discord server where you can sign up for our iRacing league join in the chat during the races and practice/qualifying sessions along with during the week as well and of course you can keep in touch on Facebook & Twitter as always .
There's some news on the Patreon campaign to get Chris to do a cover version of Womanizer by Britney Spears on next week's show when we'll reveal if we hit the target or not…
Enjoy (and we'll be back to normal next week)
As always, you can listen here or on Stitcher and iTunes and most other podcast apps too along with Spotify, Acast and TuneIn Radio on your smart speakers.