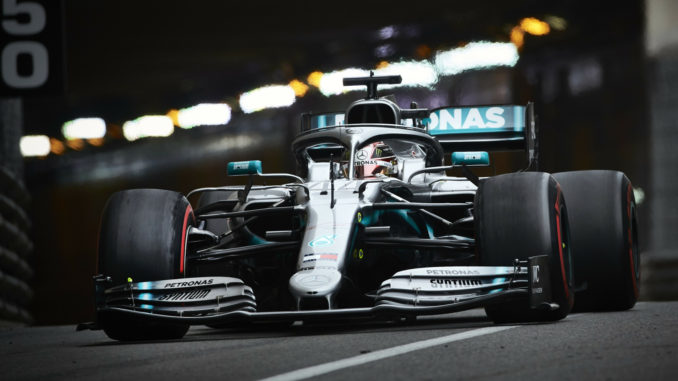 Lewis Hamilton has won the Monaco Grand Prix, despite struggling with worn tyres for much of the race, but Mercedes were unable to complete the 1-2 for the sixth straight race this season, with Sebastian Vettel splitting the Silver Arrows.
Charles Leclerc started towards the back of the field after a poor qualifying, but made good progress through the field in the opening few laps, climbing up to 12th.
He went for a pass to get ahead of Nico Hulkenberg, but clipped the barrier, leaving him with a puncture and floor damage. The tyre fell to pieces before the Monegasque driver got back to the pits, leaving debris strewn around the track.
As a result, the safety car was needed to give the marshals time to clear the track, giving the leaders the chance to come in for an early pitstop. However, with them all pitting at the same time, Max Verstappen was released into the path of Valtteri Bottas, with the two cars touching in the pitlane, resulting in a five-second time penalty for the Red Bull driver.
Once the safety car came in, Antonio Giovinazzi attempted to force his way past Robert Kubica, having been stuck behind the Williams driving since running wide on the opening lap. The two cars came together, blocking the track with Leclerc, George Russell and Nico Hulkenberg also caught up in the incident. The Alfa Romeo driver was found to be at fault, and given a 10-second penalty.
Ferrari pitted Leclerc again moments later, but brought the car back in after one more lap, with the damage from the puncture too great for Leclerc to continue, becoming the first retirement of the race.
Hamilton started to struggle with his tyres, letting Verstappen close the gap to the lead as rain started to fall around Monte Carlo.
Lance Stroll came under pressure in the midfield battle, colliding with Kimi Raikkonen before having to yield to the four front-runners as he was lapped in quick succession, picking up a time penalty in the process.
Verstappen continued to bear down on Hamilton in the final laps, and tried to overtake coming out of the tunnel, but ended up colliding with the rear of the Mercedes, giving Hamilton just enough of a lead to keep his car ahead.
Despite finishing second on the track, Verstappen's earlier time penalty dropped him back two places. Pierre Gasly set the fastest lap of the race after making a second pitstop lap on, securing an additional point.
For the first time this season, the Williams cars weren't the final two runners, with Russell avoiding most of the incidents to finish ahead of both Alfa Romeos and Lance Stroll, while Kubica was in front of Giovinazzi.
Provisional classification:
1 Lewis Hamilton (Mercedes)
2. Sebastian Vettel (Ferrari)
3. Valtteri Bottas (Mercedes)
4. Max Verstappen (Red Bull)*
5. Pierre Gasly (Red Bull)
6. Carlos Sainz (McLaren)
7. Daniil Kvyat (Toro Rosso)
8. Alexander Albon (Toro Rosso)
9. Daniel Ricciardo (Renault)
10. Romain Grosjean (Haas)**
11. Lando Norris (McLaren)
12. Kevin Magnussen (Haas)
13. Sergio Perez (Racing Point)
14. Nico Hulkenberg (Renault)
15. George Russell (Williams)
16. Lance Stroll (Racing Point)
17. Kimi Raikkonen (Alfa Romeo)
18. Robert Kubica (Williams)
19. Antonio Giovinazzi (Alfa Romeo)
DNF:
Charles Leclerc (Ferrari)
*Verstappen crossed the line 2nd but dropped to 4th due to a 5-second penalty for an unsafe release in the pitlane
**Grosjean crossed the line 9th but dropped to 10th due to a 5-second penalty for crossing the pitlane line too early