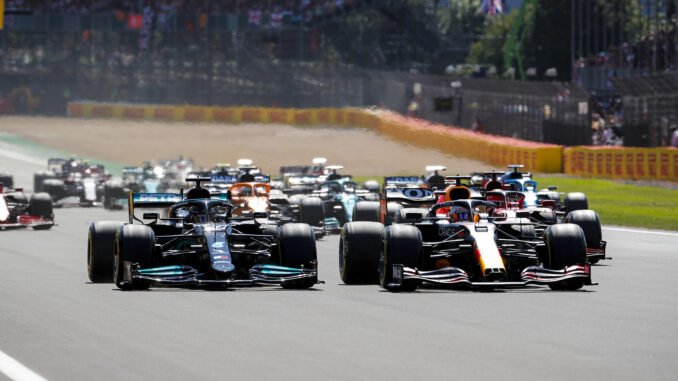 Lewis Hamilton ended Red Bull's five-race winning streak with victory at the British Grand Prix in Silverstone, despite a first-lap crash which ended championship rival Max Verstappen's race.
The Briton was joined on the podium by Charles Leclerc, who led for most of the race, while Valtteri Bottas completed the top three.
Verstappen and Hamilton went wheel to wheel on the opening lap, and came together, firing Verstappen at high speed into the tyre barrier.
Leclerc got the better of Valtteri Bottas off the line, and took over at the front of the field as the safety car was deployed, while Hamilton was able to continue despite having a damaged car.
The race had to be red flagged while the tyre barrier was repaired, while the stewards investigated the incident, finding Hamilton at fault and handing him a 10-second time penalty.
On the restart, Leclerc held off the challenge from Hamilton to hold on at the front of the field, while Lando Norris passed Bottas to move up to third.
After disappointment in the sprint, Sergio Perez started at the back of the field, but he made his way up to 12th within a few laps of the restart.
Norris's hopes of victory were dealt a blow when McLaren had problems getting one of tyres on, an issue that also seemed to affect Fernando Alonso and Carlos Sainz.
Leclerc reported problems with his car, complaining of the engine cutting out, which allowed Hamilton to close the gap, but the issue seemed to pass, ensuring the Monegasque driver held on at the front of the field until the pitstops.
The reigning champion's penalty dropped him down the order, and gave Leclerc enough of a gap at the front of the field that he was able to stop without dropping from the lead.
Hamilton was soon able to get back in front of Norris, and closed in on his teammate, who was instructed not to fight the Briton, leaving Hamilton just over six seconds adrift of Leclerc with nine laps remaining.
Sebastian Vettel was forced to retire with a mechanical issue, while Kimi Raikkonen dropped down the order late on after tangling with Perez.
With three laps to go, Hamilton got the gap to the lead down to a second, and a lap later Leclerc got wide going through Copse, giving the Mercedes driver the lead.
No-one received the bonus point for fastest lap, as a late pitstop from Perez gave him the fastest lap, but he finished outside the top 10.
Verstappen has been taken to a nearby hospital for further medical checks.
Provisional classification:
1 Lewis Hamilton (Mercedes)
2. Charles Leclerc (Ferrari)
3. Valtteri Bottas (Mercedes)
4. Lando Norris (McLaren)
5. Daniel Ricciardo (McLaren)
6. Carlos Sainz (Ferrari)
7. Fernando Alonso (Alpine)
8. Lance Stroll (Aston Martin)
9. Esteban Ocon (Alpine)
10. Yuki Tsunoda (AlphaTauri)
11. Pierre Gasly (AlphaTauri)
12. George Russell (Williams)
13. Antonio Giovinazzi (Alfa Romeo)
14. Nicholas Latifi (Williams)
15. Kimi Raikkonen (Alfa Romeo)
16. Sergio Perez (Red Bull)
17. Nikita Mazepin (Haas)
18. Mick Schumacher (Haas)
DNF:
Sebastian Vettel (Aston Martin)
Max Verstappen (Red Bull)