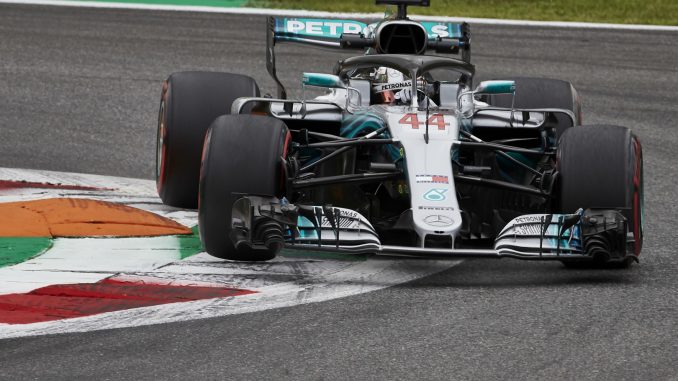 Lewis Hamilton made his tyres last to claim victory ahead of Kimi Raikkonen at the Italian Grand Prix this afternoon.
The safety car came out on the opening lap of the race after Brendon Hartley tangled with Marcus Ericsson, leaving the Toro Rosso stricken at the side of the track.
There was a collision at the front of the pack too as Hamilton got past Sebastian Vettel, before the Ferrari tried to come back at the reigning champion only to end up facing the wrong way, dropping the German to the back of the field with a broken front wing, while Hamilton escaped relatively unscathed.
Hamilton briefly moved ahead of Raikkonen on the restart, but the Finn retook the lead a couple of corners later, while Vettel began to make his way back through the field after his earlier error.
Fernando Alonso came into the pitlane just a couple of laps after the safety car period ended after suffering from a lack of power, while Daniel Ricciardo's new C-Spec Renault engine managed just half the race distance, forcing the Red Bull driver to pull onto the grass with smoke pouring out the back.
Raikkonen pitted earlier than Hamilton and appeared to have a big enough lead to stay ahead of the Briton, but soon caught Valtteri Bottas, who stayed out much longer on his first set of tyres, and Mercedes asked Bottas to keep Raikkonen behind as long as possible.
Bottas defended hard to keep Raikkonen in second until coming into the pitlane, allowing the Ferrari to regain the lead. Raikkonen maintained a narrow lead over Hamilton until the Mercedes powered past with 10 laps to go, and quickly opened up a comfortable lead as Raikkonen struggled on well-worn tyres.
Bottas came out of the pitlane behind Verstappen and looked to get back in front of the Red Bull, but Verstappen squeezed him off the track, earning himself a five-second time penalty. Bottas recovered well and closed the gap to Verstappen again and take the final spot on the podium despite Verstappen crossing the line third, while Vettel also ensured he was within five seconds of the penalised Dutchman to recover to fourth.
Provisional result:
1 Lewis Hamilton (Mercedes)
2. Kimi Raikkonen (Ferrari)
3. Valtteri Bottas (Mercedes)
4. Sebastian Vettel (Ferrari)
5. Max Verstappen (Red Bull)*
6. Romain Grosjean (Haas)
7. Esteban Ocon (Force India)
8. Sergio Perez (Force India)
9. Carlos Sainz (Renault)
10. Lance Stroll (Williams)
11. Sergey Sirotkin (Williams)
12. Charles Leclerc (Sauber)
13. Stoffel Vandoorne (McLaren)
14. Nico Hulkenberg (Renault)
15. Pierre Gasly (Toro Rosso)
16. Marcus Ericsson (SAuber)
17. Kevin Magnussen (Haas)
DNF:
Daniel Ricciardo (Red Bull)
Fernando Alonso (McLaren)
Brendon Hartley (Toro Rosso)
*Verstappen crossed the line third but received a five-second penalty for causing a collision with Bottas