Lewis Hamilton extended his lead at the top of the drivers' standings with victory at Monza in the Italian Grand Prix.
The reigning champion capitalised after a first-lap collision demoted Sebastian Vettel down the order before Kimi Raikkonen's worn tyres let the Mercedes driver through.
There was also drama later in the race and afterwards as Max Verstappen was penalised for tangling with Valtteri Bottas, while Haas faced a protest over the legality of their car, resulting in Romain Grosjean being disqualified.
The drivers were speaking to the media while reflecting on the provisional classification, before the stewards announced the exclusion of Grosjean.
3Legs4Wheels looks at what the drivers and teams had to say after the race.
Lewis Hamilton (Mercedes – 1st):
"That was one tough race, but a really enjoyable one – I'm very, very happy. This afternoon has shaken off to be one of the best. It's so close between Ferrari and us, this race was really down to who makes the least mistakes and who looks after their tyres the best. Valtteri did a great job extending his stint which enabled me to close up to Kimi. It was really great team work today, a great pit stop, great communication with the team. It was an intense first lap, we all got off to similar starts. When we went into Turn 4, I was a bit surprised that Sebastian chose the inside and did not go for the outside. That was my opportunity and I had to make sure that I was far enough alongside him. We touched for a brief moment and my car was slightly damaged afterwards, but fortunately I was able to continue and keep up with Kimi.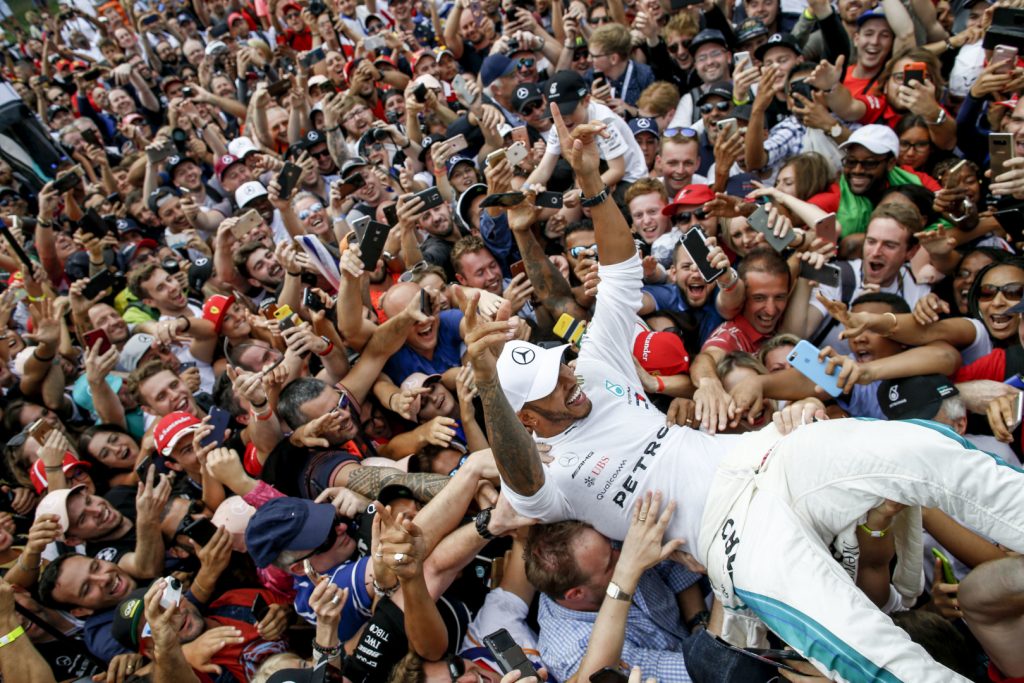 "Once I had closed the gap to Kimi on my second stint, I could see that his tyres were blistering, so I started to take care of my tyres and made sure that I didn't blister mine. When Valtteri then came in for his pit stop it was a bit harder to keep up with Kimi, but I knew that my tyres were in better shape. I had to push as hard as I could to close the gap, particularly through the Lesmos and Ascari. But this track is really just incredible, it's such a phenomenal circuit to drive with all it's high-speed corners and the fact that you can follow through the corners and the chicanes make it one of the best tracks in the world. It's always a real privilege to win in Italy. But we need to keep our heads down, work hard and make sure that we put up a good fight in Singapore."
Kimi Raikkonen (Ferrari – 2nd):
"Our car was really good today. The first set of tires was ok, while the second one didn't last as long as we had expected. There wasn't much we could do, we had to push all the time and there was no single moment in which we could take it easy and look after the tires. For sure we wanted a better result, but this is what we've got; we did our best but it was not enough. It's easy to say what we should have done in an ideal world, but we did what we thought was right and I think there was nothing wrong. Second position is not ideal, but we take it; I think that we were lucky to finish the race, on the rear left tyre there was no rubber left. In the next races it's going to be close pretty much everywhere. We keep doing our best and hopefully it will be enough for when we come to the last race."
Valtteri Bottas (Mercedes – 3rd):
"It was a very successful day – both for me and for Lewis – and it feels good to be back on the podium. We knew the Ferraris were going to be quick today, so we wanted to give 100 per cent and put them under pressure. We knew we had to work together as a team today and that worked out very well for us. After what happened in the first lap with Sebastian, I knew that there was a good chance for me to get to the podium today. But it was still not an easy race; I did a very long first stint, trying to keep Kimi behind me on old tyres. I managed to still extract decent lap times out of the tyres so that Kimi never really got close enough to be able to overtake. Ultimately, this strategy helped both Lewis' and my race. After the long first stint I had the chance to take the fight to Max on fresh rubber and ended up on the podium. It was a really good team effort today and we managed to get more points than Ferrari even though we started behind them. But we know we have to keep pushing in order to be able to put them under pressure."
🇮🇹🏁🏆#VB77 #F1 #ItalianGP@MercedesAMGF1 pic.twitter.com/BoQkITbDJk

— Valtteri Bottas (@ValtteriBottas) September 2, 2018
Sebastian Vettel (Ferrari – 4th):
"At the beginning I tried to overtake Kimi in Turn 1 and 4, but I couldn't. He opened the brakes, which he had the right to do, so I moved aside and opened a gap to Lewis. Then I had room left and no chance anymore. So, when I touched Lewis, I span around and that was unfortunate, as my car got quite some damages. It could have gone differently, but obviously it wasn't the case. Unfortunately, our race was compromised and it was a shame, but then I tried to do my best and had a decent recovery from the back. All in all, it could have been even worse. It's disappointing of course, because we had the pace and we definitely could have won. There are many points to win back now in the championship, but we still have time to improve and we have the margin to recover. I am sorry for our tifosi because they just deserved a different result today."
Max Verstappen (Red Bull – 5th, demoted from 3rd after five-second penalty):
"I think if you look at the car performance, we've done a really good job in being that competitive on this track today. I don't think it could have been better for us and finishing third on the road was a good result. Unfortunately we had a penalty and I was put back to fifth. I think I gave Valtteri enough space on the left so he didn't need to go off the track. The rule says that as long as you give the other driver a car width space, it should be enough. That's what I did, but he clipped my wheel at Turn 1 and he had to go straight on. I don't agree with the penalty, but the decision is taken and we can't do anything about it. Of course after I heard about the penalty I was even more determined to keep my track position. I've tried to do the best race I could and I had to fight hard for it as we are so much slower on the straights. Before the race I thought fifth would have been the best possible result for us, but after a good start and keeping the Mercedes behind, we were in third position, so I gave it everything. Looking at the positives, the car was performing very well today and in terms of pace we were competitive. In general keeping a Mercedes behind you on this track is a very positive sign and hopefully we can keep this momentum going to Singapore where our car is usually strong."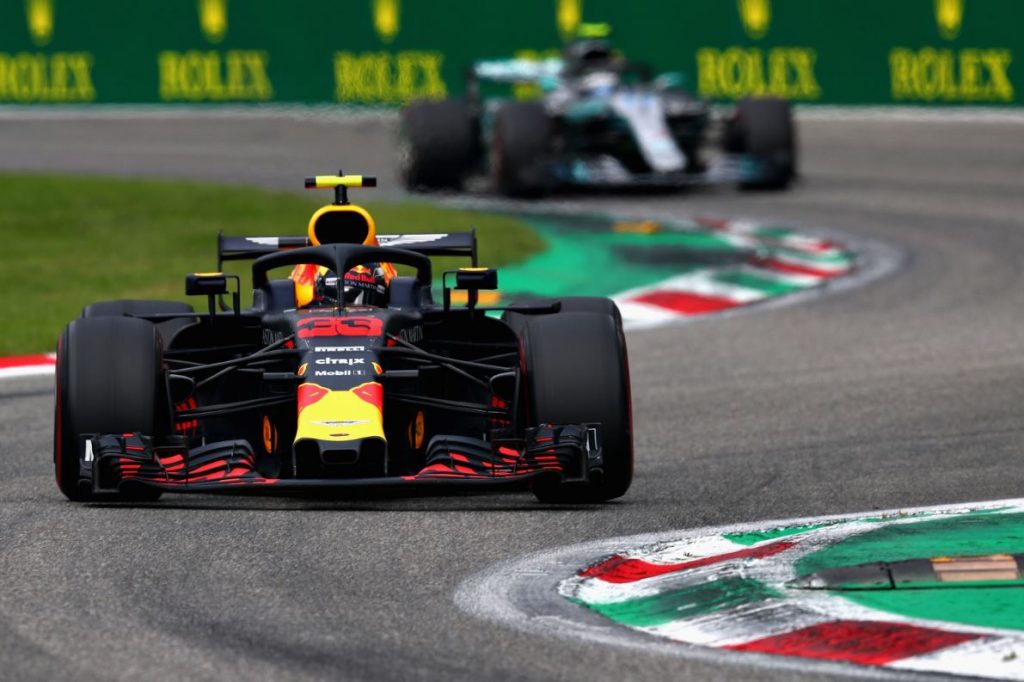 Toto Wolff (Mercedes – Team Principal):
"This is what makes racing so special: the points are given out on Sunday, not Saturday, and today we were all privileged to enjoy a fantastic race-long between two champions. Lewis didn't put a foot wrong today – he put his car in the right place each time, was patient when he needed to be and took a fantastic win, his fifth here in Monza. But we must not forget Valtteri today: he drove a great race and deserved his podium finish this afternoon. Overall, it was a very good day for the team at every level. We have Singapore coming next, which has not been our strongest track in past years. But we will be turning over every stone in the next weeks to find even more performance and pushing flat out to build our lead in both championships."
Team 👊 #DrivenByEachOther pic.twitter.com/3tZe4wFBQh

— Mercedes-AMG F1 (@MercedesAMGF1) September 2, 2018
Romain Grosjean (Haas – DSQ, originally classified 6th):
"It's great to be in the points again and enjoying a good series of races. It was a good race, but tough. The Force Indias were definitely faster today. I had to push the car very hard to keep them behind. I was very happy with that, and very happy with the team's progress. We've now moved up to fourth in the constructors' standings, so that's pretty amazing. I've never really had a good race at Monza, but today that wasn't the case. I'm happy and looking forward to going to Singapore."
Guenther Steiner (Haas – Team Principal):
"Sixth place and eight points is a good result. Kevin, at the beginning, had problems. He didn't have a good start, then there were problems. Nevertheless, it was a great race for Romain and good points for Haas F1 Team. We are now tied for fourth with Renault. It's getting interesting now. We're really looking forward to going to Singapore and seeing what we can do there."
"We do not agree with the Stewards' decision to penalize our race team and we feel strongly that our sixth-place finish in the Italian Grand Prix should stand. We are appealing the Stewards' decision." — from Guenther Steiner, team principal.

— Haas F1 Team (@HaasF1Team) September 2, 2018
Esteban Ocon (Force India – 6th, promoted from 7th):
"I'm feeling happy with the result today. We were targeting sixth place, but we just didn't quite have enough pace advantage to make the move on Grosjean. However, seventh and eighth for the team is a great effort. My start was really good but I was squeezed onto the grass on the approach to turn one and had to back out of it, which cost me a couple of positions. From then on we had good pace and we managed to get ahead of Sainz. I was able to look after my tyres and make them last. I had one realistic opportunity to try and get Grosjean towards the end of the race, but it didn't work out. I'm pleased we could end the European season with a strong result. We head to the flyaways in good shape and we have good momentum."
Maurizio Arrivabene (Ferrari – Team Principal):
"Definitely not the result we were looking for to give to our fans, who supported us in fine style all weekend, for which I thank them on behalf of the entire team. After the collision at the second chicane, Kimi had to fight two opponents on his own, while Seb, in a badly damaged car, fought his way up the order. We know we have a very strong car, which was clearly demonstrated by the fact we monopolised the front row of the grid. Now, the important thing is to react as a team, in an orderly and determined fashion, without ever giving up. There is still a long way to go in the championship and we are already preparing for the next challenge in Singapore."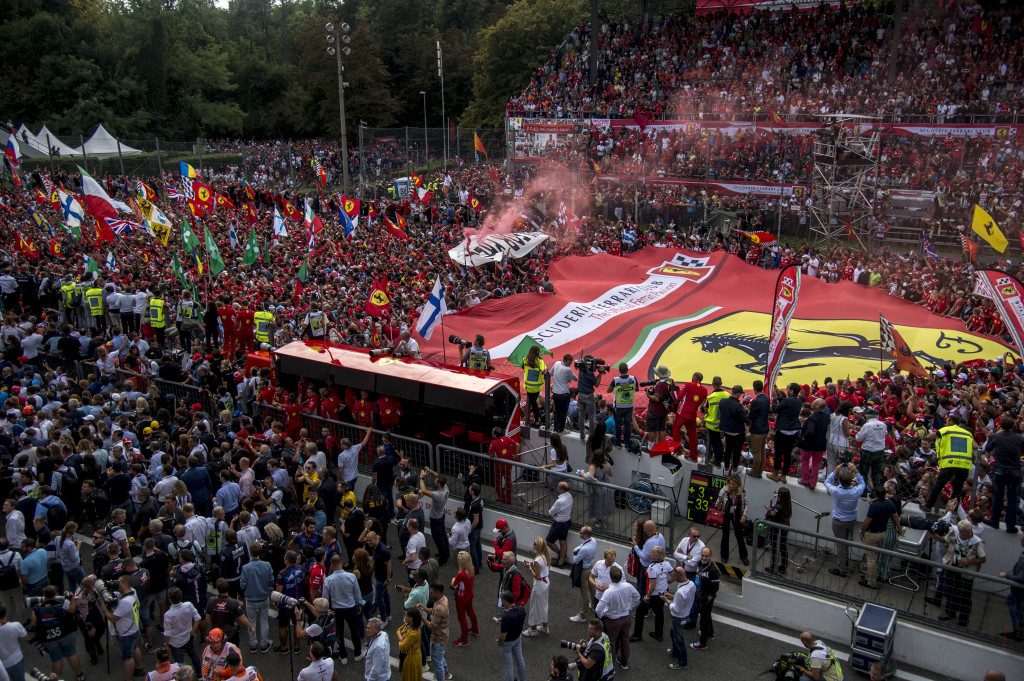 Sergio Perez (Force India – 7th, promoted from 8th):
"I am happy to come away from here with points, especially considering we were starting pretty far back on the grid. Unfortunately, I had to carry really big damage for the whole of the race: I was in a battle with Kevin [Magnussen] and he cut the chicane twice when I had already passed him. He was not told to give the position back but I managed to get alongside him again at Lesmo. He just didn't give me enough room and put me all the way to the inside. In such a fast corner, there was always going to be contact and it ended up damaging my car badly. I had lots of understeer so it was a very difficult race. Despite these problems, we had strong pace and I was right behind Esteban in the final part of the race as we both tried to get ahead of Grosjean. We didn't quite manage to be 'best of the rest', but all things considered we did a good job today. The results from the last two weeks show how strong this team is. We would be theoretically fourth in the championship and we are scoring good points. In Singapore we will get some upgrades, which hopefully means we can keep performing well in the final few races of the championship."
Carlos Sainz (Renault – 8th, promoted from 9th):
"We can be happy with the weekend in general. We gave it all we had today. We've managed to take four points from a weekend where we expected difficulties, so we can be happy with that. The pace was as good as it could be, but we missed a little on the straights and lost a few positions in that area. On the positive side, we've made good progress since Spa and I felt much better in the car. Now we look forward to Singapore where we hope to be more competitive."
We had a solid weekend considering it was a tough race for our package. We leave Monza with 8th place and a much better feeling with the car! 💪// un circuito dificil para nuestro coche pero nos vamos de Monza con un 8vo puesto sacando todo lo que habia! pic.twitter.com/7bDUMkJzXn

— Carlos Sainz (@Carlossainz55) September 2, 2018
Daniel Ricciardo (Red Bull – DNF):
"It's been another frustrating race for me. I passed Stroll and looked in the mirror to see if I was clear of him but I couldn't see that well. I then realised that was because there was a lot of smoke coming out the back of the car and when I reported it to my engineers they asked me to stop. I feared it could have been something to do with the power unit but after we got the car back to the garage and the guys investigated, they suspect it's a clutch issue. It's been a frustrating period of races but hopefully we can change some things on the car, improve the reliability and aim for the podium in Singapore."
Lance Stroll (Williams – 9th, promoted from 10th):
"Feeling good is an understatement. I hoped we would score points, but I didn't really expect it. We didn't expect coming into today we would have the pace to stay there, but we did. We were following Sainz all race and were catching him a little bit towards the end, so I am really happy with the job we did today and all weekend. We really nailed it this weekend in qualifying, the race and with the strategy. It was one of those weekends where it all just came together. The key was just solid work all weekend and everyone in the team played their part. I think this track suited us, but I am still going to be positive going into Singapore, as there last year we had pretty poor pace in qualifying, so qualified 18th, but finished eighth. There are always opportunities."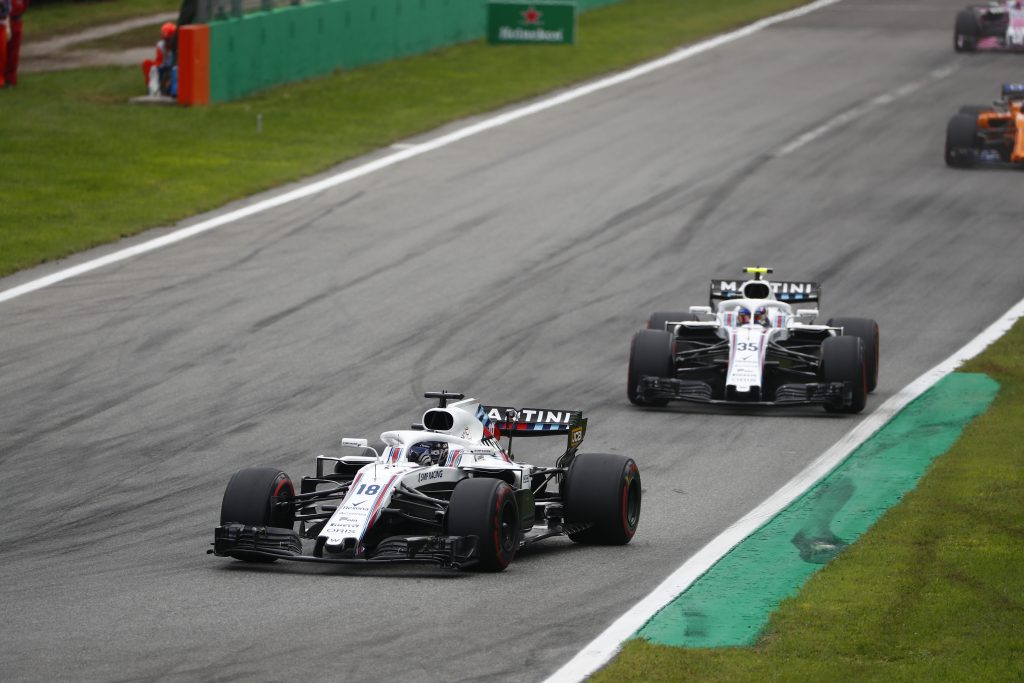 Sergey Sirotkin (Williams – 10th, promoted from 11th):
"It was a good race but not good enough. We had the pace to be in the points but unfortunately, as we saw, I wasn't the luckiest car with blue flags and where I got them on track. There was a lot of race time lost there which is a shame. I enjoyed the fight and how the car felt pleased me. It allowed me to participate in a good fight and I really enjoyed it."
Fernando Alonso (McLaren – DNF):
"This weekend we performed much better than we expected and I think we had the possibility to take some points today, so it's a shame that we had to retire so early in the race. Also, we were planning to change the engine at Spa or here and get a penalty at a track we knew was going to be difficult for us in terms of performance, but surprisingly we were good, so we chose not to take it here. In the end, we didn't score any points here so it's double pain, as we'll have to take the penalty later in the season. The car was misfiring from the start of the race in Turns Seven and Eight, and unfortunately in the end it switched off and I arrived rolling into the pit-lane. It's a true shame. Let's see if we can make the car more robust for the coming races."
Grazie Monza. 😘 pic.twitter.com/FZjl6fGT6O

— Fernando Alonso (@alo_oficial) September 2, 2018
Charles Leclerc (Sauber – 11th, promoted from 12th):
"It was a challenging race. We lost quite a bit of time because of the contact. After we undercut our competitors with our strategy, we did manage to get ahead but it was too late for us to advance to a top-ten position. Our pace was quite good, so it is a shame not to finish in the points. Nevertheless, it was a good race, and I look forward to getting back in the car in Singapore."
Stoffel Vandoorne (McLaren – 12th, promoted from 13th):
"It was a pretty decent race for us today, considering the performance we had on Friday. We made a good step on Saturday, went into the race and beat a few cars that we maybe didn't expect to beat. That was positive. Our race pace was pretty good. We were stuck behind a Sauber, the Toro Rosso of Pierre [Gasly] and the Renault of Nico [Hulkenberg] but with our strategy we managed to undercut them and make it work. Anyway, we knew that Spa and Monza would be two difficult races for us, even though the latter turned out to be maybe slightly better than expected. Next stop Singapore – hopefully we'll have more performance there."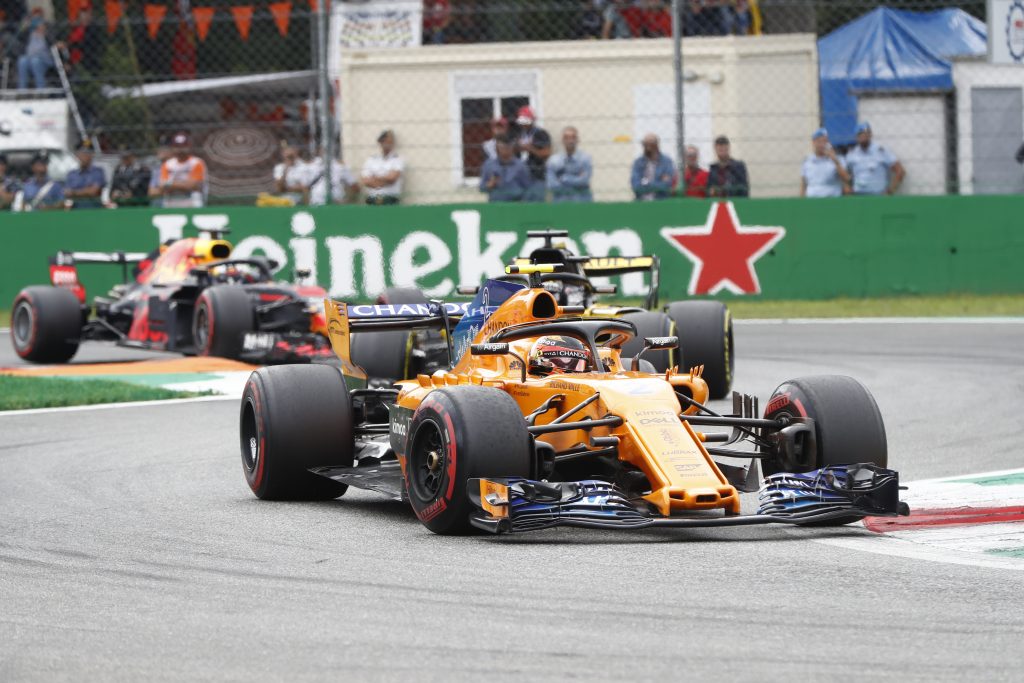 Nico Hulkenberg (Renault – 13th, promoted from 14th):
"It's always difficult when you start at the back of the grid, but I'm pleased with today. We gave it a real go to get into the points by going long on the Soft tyre after an early stop, but we fell short and had to bail out of it in the end. The tyre wear was too high after doing 40 laps, so that didn't quite pay off in the end. I'm happy to have had a clean race and see the chequered flag. It's difficult to make progress here, but we can draw the positives from the weekend and head into Singapore feeling a little more encouraged."
Pierre Gasly (Toro Rosso – 14th, promoted from 15th):
"Today was clearly not the day we wanted. At the beginning of the race, I was blocked in Turn 1 and 2 and lost a couple of places. Very soon I had an incident with Fernando and my floor got damaged on the right side, after that I had another collision with Daniel which compromised the rear. In these conditions, the car was sliding everywhere and the race was pretty much over for me, it was very difficult to go to the end. We knew it would have been a difficult race for us but the damage to the car made it even trickier, I did the maximum I could but we lost the pace shown during the weekend. I just need to forget about it and start focusing on Singapore, which is a track where we normally can do very well."
Tough Sunday. Broken floor after the incident with Fernando at the restart of SC, and our race pretty much over. Disappointed for the team for their home race. Lets turn the page, Singapore next. 🙂 pic.twitter.com/qmBVX2F2Jd

— Pierre Gasly 🇫🇷 (@PierreGASLY) September 2, 2018
Marcus Ericsson (Sauber – 15th, promoted from 16th):
"It was not the best weekend for me. To be honest, it was quite a tough race. I had a good start, however, shortly after I was touched by another car which caused a puncture on my left rear tyre. I had to pit and from that point on it was a difficult race. I look forward to Singapore now, and am confident that we can fight back there."
Kevin Magnussen (Haas – 16th, promoted from 17th):
"It was a pretty long race for us today. We had some damage on the rear tire after the first lap. I had to box for mediums and just went nowhere from there. Our race ended on lap one. We were then doing the whole race on one set of medium tires – the slowest – so it was never really going to be a case of us getting back in the race."
Long day at the office with a race that basically ended on lap 4 😞 Eyes on Singapore now 💪🏼 #ItalianGP #F1 #KM20 pic.twitter.com/Y9RMUS38SV

— Kevin Magnussen (@KevinMagnussen) September 2, 2018
Frederic Vasseur (Sauber – Team Principal):
"It was a challenging weekend but considered the eventful weekend, all in all we had a good race. The pace was better and we were in front of some of our main competitors. Marcus and Charles recovered some of the positions they lost in qualifying, and did a good job to fight their way into the midfield. Our aim is nevertheless still to score points going forward. We have to keep on working hard and stay positive and focused for the next Grand Prix in Singapore."
Brendon Hartley (Toro Rosso – DNF):
"I was really looking forward to my first Monza GP. I felt very strong all weekend and was very close to Pierre in Qualifying – even if that meant starting a few positions lower on the grid – I was confident of having a strong race. Unfortunately, right after the start, Ericsson moved a little bit to the left trying to pass me. It wasn't that aggressive what he did, but it was enough to put an end to my day before Turn 1. It's been a great race to watch from the outside, but of course I would have preferred to be on track and finish the race."
The wheels came off before I got to turn 1 🤷‍♂️
Not much I could do there, Mclaren and Sauber sandwich.. Things still haven't gone my way but I won't let it break me. Quick turn around before Singapore 👍🇸🇬 pic.twitter.com/EJEtpSWhms

— Brendon Hartley (@BrendonHartley) September 2, 2018