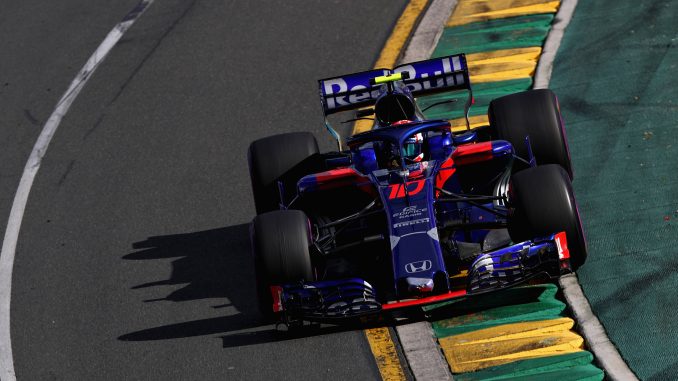 Honda hope to repair the component that ended Pierre Gasly's race at the Australian Grand Prix.
An MGU-H problem forced the Toro Rosso driver to retire the car 13 laps into the season opener in Melbourne with smoke issuing from the back of the car.
Honda appeared to have put their problems behind them in pre-season testing, with Toro Rosso completing a virtually glitch-free program in the two tests at Barcelona ahead of their switch to a new engine supplier.
Honda F1 technical director Toyoharu Tanabe revealed the component will be taken to Honda's headquarters in Sakura for further investigation and to allow engineers to attempt to repair the MGU-H. Each driver is only allowed to use three MGU-Hs over the course of the 21-race season, so Honda will hope the part can be salvaged having completed so little mileage.
Tanabe told RACER that the team decided to retire Gasly after seeing some unusual data on the telemetry. The data will now be investigated as well as the part itself to determine what the team and engine supplier can do going forward. Honda and Toro Rosso will both need to find out if the problem was a one-off or a design flaw that will need rectifying to avoid further failures throughout the season.
During Honda's three years with McLaren, MGU-H failures were a recurring problem. Last season, drivers were permitted to use four of each component, but Fernando Alonso needed 12, while McLaren teammate Stoffel Vandoorne went through 11, resulting in a series of grid penalties. Honda admitted midway through the campaign that the MGU-H couldn't do more than two races, but pre-season suggested this year's power unit components were more durable.
Gasly's teammate Brendon Hartley didn't suffer any problems with his power unit, but a lock up flat spotted his tyres on the opening lap, forcing him to alter his strategy for the rest of the race. Tanabe admits this means the data from the New Zealander's car makes it difficult for Honda to see how their engine measures against the other manufacturers, but he insists Honda is happy with the general performance level.