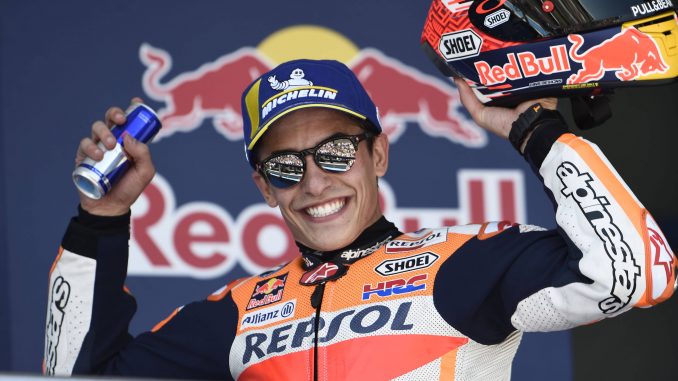 Moto GP champion Marc Marquez and his Repsol Honda teammate Dani Pedrosa will take part in a private test in a Formula 1 car for Red Bull.
According to Autosport, the duo are expected to test a pre-2013 V8 car at the Red Bull Ring in Austria on June 5th and 6th ahead of the Canadian Grand Prix, along with nine-time motocross world champion Tony Cairoli.
The three riders will be at the team's factory in Milton Keynes this week for seat fitting and time on the simulator to prepare for the test. It means a busy couple of weeks for Marquez and Pedrosa, who were in action at Le Mans on Sunday, and will be racing at Mugello just two days before the test with Red Bull.
All three riders have links to the Red Bull brand. The energy drink is a long-time sponsor of Honda Repsol, while Cairoli rides for Austrian team KTM, who are also backed by Red Bull. However, the timing is interesting, with the news coming just a week after the Red Bull F1 team had initial talks with Honda over an engine supply deal for 2019. The team is in the final year of its deal with Renault, and is considering whether to renew with the French brand or switch to Honda, which is now supplying sister team Toro Rosso. It's unlikely any of the riders would end up in an F1 car beyond a private test, but the move definitely hints at the strengthening of the Honda and Red Bull relationship.
Marquez and Pedrosa aren't the first Moto GP riders to try their hands at F1. Valentino Rossi has had numerous tests with Ferrari, including one in Valencia in 2006 where he was faster than the likes at Mark Webber and Jarno Trulli, while Jorge Lorenzo has driven Lewis Hamilton's 2014 Mercedes in a test at Silverstone.