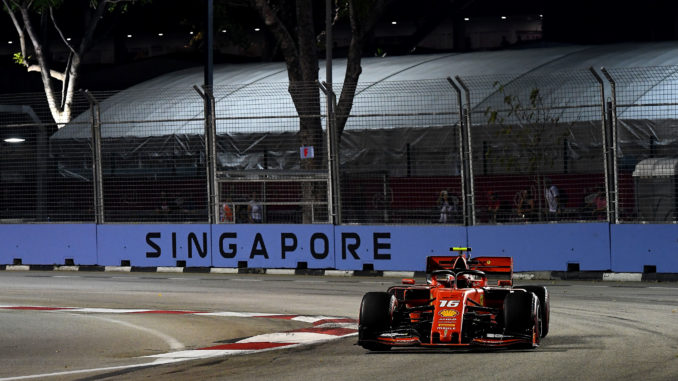 Charles Leclerc will start on pole position for a third straight race after setting the pace in qualifying at the Singapore Grand Prix this afternoon, with Lewis Hamilton alongside him on the front row.
Sebastian Vettel saved his best lap of the weekend for Q3 at the start of the the top 10 shootout, with Mercedes a second adrift of the Ferrari driver's time.
However, the German almost lost control of his car on his second flying lap, preventing him from improving his time in the final moments of qualifying.
By contrast, Leclerc was flying as the chequered flag dropped, and he bettered his teammate's time with a lap of 1:36.217.
Hamilton's early run in Q3 was hindered by the Mercedes running over the kerbs, but the Briton kept the car on the racing line with his second run to join Leclerc at the front of the grid, just 0.191s behind the Monegasque driver, with Vettel completing the top three.
Max Verstappen will be next to Vettel on the second row of the grid with Valtteri Bottas having to settle for fifth alongside Alexander Albon, who qualified sixth in his first trip to this circuit.
Carlos Sainz complained of a lack of power at the start of qualifying, but it appeared to be just a temporary glitch for the McLaren, as he soon got up to pace.
Both Racing Points appeared to be struggling for pace, but Sergio Perez did just enough to make it out of Q1, despite knowing he has a five-place grid penalty after damaging his gearbox in practice.
George Russell was close to be the pace of the Haas drivers early in the session, but rain over the kerbs on his final flying lap, denying him the chance to start further up the order, while Robert Kubica couldn't get a lap fast lap in as he missed the chequered flag on his outlap.
Kimi Raikkonen's hopes of reaching the final part of qualifying were dealt a blow in Q2 as the Finn glances the wall at the start of the second session, while Pierre Gasly brushed the barrier while pushing for a spot in Q3 late on, leaving both dropping out.
Both McLarens and Renaults made it through to Q3, with Sainz claiming the best of the rest title.
Provisional qualifying result:
1 Charles Leclerc (Ferrari)
2. Lewis Hamilton (Mercedes)
3. Sebastian Vettel (Ferrari)
4. Max Verstappen (Red Bull)
5. Valtteri Bottas (Mercedes)
6. Alexander Albon (Red Bull)
7. Carlos Sainz (McLaren)
8. Daniel Ricciardo (Renault)
9. Nico Hulkenberg (Renault)
10. Lando Norris (McLaren)
11. Sergio Perez (Racing Point)*
12. Antonio Giovinazzi (Alfa Romeo)
13. Pierre Gasly (Toro Rosso)
14. Kimi Raikkonen (Alfa Romeo)
15. Kevin Magnussen (Haas)
16. Daniil Kvyat (Toro Rosso)
17. Lance Stroll (Racing Point)
18. Romain Grosjean (Haas)
19. George Russell (Williams)
20. Robert Kubica (Williams)
*Sergio Perez has a five-place grid penalty for changing his gearbox