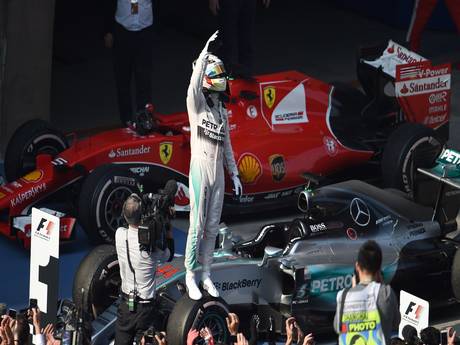 Can Lewis Hamilton actually win the title in 2016?
He's 43 points behind, and there are only 16 races remaining. So mathematically, of course – yes – he can still gain enough points to overhaul Nico Rosberg. But so could Rio Haryanto; mathematically anyway. Infact, with the current points system – two wins for Hamilton and two subsequent non finishes for Rosberg would see Hamilton actually take a 7-point lead. So why are so many people already rubbishing a Lewis Hamilton comeback and conceding, or indeed celebrating the idea that Nico Rosberg has an 'unassailable' lead?
Well, allow me to explain. People like to look back at history to gauge what will happen in the future; and history is already on Nico's side, even pre-Monaco. Last year it was almost the reverse of what we have now: Lewis Hamilton was running away with the championship after the first few races, although to a lesser extent of what we're seeing thus far in 2016. Last year as we know, Lewis was champion with three races in hand.Sebastian Vettel in 2011? Yep. Ran away with the early part of the season and won the title. Jenson Button in 2009 – in a car that was so fast at the beginning of the season but fell behind rapidly in the development race, won all of the early races – but had to wait until the last race of the season to have his victory confirmed. The entire Schumacher era (2000-2004), Nigel Mansell in 1992 – in almost every case where a single driver has run away with the early races, they've gone on to become World Champion. So that's why fans of Nico Rosberg are so jubilant at the moment and some in Lewis Hamilton's corner are maybe a bit more despondent than we've become used to in recent times.
But that doesn't mean that it's not possible. Probable? That's an entirely different matter. It would be foolish of Hamilton or his camp to expect or hope that the bad luck experienced by the World Champions just seeps over into the other side of the garage whilst at the same time good luck does exactly the reverse. It's not like the olden days any more, where you could bank on Lewis capitalising on Nico's 2 or 3 retirements; of course that may just happen, but again – it would be a foolish World Champion to merely wait for something good to happen to him. His racecraft must improve – especially his starts, but as he did in Spain, Hamilton must attempt something brave on track – although not always possible. There is another way though, a way that Hamilton has used in the past to his advantage. A lesson in Hamilton v Rosberg history, if you will.
During the fraught and closely contested 2014 season, Nico and Lewis had a coming together in Spa that left Hamilton 29 points adrift. The Brit immediately made it clear that it was Nico's fault and he was berated by team, press and fans alike. This hurt him – mentally.  For the remainder of the season, Rosberg fell into line and behind Hamilton, until Lewis won the title on the last day of the season. The battle between team mates was less of a respectful battle, they stopped talking – something which Hamilton deliberately made very public. This unsettled and unnerved  Rosberg, and Lewis got into his head, and as soon as he did, Nico went into decline.
Psychologically, Lewis must do this again. It will not be as easy as it was in 2014, because Nico has his elbows out now. After all, he is the leader of the championship. Rightfully so, he's done a better job than Lewis has so far this season. But he can be rattled; even with the hilarious consequences of Sebastian Vettel's jokes in the past he appears to take it very personally. The team will be working with him as well, so it is up to Lewis and his close team to work out 2 things. Firstly, how to start races better than Nico. Secondly, how to get under his skin this time around. If he can do this again, and perhaps pull off a move as brave or braver than the failed attempt in Catalunya, then he could very well find himself in the driving seat of the championship sooner than he thinks. It's an uphill battle, an almost mountainous task. Can he do it? Only one person knows that for sure. Over to you, Mr. Hamilton.
For more opinion on this and other F1 related news and chit chat, check out the 3legs4wheels podcast.