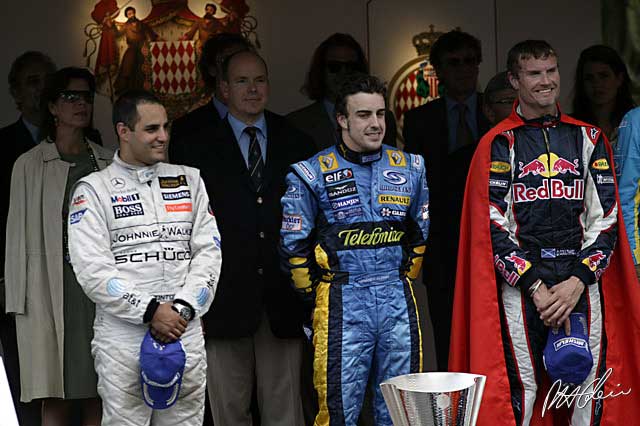 There's something memorable about the Monaco Grand Prix just about every year, even though it's one of the few "old school" street circuits left on the F1 calendar and there's no way that if it was a proposed new circuit that it would be added to F1 these days, with it's narrow streets, bumpy surface and tight turns it's a world removed from the new meticulously planned out Herman Tilke designed identikit circuits that are popping up all over the place in the modern F1 circus (and in the case of Turkey, Korea & India don't seem to stay popped up for long)
But Monaco survives, due to the reputation of the principality as the playground of the rich & famous, let's face it, where else can you park your 150ft floating gin palace alongside the track and watch a race from the comfort of your own sun deck? But it's also a place for the real fans to be able to go just to lap up the spectacle itself.
There have been some great races in Monaco over the years I've been watching F1 and there's been some classic on and off track moments as well like these:
1992 – Senna v Mansell
Nigel Mansell had won the 1st 5 races of the season and was going into Monaco in the best form of his career, but this was a circuit he'd never won at, so it would be a great race to get his 6th consecutive win to start the season, Senna meanwhile, was struggling in 4th place in the driver's championship, but coming to a circuit he knew and loved, having won 4 of the previous 5 races. The race itself was tight all the way to lap 70 when Mansell had to pit due to a loose wheel nut with only 8 laps to go and despite him putting in some stunningly quick laps that were over 2 seconds quicker than Senna he couldn't find a place to pass and was beaten into 2nd place by only .2 of a second!
1994 – The 1st Schumi Slam
Schumacher did it all this year, pole position, fastest lap and the win. This was the 1st time in his career that he'd ever done a grand slam and made this his 4th win out of 4 this season. Of course 1994 will be remembered for much sadder events from the race before and more controversial events in races to come, but at this point it looked like the Schumacher/Benetton pairing was on the way to being something special
1996 – Oliver Panis Wins For Ligier (no really)
A wet race, only 4 drivers actually crossed the line and one of them (Heinz-Harald Frentzen) was a lap down. Damon Hill was on course to break his Monaco duck and get the win at the circuit where his father had seen the top step of the podium 5 times in the 1960s until his engine let go in the tunnel after a pit stop. Eddie Irvine was in full "Mad Eddie" mode as he ended up taking out Mika Salo while trying to get back on track after a spin, quickly followed by Mika Hakkinen running into the pair of them. This left the completely unfancied Oliver Panis to take his only F1 victory and Johnny Herbet to grab a thrid place behind David Coulthard in his debut season for McLaren.
2004 – The Case Of The Missing Diamond
This sounds like something out of a cheap crime novel, but the story goes that Jaguar had got sponsorship from the makers of the newly released Ocean's 12 movie for the weekend, so what better way to show off than to embed a diamond worth a reported $300,000 into the nose of each car? What could possibly go wrong? Jaguar didn't reckon on Christian Klien binning his car nose first on lap 1 at the hairpin. this left the spectators with a mad scramble to see if the diamond had come off the car and if they could find it. Of course with track safety being what it is, nobody from Jaguar was allowed anywhere near that part of the track until the race had finished 2 hours later, but there was no sign of the diamond and it's not been seen since!
2005 – The Force Was With Them
Red Bull marked their debut season after taking over Jaguar with a few typical publicity stunts, but far and away the best one was at Monaco this year. After the problems of last year's sponsorship they decided to plug another film but this time only change the livery of the car and concentrate on the pit crew for the big move. This year's movie of choice was Star Wars Ep3 Revenge of the Sith, so we got the pit crew all dressed as Stormtroopers with none other than Darth Vader himself on the lollipop. Persnnally I thought it was that good that Bernie should have thought about making those uniforms mandatory for every race!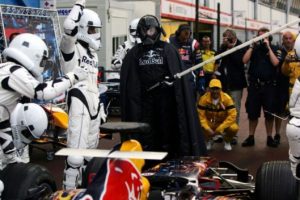 2006 – Well That's Awkward
Red Bull again with another film (do they have their marketing team hanging round Cannes accosting unsuspecting producers or something and why are they always sequels as well?) Superman Returns this year. They had the great idea of having red Kryptonian capes on standby for their drivers post race. This was made all the better for them when DC got the team's first ever podium finish, cue the mad celebrations in a true Red Bull style? Well no not quite. 2 days before the race Edouard Michelin sadly passed away in a boating accident and as managing partner of the F1 tyre supplier there had to be something to commemorate him and a minute's silence was held on the podium in his honour and the traditional champagne celebration was also pulled. This left an embarrassed looking DC standing with his head bowed while wearing A GIANT RED CAPE WITH THE SUPERMAN SYMBOL ON IT. Needless to say Red Bull haven't tried anything like that again in recent years
2015 – At Least Seb's Happy
Everything was coming up Lewis this weekend, he'd qualified on pole, had a great start (the single clutch that he has problems with now wouldn't come in to play until Belgium) and he'd got himself a dominant 10 second lead over Nico, there was only 14 laps left and he was literally on cruise control for the win. Then Max Verstappen happened, he happened right into the back of Romain Grosjean in fact and out comes the virtual safety car for the first ever time, quickly followed by the actual safety car so that the marshals could get the Lotus and the Torro Rosso out of the barriers at the 1st corner. Then pitgate all kicked off Someone (either Lewis or the team) thought that there was time for a pit stop as Lewis was concerned about the heat in his tyres so for safety it was best to come in, not with only a 20 second gap there isn't though. Nico went through to take the lead and to rub salt into the wound Vettel also moved up to 2nd ahead of him as well. This lead to a fairly miserable podium for Lewis having to stand on the right instead of the middle (they don't have the 3 steps in Monaco) with a face like thunder. There were subdued podium interviews after that as well. Which ended with Seb coming back into shot after Martin Brundle had finished talking to Nico, beaming down the camera with thumbs aloft and proclaiming "I'm happy, I'm happy"
Are we going to have more memories made at this year;s Monaco Grand Prix? Have a listen to our preview podcast and let us know what you think