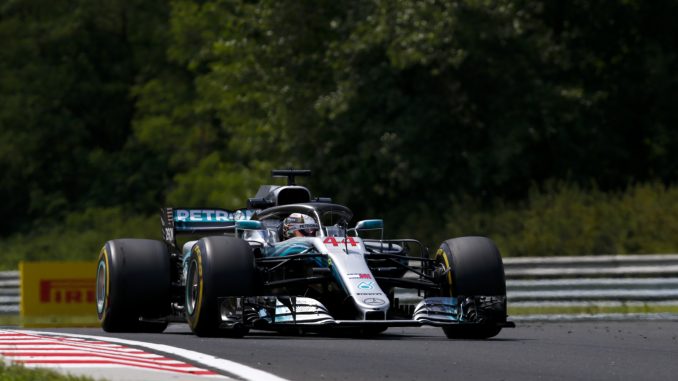 Lewis Hamilton has extended his lead at the top of the drivers' championship with victory at the Hungarian Grand Prix this afternoon, with the two Ferrari drivers joining him on the podium.
Hamilton made a good start to keep his lead off the grid, while Sebastian Vettel jumped up two places, getting past his teammate and Carlos Sainz before the first corner.
Charles Leclerc's race was over before it had really started as he was forced to retire on the opening lap following a collision with one of the Force India's.
Max Verstappen was also an early retirement. The Red Bull driver had made progress early in the race, and was running just behind the Ferrari when he lost power, forcing the Dutch driver to pull to the side of the track, resulting in a virtual safety car.
Valtteri Bottas and Kimi Raikkonen both pitted early, while Daniel Ricciardo, who had a disappointing qualifying, charged through the field to jump up to fifth, having started on the soft tyre.
Hamilton pitted to promote Vettel to first, with the Ferrari driver also having opted to start on softs, but he dropped back behind the two Mercedes cars after he came in for fresh Pirellis, with his front left tyre going on slowly.
Vettel closed the gap to Bottas, who was on much older tyres than the German, but he couldn't find a way past, allowing Raikkonen to close up to the back of his teammate.
Vettel finally got alongside the Mercedes in the closing stages of the race, but the two cars came together as the Ferrari edged ahead, resulting in front wing damage for Bottas, who dropped down to fourth.
The damaged Mercedes soon slipped back to Ricciardo, who tried to pass Bottas on the penultimate lap, but the Finn locked up in turn one, colliding with the Red Bull and forcing the Australian wide.
Mercedes told Bottas to give the place back to Ricciardo, anticipating a post-race penalty, but he remained ahead. Ricciardo had another look on the final lap and this time pulled off the move, with Bottas's Mercedes showing significant damage to the side.
McLaren had looked like they were heading for a double points finish after Fernando Alonso and Stoffel Vandoorne both went long on their first set of tyres, but the Belgian suffered a gearbox problem which ended his race early.
Pierre Gasly was the best of the rest, finishing sixth for Toro Rosso, while Haas had both cars finish in the points with Kevin Magnussen seventh and Romain Grosjean in 10th.
Provisional result:
1 Lewis Hamilton (Mercedes)
2. Sebastian Vettel (Ferrari)
3. Kimi Raikkonen (Ferrari)
4. Daniel Ricciardo (Red Bull)
5. Valtteri Bottas (Mercedes)
6. Pierre Gasly (Toro Rosso)
7. Kevin Magnussen (Haas)
8. Fernando Alonso (McLaren)
9. Carlos Sainz (Renault)
10. Romain Grosjean (Haas)
11. Brendon Hartley (Toro Rosso)
12. Nico Hulkenberg (Renault)
13. Esteban Ocon (Force India)
14. Sergio Perez (Force India)
15. Marcus Ericsson (Sauber)
16. Sergey Sirotkin (Williams)
17. Lance Stroll (Williams)
DNF:
Stoffel Vandoorne (McLaren)
Max Verstappen (Red Bull)
Charles Leclerc (Sauber)