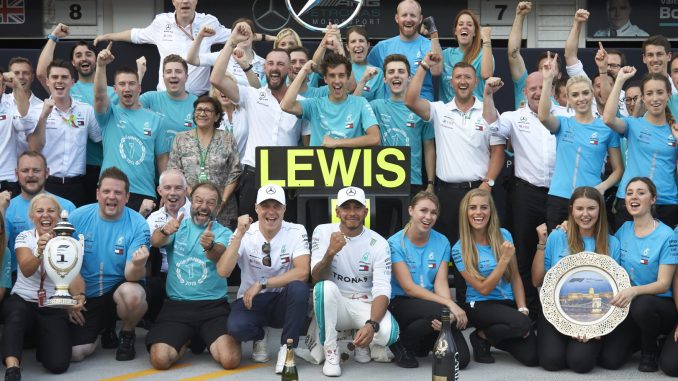 Lewis Hamilton will head into Formula 1's summer break with a 24-point lead at the top of the drivers championship following victory at yesterday's Hungarian Grand Prix.
The reigning champion started from pole position and picked up his fifth win of the 2018 season, extending his lead over Sebastian Vettel, who finished second.
F1 will now take a four-week break before the season resumes at the Belgium Grand Prix next month.
Here's what the drivers and teams thought following yesterday's race.
Lewis Hamilton (Mercedes – 1st):
"We've definitely had ups and downs in this Championship, it's such a rollercoaster ride – but the team has just remained strong. We're in a great position right now, but what's important is that we don't drop the ball. The last two weekends have been such a blessing with the rain, I'm so grateful. The guys have worked so hard this year, they really deserve a good result. There's still a lot of work to do because Ferrari are still slightly ahead of us, they had the pace this weekend, especially on this circuit. Today I had them covered, but had they been on pole, we would have struggled. So we've got some improvements to make in our overall package to try and close the gap to them, but I'm really happy with the job everyone's done so far, we just have to keep going.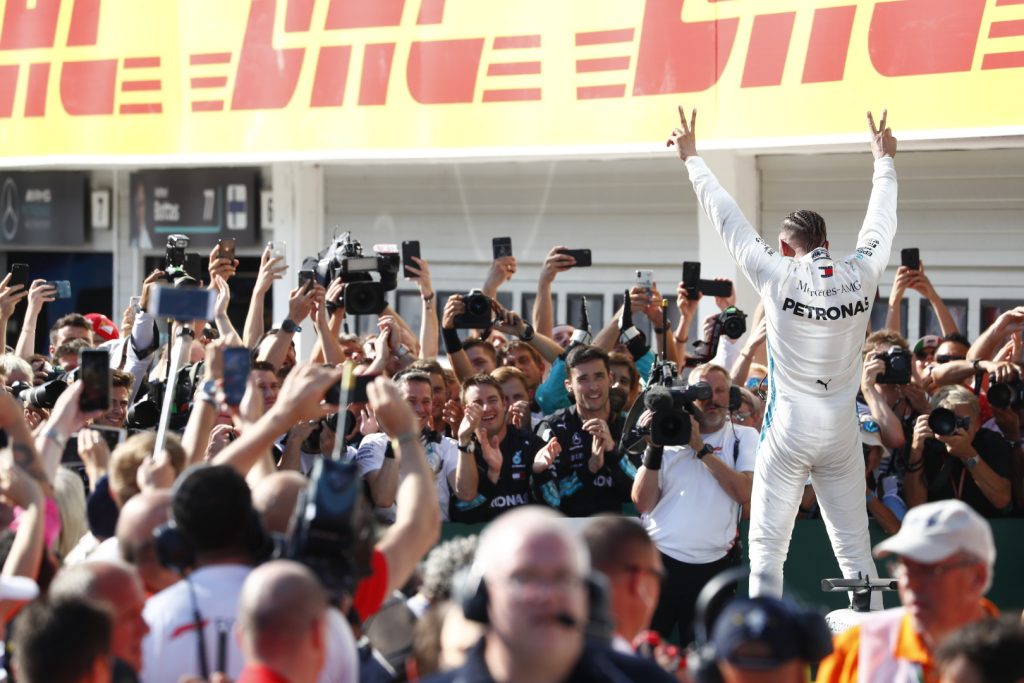 "The goal is now to really pull together and become even stronger for the second half. That will be key to add to what we've built in this first half of the season. I'm excited about the summer break; I will do different stuff over these two weeks, but I will be training through the whole period of time, trying to improve my physique. Physicality-wise, I'm not struggling out there at all, but there are always areas where you can be better, and I want to make sure I come back with more energy so we can turn up the heat in the second half of the season."
Sebastian Vettel (Ferrari – 2nd):
"Today we were fast in the first stint, but at the end I was a little bit disappointed because I had lost 3 or 4 seconds in the traffic. The pit stop we did was not ideal either, as we lost some time there. Then it was very hard, when I was running close to Valtteri and trying to overtake him. However, at the end I knew I could be faster than him thanks to my tires, which were fresher. However, we tried everything we could and I think second position is the best result we could get today. I think there's a lot of things we did well and some others not that much, but that's part of the game. It has been a very hard week for all of us, so I think that having both cars on the podium is a very good result. I am happy to see that the car is fast, it has worked well on every track so far, so I think this is the most important thing. Our car has a big potential, so I feel relaxed, going on holiday, for the races to come."
Kimi Raikkonen (Ferrari – 3rd):
"The start was ok, I got a tow and I was deciding which side I should go; but then Bottas moved the same side, trying to block me, so I braked earlier and lost the position to Sebastian. After that it was all about trying to get some free air and use the speed I had, giving myself a hard time in trying to to put pressure on the others and not being able to save the tires. The race went by pretty quick, we were pushing through the whole race with decent tires all the time because of the two-strategy stops we had. The fact of not having my drink bottle available was obviously not ideal, but not so much of an issue either.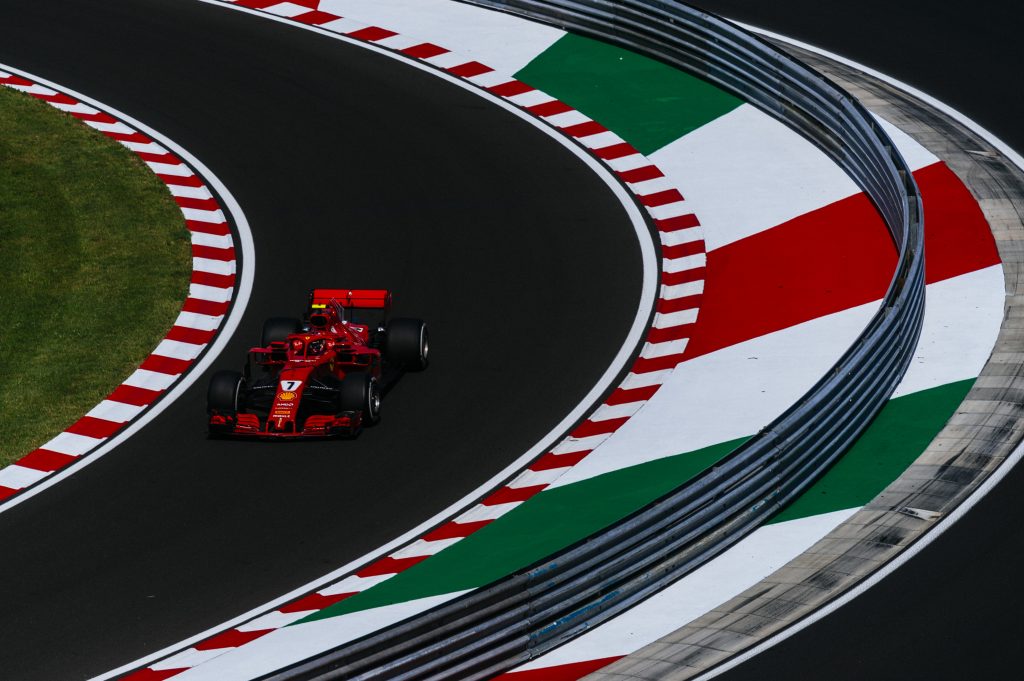 "Today we had the speed, but we know that this is a tricky circuit for overtaking. The race was decided yesterday in qualifying, but in the end we managed to get back one place each. Second and third is the maximum we could hope for today; it's quite an ok result, but it's not what we want. On the second half of the season we'll try to turn it around and do a bit better. I know it's still a long way to go, anything can happen and things can change quickly. We keep pushing, trying to improve on the small details and be consistent, and I'm sure we can get higher podium positions."
Daniel Ricciardo (Red Bull – 4th):
"We had a pretty good car and I was able to make it to fourth having been at P16 at one point on the first lap, so in the end it was a good result for us. The start was pretty chaotic and I took a hit on my front left tyre which caused some vibrations and we lost a few positions there. Ocon then went really deep in Turn 6, cut the chicane and stayed in front of me for two laps. That was frustrating, especially at the beginning when everyone is so close, you lose a lot of ground. After this with the pace advantage we had we were able to get on and do some overtakes, and I had some fun with that and could get up the field. Before the incident at the end with Valtteri in Turn 1, I knew he had some damage, so I knew it should be relatively easy to pass him, but he obviously just went too deep into that turn. I couldn't see his car in my blind spot so I left room, and then I got the hit but fortunately I didn't spin. I thought it was likely he would get a penalty but I really wanted to pass him on track, which fortunately I could do on the last lap. I was happy today, happy to finish and get some points and have a race I feel I maximized."
Valtteri Bottas (Mercedes – 5th):
"It's a shame that I ended up in P5; we wanted more today and it would have been great to go into the summer break with a 1-2 finish. I was trying everything I could but the stint on the Soft tyres was just too long. In theory, a one-stop strategy should have worked but we had to stop earlier than we had planned to cover Kimi who pitted in the lap before me. Until about 15 or 20 laps before the end our plan worked out well, we controlled the pace and there was no threat to my position. But then the rear tyres started to die. Towards the end of the race, I had an incident with Sebastian going into Turn 2 – he was on the outside, I still had my nose inside. He turned in early, there was nowhere to go for me, so we touched and I had damage to my front wing. For me it was a racing incident – and so was the incident with Daniel. Again, I was on the inside, he was on the outside. Half of my front wing was missing at that time, I was locking up, and we touched. Now I'm looking forward to the next weeks, a bit of a break will be good, and then I want to come back stronger."
5th today 🇭🇺🏁

Disappointed with the end result.
I gave it all I had, and will always do.

This year hasn't been great for me so far, but I belive the good times will come. Will never give up 👊🏼#VB77 #F1 #HungarianGP @MercedesAMGF1
📸 @JanErikOlin pic.twitter.com/OmcBlBnKtM

— Valtteri Bottas (@ValtteriBottas) July 29, 2018
Toto Wolff (Mercedes – Team Principal):
"We came to Hungary with damage limitation as our motto, so it's pretty good to be leaving after out-scoring our rivals, even if by just a few small points. Lewis' win is the perfect way to finish the first part of the season but we know that this one is going down to the wire. The momentum swings one way then the next from weekend to weekend. We need to keep on taking it one race at a time if we want to come out on top."
Pierre Gasly (Toro Rosso – 6th):
"It was an amazing day for us to finish sixth! Yesterday was already fantastic for the team, but this is even better! The car was mega, the strategy was fantastic, I just had to give everything I could which wasn't easy in these conditions, in the end we managed to do it. After the past few races, which were quite difficult for us, it's a great result for the team.  When you're fighting in the midfield you know there will be races where opportunities present themselves, and you just need to make sure you take them when they come. We did it in Bahrain, Monaco and again this weekend, so it's great and it's a nice way to end the first half of the season. I had a good start and managed to pass Sainz at the beginning, then I had free air to focus on my driving and make the tyres last and it ended up being a great race. The main thing was not to make any mistakes; I was on the limit for 70 laps which was a challenge, but I did my best to have a clean race and push as hard as I could to take these fantastic 8 points home."
6th!!! YESSSSS!! Sooo happy & proud of @ToroRosso & @HondaRacingF1 !! What an amazing weekend for us!! 😍 pic.twitter.com/ohmo3E8uFO

— Pierre Gasly 🇫🇷 (@PierreGASLY) July 29, 2018
Christian Horner (Red Bull – Team Principal):
"A fantastic recovery by Daniel who actually completed the first lap down in P16. He made his way through the field with some decisive overtaking and had rapidly moved up to P5 by the halfway stage of the race. We then changed on to the Ultrasoft tyre for the final 26 laps and he started to catch the group consisting of Bottas and the two Ferraris ahead of him. After Valtteri and Sebastian had had contact ahead, the wounded Mercedes then hit Daniel when he was attempting to pass him at Turn 1 causing significant damage. However Daniel was able to keep going and then pass him for good on the last lap taking P4 at the flag. Max had a hugely frustrating day with an engine failure with only five laps gone. He had made a great start and we knew we had a competitive race car here and would have been in a fight for a podium having seen the pace that Daniel had today. It's enormously frustrating and we just hope not to incur penalties at his home Grand Prix in Spa in a few weeks' time."
Max Verstappen (Red Bull – DNF):
"Today didn't go the way we planned. I felt good with the car and had a strong start but the race was then over within six laps. It is really frustrating after putting all the effort in and being in a promising position, but then having to stop due to reliability. As I was happy with the car I think we could have had a good battle with the front group, it's a shame to have missed out on that and some valuable points. It's such a shame for not just myself and the team but also the fans that travel all the way here supporting me. It's not fun to watch me complete a few laps and then retire. I'm not sure if this will mean engine penalties for Spa, we will look into it as a team and discuss the best way to come back strong after the summer break. I don't really feel like going away on holiday now as this isn't the way I wanted to finish the first part of the season. I would like to get back in the car to race again and finish on a strong result, unfortunately I can't."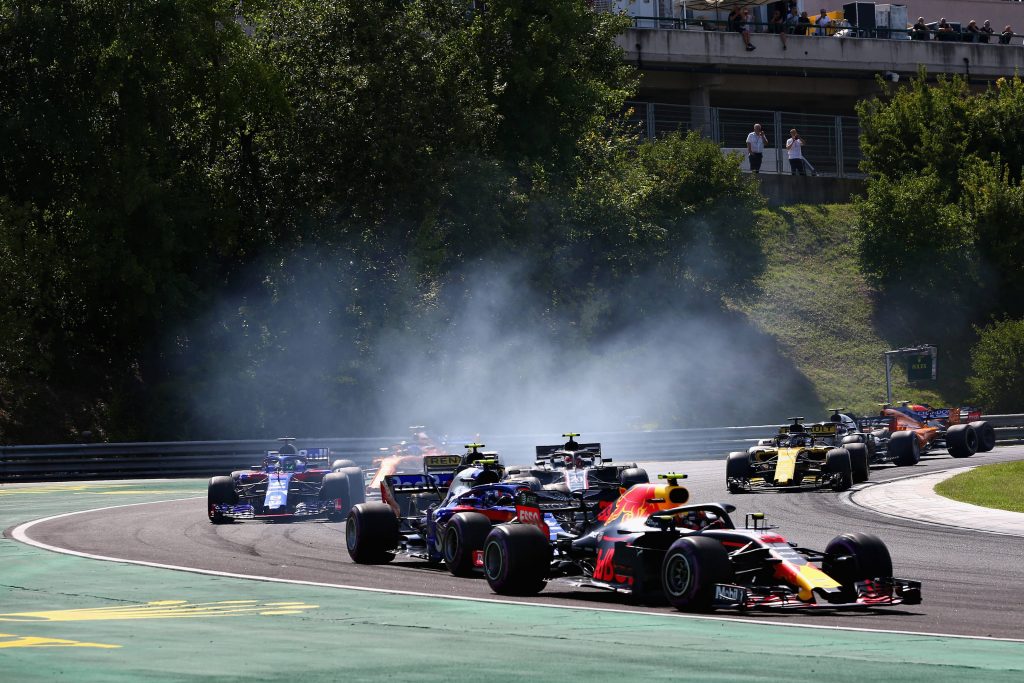 Kevin Magnussen (Haas – 7th):
"I was quite happy today. Had a good first lap, gained some positions, and took it home from there. Not a very eventful race, except for the first lap, but that's fine for us. We scored a double-points finish for the team and that's a good way to go on holiday."
Fernando Alonso (McLaren – 8th):
"It was definitely a good Sunday for us and it was down to the pit-wall, as they executed the perfect strategy. They decided to extend the first stint as much as we could, doing something around 15 laps more than the others, and that meant Stoffel and myself recovered three or four positions. We really deserved eighth and ninth places today, but unfortunately the gearbox problem prevented Stoffel from taking any points, otherwise it would've been a perfect Sunday for us. I'm happy we've delivered the result and have scored another four points for the team. Sunday is where it finally counts! Now it's time to relax, before jumping in a car again mid-August."
Buen domingo de carreras! Estrategia perfecta y puntos para el equipo. Muy contento!

Good Sunday of racing! Perfect strategy by the team and good points! Happy day! #mclaren #budapest #f1 #14 pic.twitter.com/0aEH8pDcq6

— Fernando Alonso (@alo_oficial) July 29, 2018
Carlos Sainz (Renault – 9th):
"It was a frustrating race. It was a tough first lap with the Soft, but I got off the line well until I was pushed out at turn one and lost some positions. As the race settled, I started to pick up the pace and put in some fast laps when we boxed. Traffic then didn't help and it cost us time against both McLarens, who came out in front after their first stop. We need to see what happened there but for sure we could have done things better today."
Romain Grosjean (Haas – 10th):
"Both of us in the top-10 is really good. The race was frustrating. We need to understand how to get the tires better in these circumstances. I spent 50 laps behind (Carlos) Sainz, being half-a-second to one second faster. As soon as you get close to the car in front of you, it just goes and there's nothing you can do. That was a bit of a shame but, overall, I think we really did a great job. We jumped (Nico) Hulkenberg and (Brendon) Hartley, showing that we had an amazing pace. Generally, I think we had a great pace, so it's good to have two cars in the top-10. We've had a really good weekend. The race pace was so much better than P10."
Brendon Hartley (Toro Rosso – 11th):
"I'm disappointed not to score points after a strong qualifying. I had a great start but decided not to dive up the inside of Gasly which ultimately lost me a place to Magnussen. My race was then destroyed as I was stuck behind Sainz during the first half of the race when he was on a harder tyre. We then reacted too early to Hulkenberg pitting behind and putting the Medium tyre, which didn't give me the best performance. I fully understand why the team split the strategies but today it didn't work out for me. I made no mistakes, I had a good start but unfortunately no points to show for it. I'm happy for the team to score more points which is a nice reward for all the hard work over the last months."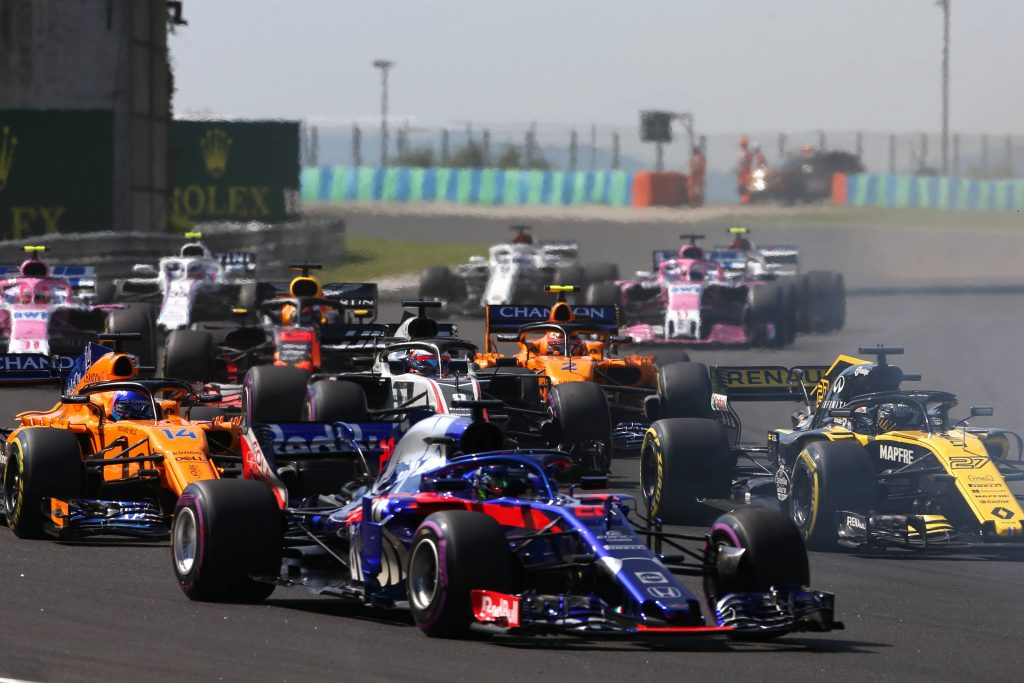 Stoffel Vandoorne (McLaren – DNF):
A really disappointing race for me. We had a superb start, after we started a bit further down the grid than we wanted after yesterday, and gained a few places on the opening lap. We had really good tyre management in the opening stint and strong pace when it counted, a good pit-stop and we managed to jump a lot of cars during the pit window. It was a great strategy from the team to come out in the points with both cars and we were feeling comfortable, so it was just about bringing the car home. On a personal note, I felt good this weekend. I think we've shown today that the pace was back to where it had been before, with a more 'normal' feeling, and I can be happy with my performance. I'm looking forward to the summer break, to relax a bit, clear my head and turn up in Spa for my home race."
Gil de Ferran (McLaren – Sporting Director):
"Today was a very positive day for us. We had good pace on both cars and came very close to a double-points finish. Obviously we're very disappointed for Stoffel, who was driving very well and had to retire due to a gearbox failure. Fernando had his typical perfect drive, with the right blend of aggression and pace and tyre management. Although we're supposed to give him a present on his birthday, he gave us yet another one in the form of points! I want to congratulate our strategy team and pit-crew for executing the race to perfection, and thank everyone for the extremely hard work they've put in over this long and busy stretch of races."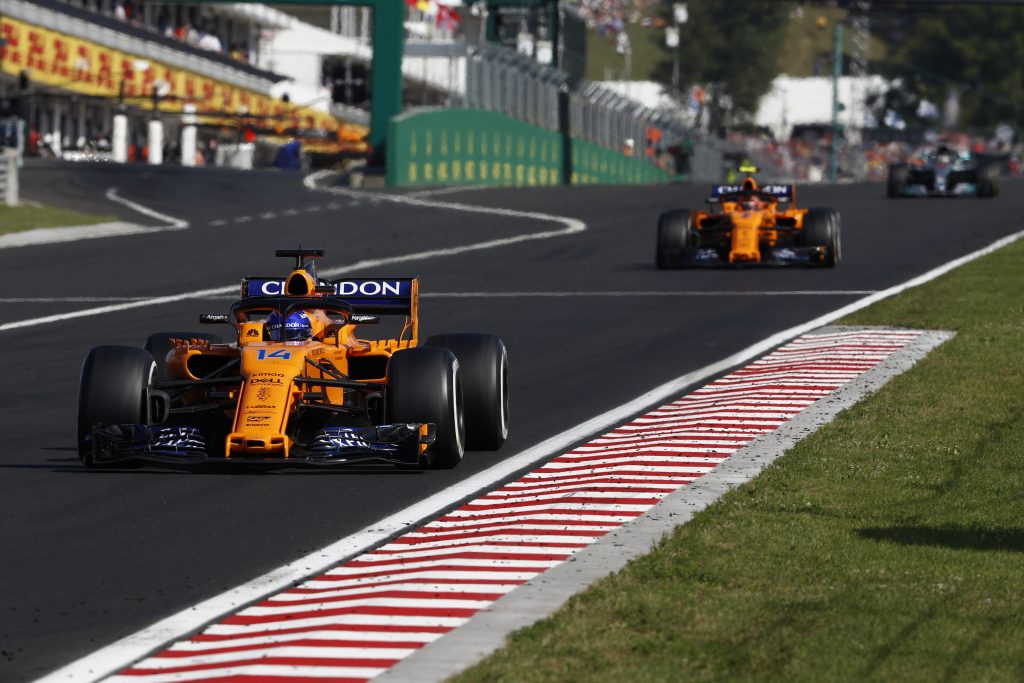 Nico Hulkenberg (Renault – 12th):
"We didn't have the pace in the car today, and the balance felt poor. Ultimately, we weren't fast enough. We had a good one last weekend and it wasn't so good this weekend, but that's racing. When you don't have the pace, everything gets difficult and I was in traffic most of the time, which makes things hard. We thought this track layout would suit us, so we need to understand what's gone on this weekend and why the car was difficult to drive. We look forward, though, testing this week before a bit of time off. The team, the engineers and the mechanics deserve the break."
Esteban Ocon (Force India – 13th):
"A difficult race for us and we knew it was going to be a big challenge to score points today. The start of the race was strong and we made up a few positions, but we didn't have enough pace to recover from the back of the grid and fight for points. I enjoyed some good battles with the Renaults, but the problems in qualifying yesterday really determined our result today. We have a few weeks off now and there is still a long way to go in the second half of the season. Everybody deserves a rest so that we can come back stronger in Spa."
After a good first half of the season, it's time to recharge the batteries and come back stronger on the 2nd half😎!
Après une bonne première partie de saison, c'est l'heure de recharger les batteries pour revenir plus fort😎! #EO31 pic.twitter.com/Nzke0gh1A5

— Esteban Ocon (@OconEsteban) July 29, 2018
Cyril Abiteboul (Renault – Team Principal):
"We were too conservative in terms of start tyres, strategy and the balance of the car was not good. We have two days of testing ahead of us here at the Hungaroring to work on these specific areas in addition to completing a busy program for development items for the second half of the season and directions for next year. Aside from today's race, we can reflect on the first half of the season as being in line with our target, but we cannot satisfy ourselves just with our championship position. We need to accelerate in every area of the team so that we not only reach our goal this year but to make sure we carry on our progression towards our long-term plan to be competing at a higher level in subsequent years."
Sergio Perez (Force India – 14th):
"It hasn't been an ideal day for us, but we knew it was going to be a tough Sunday all along. We started from the back and chose to go with an aggressive strategy, but in the end we just didn't have the pace to make it work. I had a good start but lost some places after touching with Leclerc and after that it was always going to be difficult to recover on a circuit where overtaking is very difficult. I am glad we have the summer break now. The last few months have been tough mentally but I'm still here and I'm in the top ten of the drivers' championship. We will come back stronger after the holidays – all the off-track issues will have been settled down and we can come to Spa with the right approach and a stable environment around us."
These have been some very stressful months off track but even though we managed to go in holiday with a podium-finish and in the top 10 of the World Drivers Championship! We'll be back stronger and completely focus on being JUST a driver! #nevergiveup 💪 #Checo11 #HungarianGP #F1 pic.twitter.com/dtgcKhv4G3

— Sergio Pérez (@SChecoPerez) July 29, 2018
Paddy Lowe (Williams – Chief Technical Officer):
"Ultimately our pace was only good enough to compete with each other today, but the team did a good job, executed good pitstops and it was a well-controlled race, so we know our pace is where we need to focus. We're ready for a rest after this first half of the season and next week's test, so we'll come back refreshed and ready for the next push in Belgium."
Toyoharu Tanabe (Honda F1 Technical Director):
"Our car worked well all weekend and this sixth place and eight points for Pierre is a very good result. It was partly down to the way we managed yesterday's complicated qualifying, when the whole Toro Rosso Honda team did a very good job, just as they did today. It was a shame that Brendon missed out by one place on giving us a double points finish. We have had some tough race weekends recently, so it's good to go into the summer break having finished in the points in the last two races. We hope to keep up that momentum starting in Spa."
Smiling heading into the summer break with @ToroRosso 🙏🏻

#HungarianGP 🇭🇺 #F1 pic.twitter.com/cuxeUChx20

— Honda Racing F1 (@HondaRacingF1) July 29, 2018
Marcus Ericsson (Sauber – 15th):
"It was a difficult race. I lost positions after the collision on the first lap and fell to the back of the grid. From there on, it was a difficult race. I tried to overtake the cars ahead, but it is quite tricky on a track like this. When the safety car came out early on during the race, we decided to box and change to medium tyres. It was a good move, and we managed to gain a few positions back. Unfortunately, not much more was possible. Overall, it was not a great race for us, but we will analyse it and come back stronger. I have a day of testing ahead this week and will head into the summer break after that. I look forward to having some time to review the season so far, and to come back even stronger."
Otmar Szafnauer (Force India – Chief Operating Officer):
"The summer break gives us a chance to regroup, deal with the issues that are taking place away from the track and come back for the second part of the season in a much stronger position. We are confident in the work we are doing back at the factory and we are still in the thick of the action when it comes to the midfield battle, so we can look forward to recharging the batteries once this week's test is over."
Sergey Sirotkin (Williams – 16th):
"I think we can say we have finished the first half of the year on a high. Obviously, it's not that visible in the results but, being realistic from where we started, the strategy we had and dealing with blue flags we can be happy with how we performed. There's still some room for improvement, which we will analyse and correct throughout the summer break, but we can take quite a lot of positives from this race and all of us can take a deserved rest."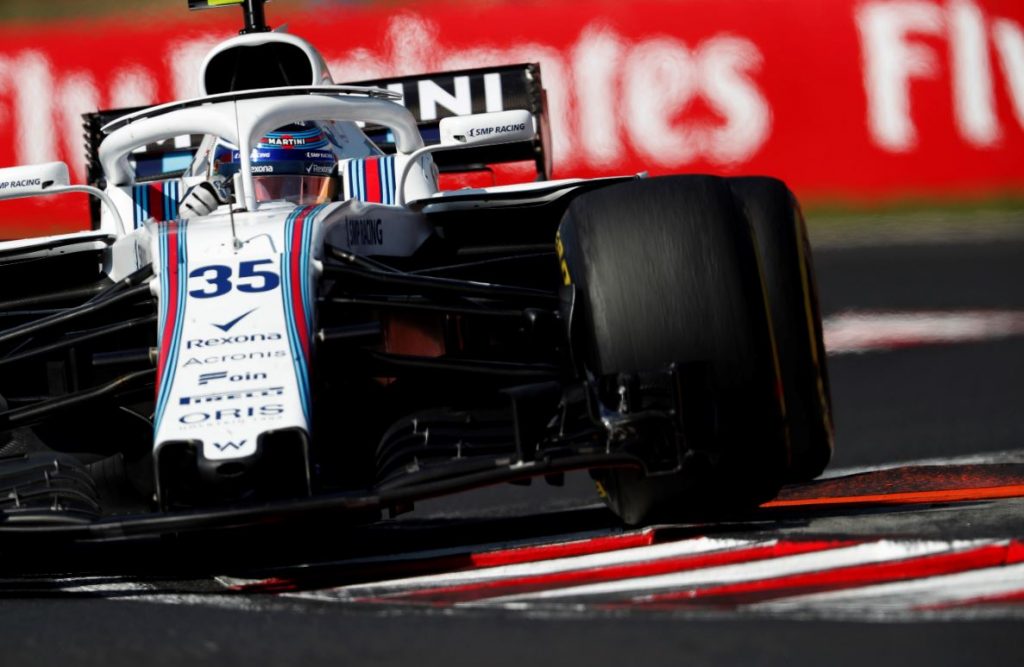 Lance Stroll (Williams – 17th):
"Yesterday it was nice to get into Q2, but obviously Q2 didn't go the way we wanted it to and today, we had to start from the pitlane. We put the old front wing on, which we haven't had for a couple of races now. I definitely felt the loss in performance, and the car felt like it wasn't cooperating as well as it has been since we got the new front wing. We went on a different strategy to Sergey and tried to pick up the pace at the end of the race with the qualifying tyres, but there just weren't enough laps left. It was one of those races."
Charles Leclerc (Sauber – DNF):
"It is a bit unfortunate to finish the last race before the summer break like this. Shortly after the start, I got stuck between two other cars which caused damage to my car. I had to retire from the race as a consequence. On the other hand, the season has been positive so far. We have made more progress than expected, and I have learned a lot and have scored some points. I look forward to my summer break now, and will use the time to relax and train for the second half of the season."
Couldn't do anything. Not great to finish such a positive first half of the season like this.
Holidays now 👋 pic.twitter.com/w51ztskyVD

— Charles Leclerc (@Charles_Leclerc) July 29, 2018