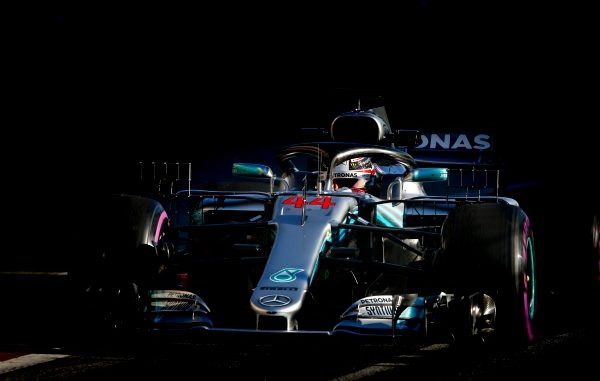 Pirelli has revealed which tyres each driver will be using for next weekend's Australian Grand Prix.
Four of the 10 teams – Mercedes, Williams, Haas and Sauber – have given their two drivers different tyre options, with the soft, supersoft and ultrasoft compounds available for the weekend. Each driver has 13 sets of dry tyres for the event.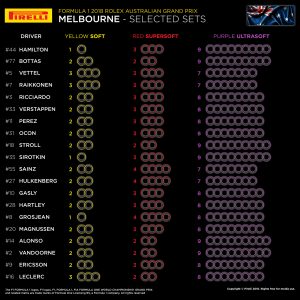 Lewis Hamilton  and Williams rookie Sergey Sirotkin have gone with what appears to be the most aggressive option, taking just one set of softs and nine ultrasofts. Romain Grosjean is the only other driver to use just one set of softs, but the Frenchman will have four sets of supersofts available, as well as eight ultrasofts.
Ferrari and Renault both seem the most wary of tyrewear, as they've both chosen to use seven sets of the softest compound. Renault appear to prefer the supersoft, with Carlos Sainz and Nico Hulkenberg the only drivers other than Grosjean to take four sets, while Ferrari are taking three softs and three supersofts. Alfa Romeo Sauber rookie Charles Leclerc will be the only other driver to have three sets of softs.
The compounds being used in Melbourne are the same that were available last year. Most drivers needed the soft compound tyres to make a one-stop strategy work in 2017, including the top four finishers – only Max Verstappen and Felipe Massa were able to complete the race without using the soft tyre or making a second pit stop. Pirelli and a number of teams have indicated that they expect more two-stop races this year as a result of the 2018 compounds.
This year's soft is around 0.8s per lap quicker than the medium according to Pirelli. With last year's soft compound being used as this year's medium, this suggests the 2018 soft specification won't be as long lasting this year. F1's tyre supplier estimates there is a 0.6s difference between the ultrasoft and supersoft tyre, and a further 0.4s between the supersoft and soft, based on running at Barcelona during testing.