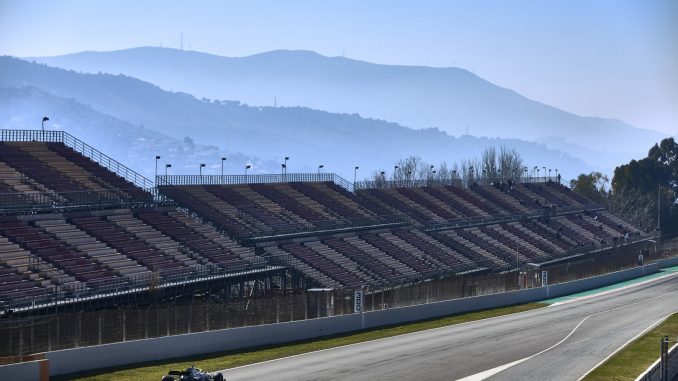 Just two weeks today, the first race of the 2019 Formula 1 season will already be finished!
This week, the teams were back on track at the Circuit de Catalunya in Barcelona preparing for new campaign in the second pre-season test.
Let's look back at each team's progress in Spain:
Mercedes:
Mercedes found themselves accused of sandbagging after the first test. The W10 was reliable and got in plenty of laps, but didn't really trouble the top of the timesheets. It was a different story this time around though. Although Lewis Hamilton and Valtteri Bottas couldn't quite match Ferrari's lightning-fast hot laps, Hamilton's quickest effort was just 0.003s off the best time from Sebastian Vettel, and just 0.1s slower than his record-breaking qualifying lap at this track during last year's Spanish Grand Prix.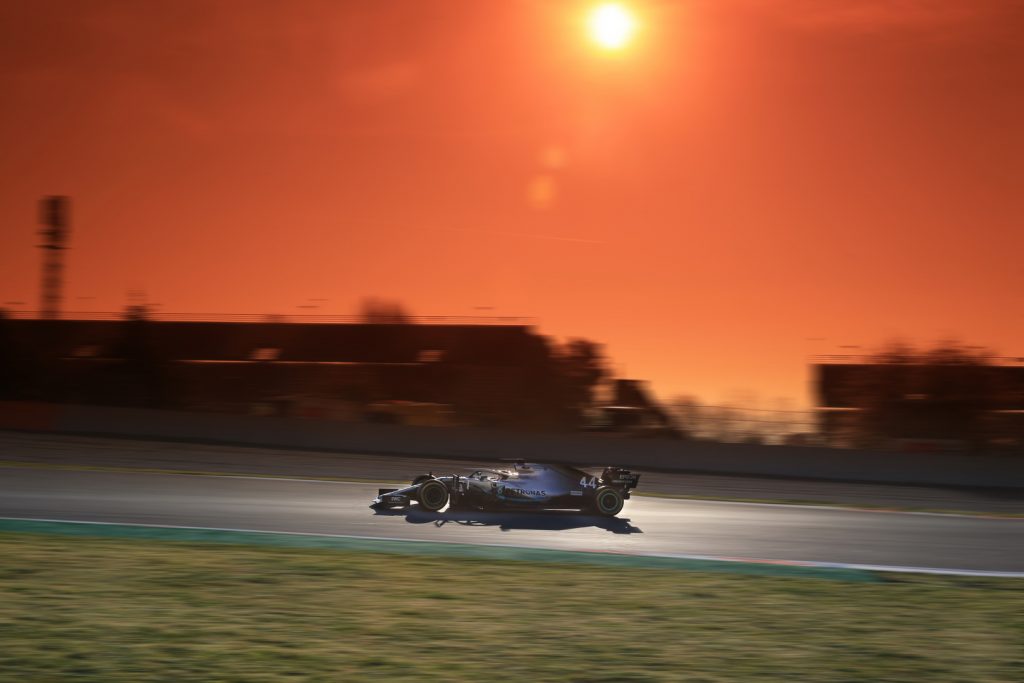 There was a different look to the car this week, with the team bringing an updated bodywork kit for the second test. An oil pressure problem on the first day limited Bottas's running, but he was able to return to the car on Wednesday to work on set up, before Hamilton carried out some race simulation work. The team rounded off the test programme with work on single-lap pace, with both drivers setting their best times on Friday, after completing final parts tests and work on understanding the 2019 Pirelli tyre compounds.
At the end of the test, Bottas said: "That's the final day of testing done, next time we'll drive the W10 it will be in Melbourne. We've used our time on track here in Barcelona efficiently, learning a lot and improving our performance over the past two weeks. We're also learned that the competition is going to be very, very tough this year, but we're looking forward to the challenge. We need to keep pushing and find more performance if we want to be competitive in Melbourne, but we have a strong team and have made good progress in the last days. We have a few days left to work on the car, so we will give it everything. I'm looking forward to Melbourne!"
Hamilton added: "The last couple of days have been very positive: it felt like the changes we were making helped us progress and gave us clear feedback of when we were moving in the right or the wrong direction. Today, it was nice to feel the car on lighter fuel and to discover what it a little better; I really enjoyed the day and got a good feel for the tyres as well. I'm not the biggest fan of testing, as everybody knows, but it has been a positive week overall. Even so, there is still a lot to do and we are not there yet; there are lots of areas that we re working on and we are heading in the right direction."
Ferrari:
After a difficult first two days, Ferrari finished the week with the best time is testing, as Vettel posted a lap of 1:16.221 in the SF90 on day four. Charles Leclerc's fastest came a day earlier, and was just 0.01s off the time of his more experienced teammate. The Monegasque driver missed out on the opening day due to a cooling problem, limiting his track time, while Vettel needed a trip to the medical centre on Wednesday after a heavy crash in the morning. The German said afterwards that he felt something wrong at the front of the car, and the team carried out a number of checks before repairing the damage and sending Leclerc out in the afternoon.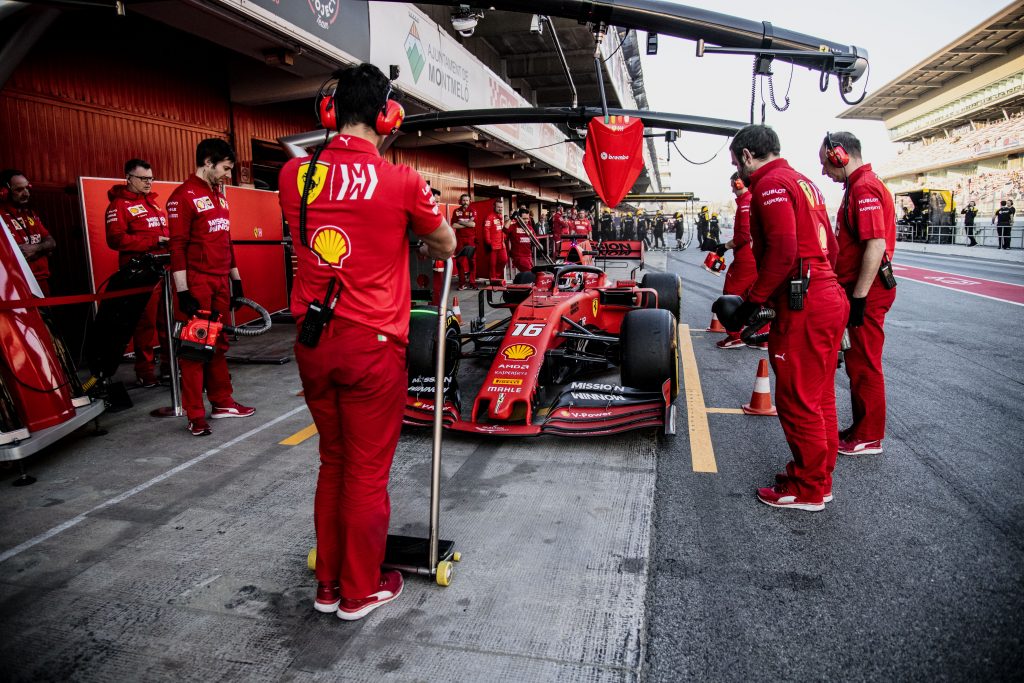 After the drivers shared the duties for the first two days, it was just Leclerc in the car on the Thursday, allowing the former F2 champion to carry out his first GP simulation with his new team, with only a small exhaust problem briefly halting his progress. Vettel returned on the last day of testing, with the focus on long runs simulating those the team could face in Melbourne later this month. Although he set the fastest time of the test on Friday, he also encountered an electrical problem in the afternoon, meaning Ferrari didn't manage a full day of running without issues during the second test. Although the pace is clearly there for the Prancing Horse, it looks like there could be some reliability problems to sort out if the Italian team is to pose a serious threat to Mercedes's dominance this year.
Speaking after Friday's action, team principal Mattia Binotto said: "These past days have been very intensive and interesting. We are still focusing on our car to understand its limits in terms of performance and reliability. Overall, I am pleased with the work we have carried out. I am pleased with how the car behaves and it was well balanced at this track. However, we cannot be completely satisfied at the moment as we would like to be faster and more reliable. So there's still a lot to do. Our programme didn't always run as smoothly as we would have liked, due to reliability issues and Sebastian's crash when a wheel rim broke.
"There are still many issues to be addressed and we must push forward on the performance front. The fact that our car is running properly is a good starting point, but we are still not ready for Melbourne and I'd say it's a case of a work in progress. Both drivers set very similar lap times. We already knew that Charles is a very fast driver, as we have seen throughout his years with the Ferrari Driver Academy and last season in Formula 1. As for Sebastian, his performance shows him to be the multi-world champion we already know."
Red Bull:
It was a stop-start second pre-season test for Red Bull as they continue to get to grips with the Honda power unit. Pierre Gasly got the week off to a strong start, setting the second fastest time on Tuesday while notching up 136 laps in the RB15. However, the need to carry out checks on day two cut into Max Verstappen's lap time, although he did manage to get on with some race preparation work after lunch on Wednesday. Verstappen was stuck in the garage again for a time on Friday after Gasly crashed on Thursday afternoon, forcing the team to carry out checks and repairs overnight. The Dutchman did manage to get out in the morning session on day four, but soon found himself back out of the car with a gearbox issue.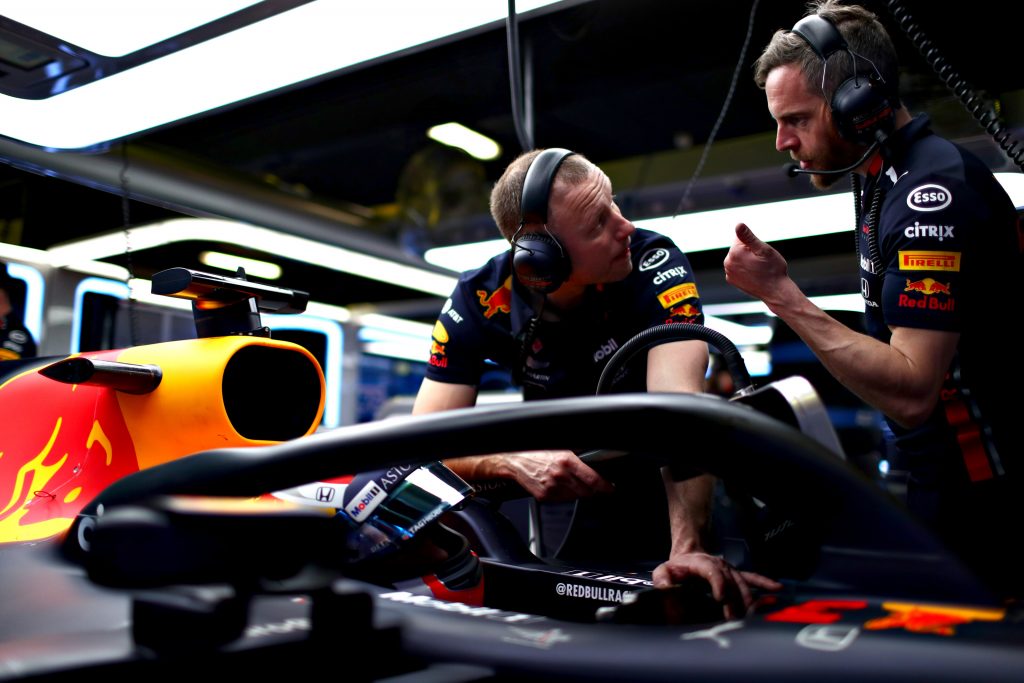 Red Bull have remained positive throughout pre-season testing when discussing their engine. While there don't seem to have been any problems directly linked to the power unit, Red Bull didn't manage the same mileage as the likes of Mercedes and Ferrari, which could mean they don't yet know how hard to push the car, and may be a little less prepared than they'd prefer ahead at the Australian Grand Prix. Verstappen completed the fewest laps of all the drivers at this test, and was 17th on time after the four days.
At the end of day four, Verstappen said: "The guys in the garage did an amazing job to turn the car around after yesterday's crash and get it on track this morning, but unfortunately we had a gearbox issue and the nature of it meant we had to stop. I think overall we've had a really positive test here. If you look at the longer runs it looks pretty promising. I think we have a good package and the engine works really well, so I'm very happy and I'm looking forward to just going racing now."
Head of Race Engineering Guillaume Rocquelin added: "We came here with a new car, a new engine partner and a new driver, and we leave Barcelona with all of those elements working extremely well together. Problems such as today's inevitably arise during testing and it's a shame that it disrupted our final day. However, I don't think we should let it colour what we have achieved over these two weeks in Barcelona. We've had an enormously productive period of testing and we've learned a great deal about the RB15 and the direction we want to go in as we head into the season. Honda have been outstanding throughout, we have had great reliability and the rapport with the Team is exceptional. It's also a big task for Pierre coming into a new team and he's learned a huge amount – about the car and procedurally. As for the car, the balance is good, the performance is there and we're ready to go racing."
Renault:
Renault said the team was able to complete its testing programme largely to plan after running reliably throughout the second test in Barcelona. Nico Hulkenberg was fastest in the first test, and set the best time outside the Mercedes and Ferrari cars this week. His time of 1:16.843 was 0.6s slower than that of Vettel. Daniel Ricciardo managed a few more laps than his teammate, but the Australian was 0.3s slower than the German, leaving him 12th overall.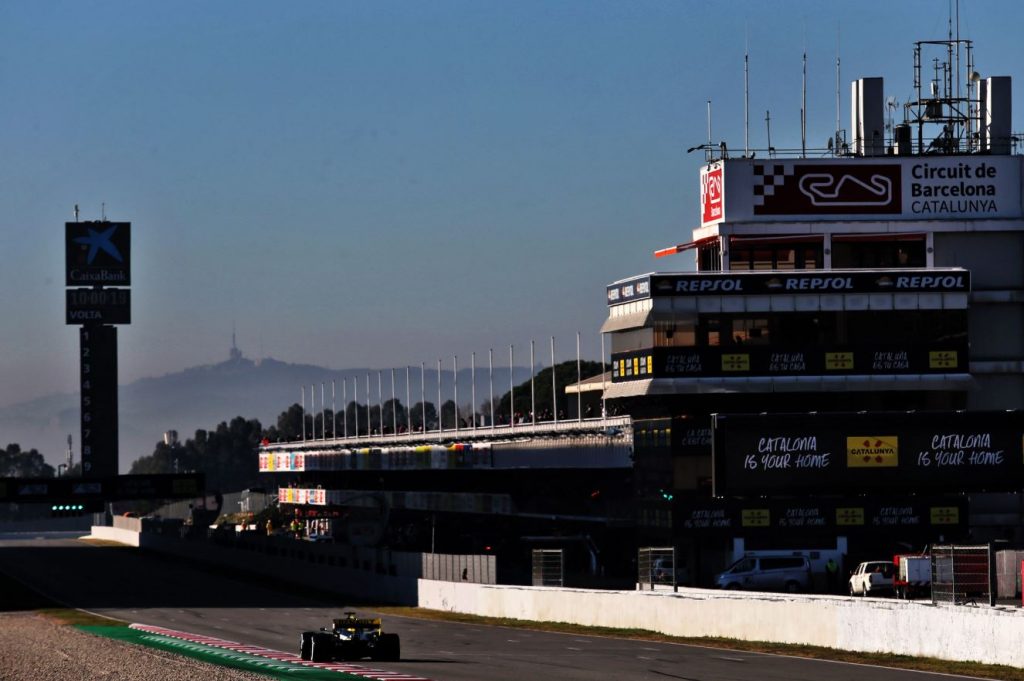 The team has mainly focussed on testing parts throughout the two-week period, ensuring they're pushed to their limits before heading to the first race of the season. The team reported a strong factory-circuit correlation, and says it's confident that the engine performance has matched expectations and that the chassis concept for this year's car is good.
Hulkenberg said: "I leave Barcelona feeling encouraged after a busy eight days in the car. We've made good progress as a team from last year in particular on the power unit. Our reliability has been decent, we had a few small issues here and there, but the team dealt with anything like that quite well and still managed a high lap count. We know the competition is extremely tight, but we only want to focus on ourselves. We head to Melbourne feeling relatively confident, but in the meantime, we have a lot of analysis to look at to ensure we maximise the potential from the car."
Ricciardo added: "It's been a pretty good week and we've done a decent amount of laps with some consistent running. It will take some time to catch the front teams but that is not what we expected to happen at winter testing and we are very realistic about that. At the same time, it's impossible to make accurate performance predictions. We still have work to do and things to improve on and that's what we'll focus on now. We will dissect the data we've harnessed over the past days back at the factory. We are making progress but the bigger steps will happen gradually going forward. I'm heading to Melbourne feeling that I belong here and I just want to go racing now!"
Haas:
Haas struggled with reliability issues in the first test, but appeared to have fixed some of those issues for the second outing, with Kevin Magnussen managing 131 laps on the opening day, before Romain Grosjean added 120 on Wednesday. The technical issues returned on the penultimate day of testing, with a brake-by-wire fault causing Magnussen to miss track time before an exhaust issue sidelined Grosjean after lunch.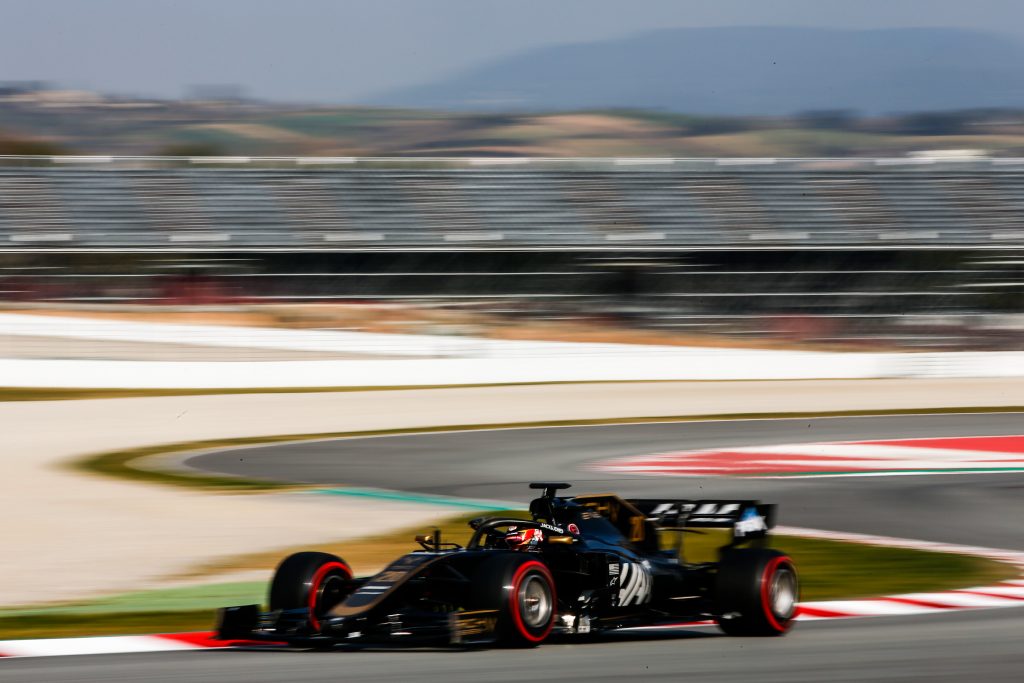 Haas managed to fix the faults, with the two drivers completing a combined 167 laps on the final day. Magnussen completed race simulation, including pitstops, while Grosjean set the team's fastest time in testing of 1:17.076, splitting the times of the two McLaren drivers, and putting Haas ahead of Red Bull and Alfa Romeo Racing.
Speaking after the final day of testing, Grosjean said: "It's been a good morning. We ran our full program, which is very positive. We're finding a bit more time in the car, run-afterrun, which is great. I'm generally very happy with winter testing to-date. Maybe we've had a few more issues than we'd have liked, but if we react well and sort them out, there are many things we've ticked in the box. I think we're ready for Melbourne, I'm looking forward to getting there."
Magnussen said: "Overall I think it's been a productive two weeks in Spain, today's been another good example of that. From the start the VF-19's felt good, and I can see how we've continued to make progress each day in terms of balance and performance. Of course, you never get enough miles in testing, that's just the way it goes, but I'm happy with what's been achieved. There's a lot more work to do before we hit the track in Melbourne, but from my side, I can't wait to start the season and go racing again."
McLaren:
McLaren grabbed a few headlines during the second test, with Sainz topping the timings on day two and the team announcing that "retired" two-time F1 champion Fernando Alonso will test the car this year. Overall though, it was a solid four days of running for the team with a few small technical issues along the way, allowing Carlos Sainz and Lando Norris to end the week as the 8th and 10th fastest drivers respectively.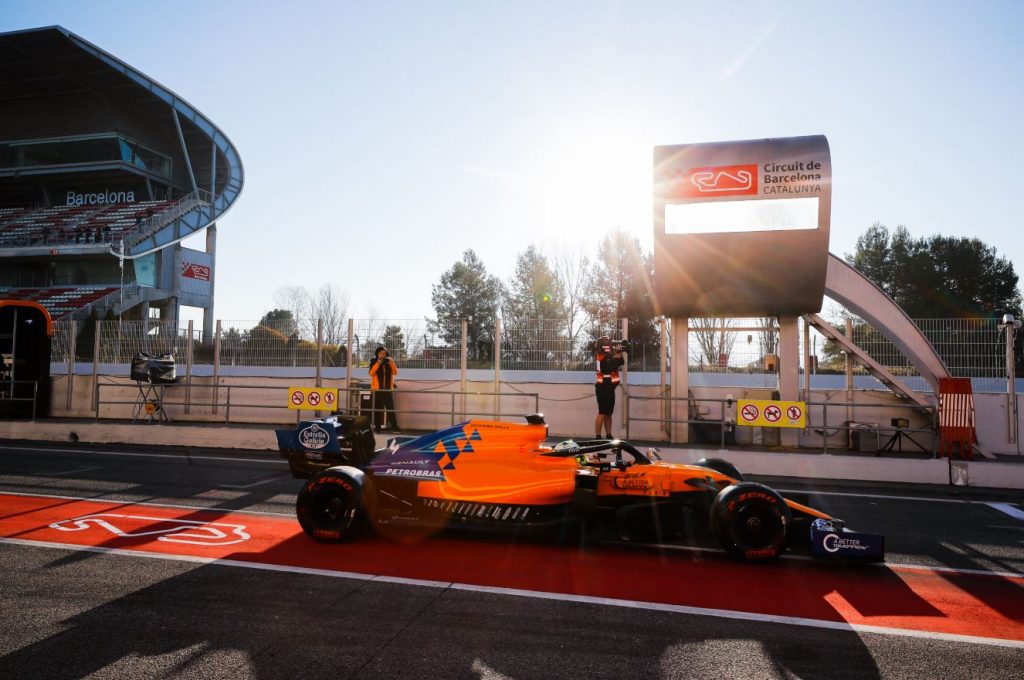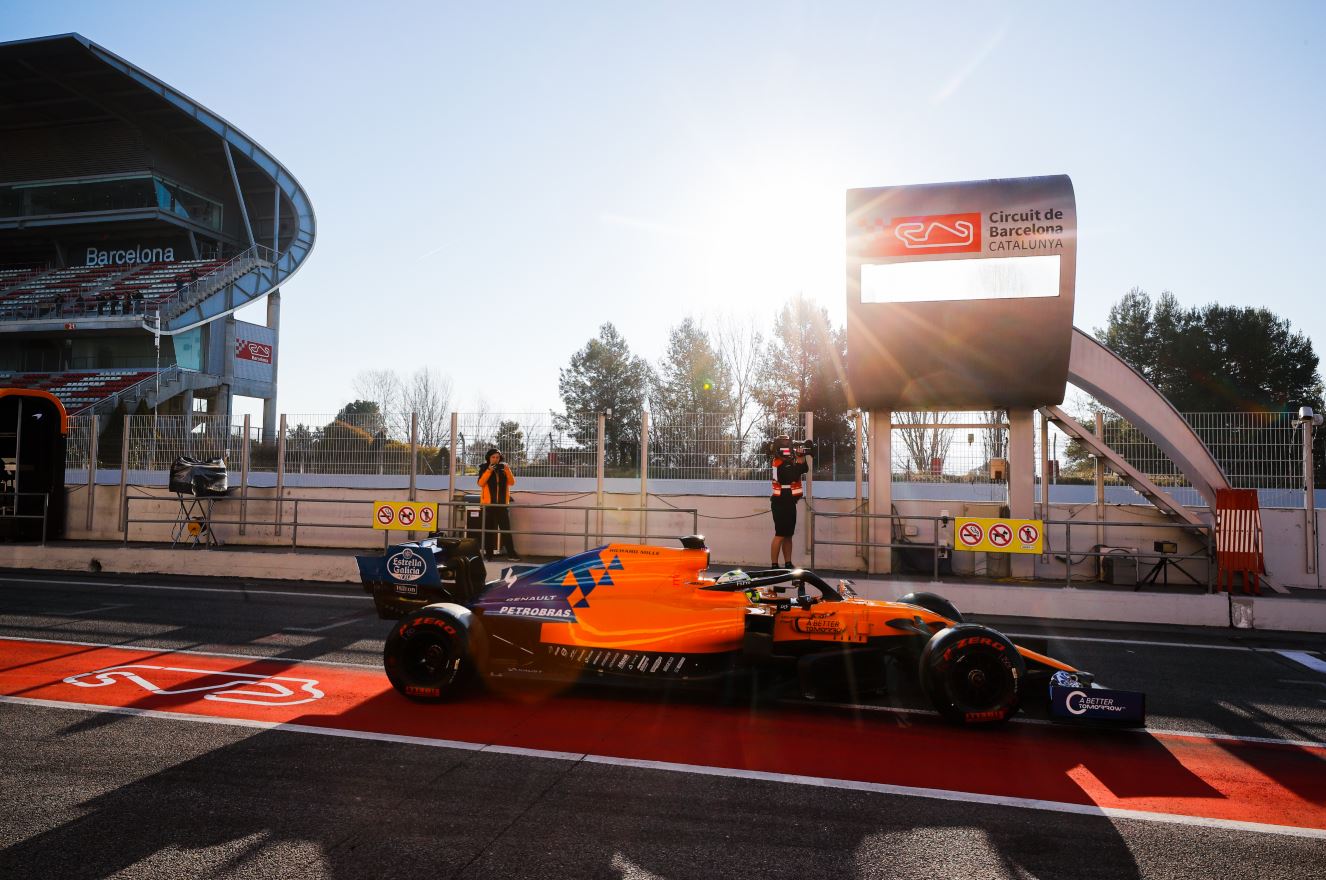 Norris had a couple of stoppages on track on the opening day of the event, but there wasn't too much time lost, allowing the team to focus on preparations for the Australian Grand Prix. Sainz was working on qualifying simulation on Wednesday, when he set the fastest lap time of the day, but again missed track time due to a water pressure loss and the red flag caused by Vettel's crash. An exhaust issue was to blame for Norris losing time on the penultimate day, before a busy shift from Sainz on the Friday allowed the team to work through a range of tests, including aero evaluation, qualifying and race simulation.
Speaking after the final day, Sainz said: "It's always nice to go to Australia finishing the test on a bit of a high, having covered a lot of mileage – the most for me in all four days of testing. I also finished my first race simulation without any issues, and did some performance runs in the morning which were useful for our understanding of the car. Now I'll go back to the factory to do some final work with the team so we can feel fully prepared before the first race. We've been very focussed on our own preparation and performance, so it's impossible to tell exactly how that compares to our competitors. Thank you to the team for their hard work over the past two weeks, and now we look forward to getting the season properly started."
Sporting Director Gil De Ferran added: "We came to testing with a few goals in mind – to do a lot of laps to ensure reliability and sign off systems, to understand our new car and the new Pirelli tyres, and perhaps most importantly, to integrate our new drivers into the team and prepare them as best we can for the season ahead. I think we've accomplished all these things satisfactorily. From a competitive perspective, it's difficult to gauge exactly where we are. People are doing different things all the time – at different times of the day, with different fuel loads and tyres, so it's hard to confidently be precise about where we rank compared to the rest of the field. Next stop, Australia, which we've been working hard towards all winter, and the beginning of what hopefully will be an exciting Formula 1 season."
SportPesa Racing Point:
Lance Stroll continued to learn his new team at the second test, starting with work on the tyres on the opening day. Sergio Perez struggled to find a balance that worked for him on day two, but was also hindered by the timing of stoppages on track. The team didn't switch towards a focus on Melbourne until the penultimate day of testing, with Stroll and Perez both completing similar programmes on the last two days, including race simulation work.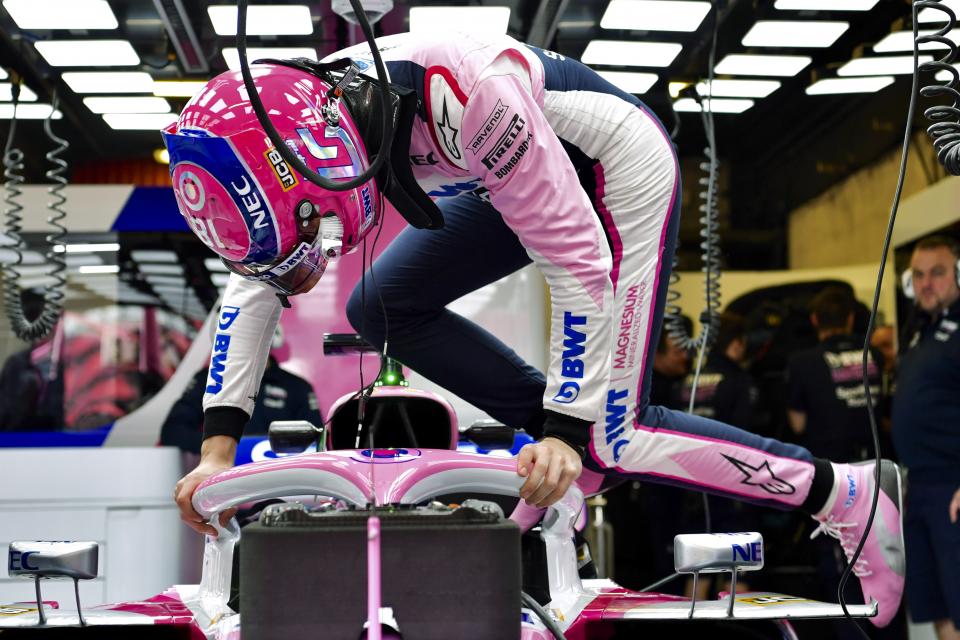 With the team's programme more focussed on general data gathering than more specific areas than some of their rivals over the four days, Racing Point seem off the pace, only the Williams drivers set slower fastest times than Perez, while Stroll was just 0.2s faster. The Canadian is still settling in his new team though, while neither driver managed more than 200 laps over the four days, meaning they could be one of the teams to jump forward once they get to Australia.
Performance Engineering Director Tom McCullough said: "It's been a successful eight days of testing where we have achieved all our main test objectives. We were able to get a good understanding of the RP19 launch car and also of the five tyre compounds we will be using throughout the season. Today was a useful day: the car ran reliably again, as it has done all week, which is encouraging. Our race runs were slightly hampered by the timing of the red flag, but we still finish the day having learnt a lot about our car. We have plenty of work to be done between now and Melbourne, but we can look forward to the start of the season. Overall, it has been a huge effort by everyone in the team, both at the track and back at base."
After the final day of running, Perez added: "It's been a positive final day in the car for me. We did a lot of work and I think we have a good idea of where we stand with the car. Today was about final race preparations with lots of long runs. Every time we go out, we learn more and more and I feel ready for the season ahead. It's been a long winter and I'm extremely motivated: I can't wait to go racing again. Starting the season with some points would be good, but in the end it's a long season so we need to get to Melbourne and see how we really compare to the other teams."
Alfa Romeo Racing:
Antonio Giovinazzi was in the car on the opening day of the test for Alfa Romeo Racing, pushing to find the best set-up ahead of the opening race of the season. Kimi Raikkonen's Wednesday workload looked at tyre testing and set up.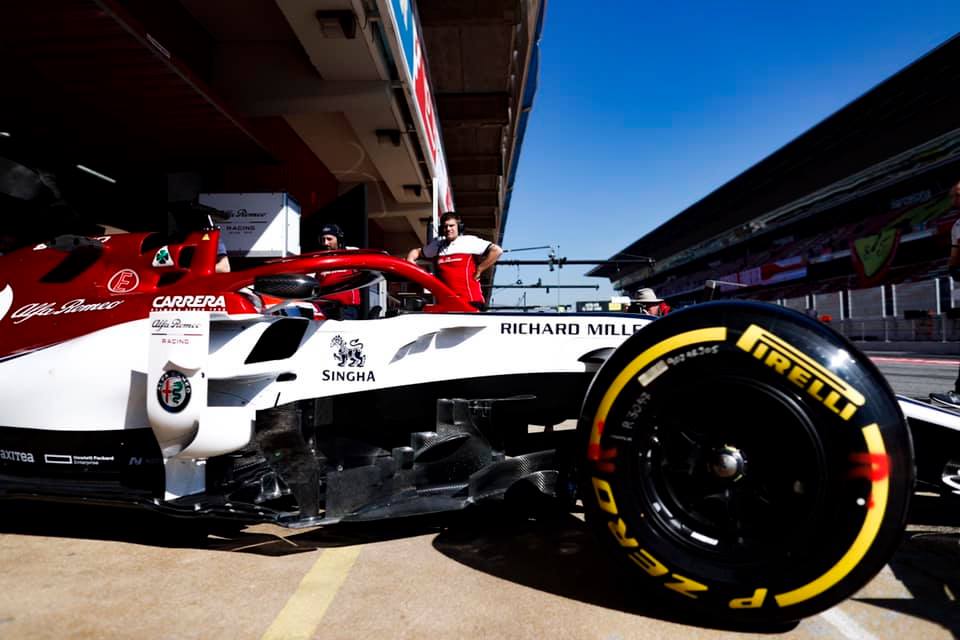 The team hasn't published details of its programme for the final two days of the test, making it a bit tricky to judge the team's performance. Raikkonen ended the week with the 13th fastest time overall, while Giovinazzi was 0.4s adrift of the Finn, but completed fewer laps than the 2007 world champion.
Giovinazzi said: "We have concluded another constructive day and started the second week of testing on a positive note. With another 99 laps down, I feel good in the car and am satisfied with the progress we are making. We continue to learn about our strengths as a team with every day spent on track and are motivated to continue of this path"
Toro Rosso:
It was a slow start to the test for Toro Rosso as Alexander Albon had to work through a few glitches on the opening morning. However, he managed to get plenty of laps in on Tuesday afternoon, working on longer runs as he prepares for his Grand Prix debut later this month. Daniil Kvyat turned his attention to aero tests on day two, but also suffered a couple of small technical issues, preventing him from maximising his time on the circuit.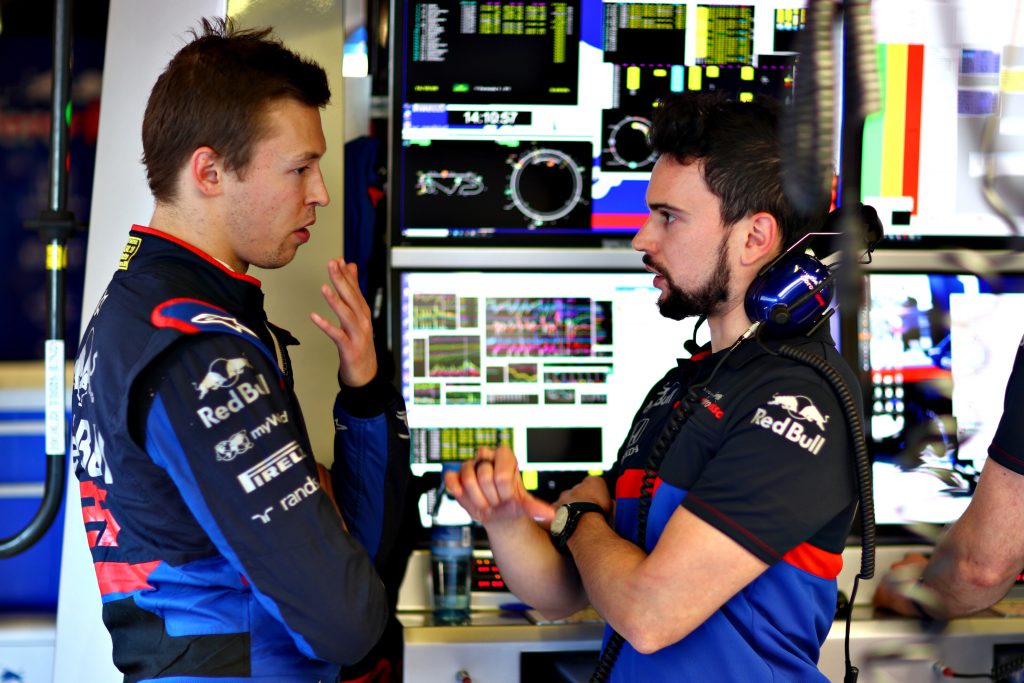 Having shown strong single-lap pace in the first test, Toro Rosso continue to look at longer runs as the week continued, with Albon breaking the 100-lap mark on Thursday, as well as looking at how to adapt to different tyre compounds and track evolution. A qualifying run from Kvyat on the morning of the final day saw him set his best time of the week, but it was Albon who had the fastest lap overall for Toro Rosso, with his effort of 1:16.882 leaving him just 0.04s off Hulkenberg's quickest in the Renault.
At the end of the week, Team Principal Franz Tost said: "Despite the cold temperature in the mornings, the weather in general has been kind to us for the two pre-season tests here in Barcelona. This gave the team the chance to learn a lot about the new STR14, different setups, and the tyres in favourable conditions. The synergies project has delivered what we expected, which means we had quite a reliable car from the very beginning, having covered 4,352 km between the two tests without any major problems. We experienced some little issues here and there which is normal at this stage of the season, but all of those were immediately addressed and certainly didn't create any reason for concern. The team did a good job at the factory as they delivered all the parts on time. Here at the track, the garage operations were smooth despite a few new members of the race team, who were integrated in their new roles straight away and very efficiently. Thanks to everybody in Faenza and Bicester for the great effort.
"Both Daniil and Alex have shown that our expectations were realistic, delivering very useful feedback without making any mistakes. Despite last year's break from racing, Daniil has immediately got back to grip with the car and has proven to be the driver we know he is, mainly very fast and providing the engineers with valid technical feedback. He will be a big help for Alex, who is quickly getting used to F1 day after day, with a very steep learning curve. He was able to manage his first four days with the team, showing really strong performances and a very good physical preparation. On the PU side, we have to send a big thank you to Honda, as the engineers in Sakura further improved the performance and the reliability of the PU.It seems like we have all of the ingredients to kick off this new season in Melbourne from a good starting point."
Williams:
After missing the first two and a half days of the first test, things were bound to improve this week at Williams. George Russell got the team off to a strong start, completing 119 laps on the opening day without any significant issues on the car. The rookie started with data gathering runs before looking at performance on high and low fuel, as well as generally familiarising himself with the car. The smooth running continued on Wednesday, with Robert Kubica taking charge of the Williams for 130 laps. There was a focus on aerodynamics on Thursday, as well as Russell looking at qualifying strategy. However, Kubica's long runs on the final day as the bodywork parts had sustained too much degredation, meaning the team wasn't collecting meaningful data anymore.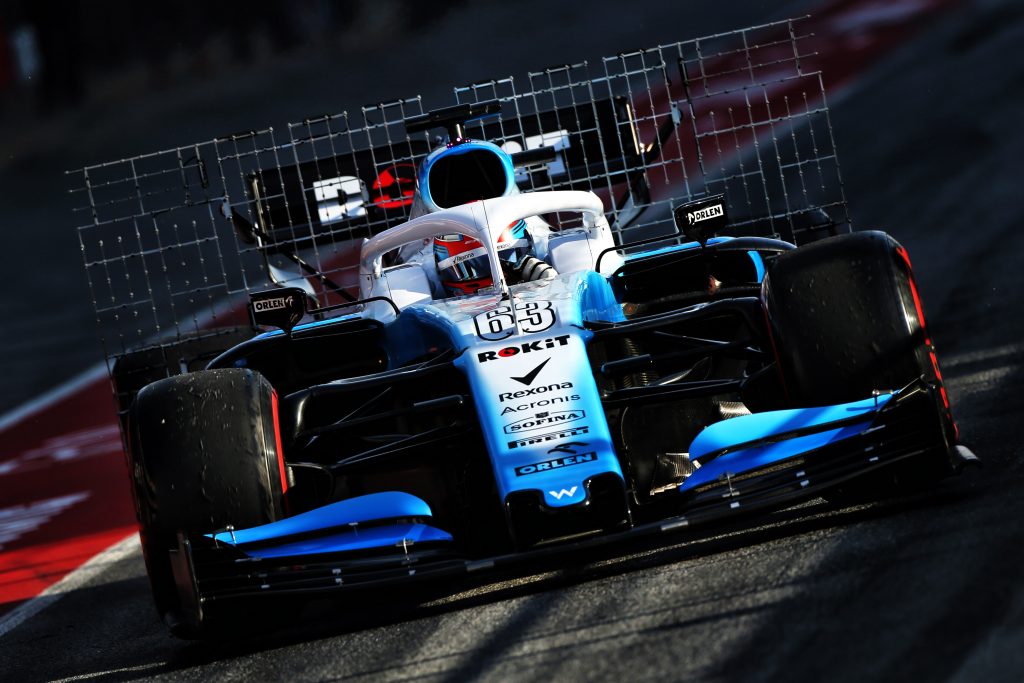 The pace is still lacking for Williams, although Russell finished the week just 0.2 seconds adrift of Perez's best effort for Racing Point. However, the team will have learned so much after getting some serious mileage on their car for the first time, and will be reassured by a relatively issue-free running.
At the end of the test, Chief Technical Officer Paddy Lowe said: "Having arrived late to the testing, our reliability during the running itself has been incredibly high. Up until today we were on track to complete our originally intended mileage and to consume all available tyre sets. But today this car has become ultimately too tired to continue. In the interest of saving our resources for the important racing in Australia we felt it was right to change the plan. In general, the car is not as its best and this has affected our performance most particularly this morning with Robert in the qualifying simulation and to some extent with George yesterday.
"This is an important moment as we finish the pre-season testing to acknowledge the huge effort that has been put in by everybody to design, manufacture and operate this car. The car build and testing itself has required an extremely intense period of more than three weeks working 24×7 by the trackside team. What we have achieved despite our huge challenges is remarkable; well done to the whole team."