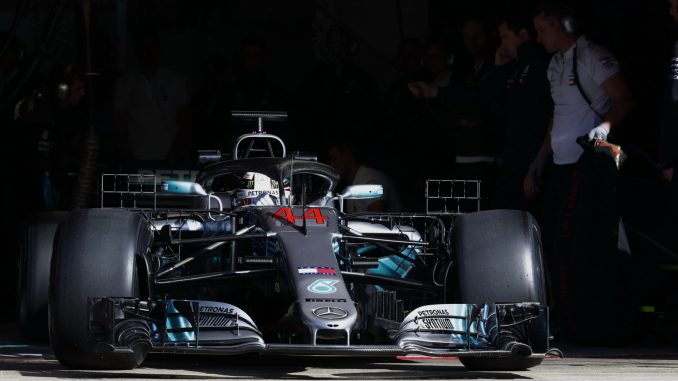 The Spanish Grand Prix may have ended on Sunday, but teams remained at Circuit de Catalunya until this afternoon, having completed two days of testing in Barcelona this week.
Most teams took advantage of the test to give track time to their test, reserve and development drivers, with Jake Dennis, Jack Aitken and Oliver Turvey some of the less familiar names in action.
While the teams may have been testing new parts, Pirelli were also busy at the test, with McLaren and Force India each running a second car for F1's tyre supplier.
It will be the final time F1 tests at Barcelona this year, with the second in-season test taking place after the Hungarian Grand Prix.
We take a look back at each team's activities at the test.
Mercedes:
The current constructors champions kept Lewis Hamilton and Valtteri Bottas in the car for the Barcelona test, although Junior Driver George Russell was in action with Force India for the Pirelli tyre test. Hamilton was in the car on the opening day, finishing sixth in the standings after focusing his efforts on the soft tyres. The team used Hamilton's time in the car to collect aero data and check correlation between the wind tunnel and recent updates, as well as working on setup and engine development. The Briton was the busiest driver on Tuesday, completing 151 laps of Circuit de Catalunya.
Bottas posted the fastest lap time of the entire test today, completing a 1:16.904 on supersoft tyres. The team started Wednesday's program with more aero tests before switching to work on short runs, while long run pace was the focus for this afternoon's session. At the end of the test, he said: "Today was really interesting and we got through our programme fairly smoothly. We had a good baseline from last weekend and used it to work on different set-ups, trying out bigger changes than we normally would on a race weekend. We also tried to gather some information on the tyres, as we will see similarly smooth tarmac at Silverstone and Paul Ricard."
139 laps today 💪🏼

Enjoyed it and again we learned a lot. Bring on Monaco GP next week 🏁#VB77 #F1 @MercedesAMGF1
📸S.Etherington pic.twitter.com/94tU0Xnyhj

— Valtteri Bottas (@ValtteriBottas) May 16, 2018
Trackside Engineering Director Andrew Shovlin added: "There were a few cars that stopped on track in the afternoon causing red flags, which does impact on your plans. But, we have been able to complete almost all the important work we had planned and have made some good progress in further understanding the car and tyres. We have a very busy few days coming up, finishing our analysis from the race and test and getting stuck into preparations for Monaco to ensure we are ready for its unique challenges."
Ferrari:
Ferrari gave an outing to Ferrari Academy product Antonio Giovinazzi, who was also in action with Alfa Romeo Sauber. However, it was Sebastian Vettel on duty on day one, completing over two Grands Prix distances on Tuesday. Ferrari gave the four-time champion some developments to test, but insisted the new parts aren't aimed at Monaco. Vettel ended the day third in the standings behind Max Verstappen and Carlos Sainz, but set his fastest time on the soft tyres.
Despite completing 135 laps for Sauber on Tuesday and feeling under the weather today, Giovinazzi had a busy day for Ferrari, completing 148 laps to finish second, just 0.068s behind Valtteri Bottas. Unlike Vettel, his fastest time came on the hypersofts, which will be making their debut at the Monaco Grand Prix.
Giovinazzi said: "It was a tiring day. We did a lot of laps, but I really enjoyed it. Apart from yesterday, driving the Alfa Sauber, I hadn't driven in an official test session since last year in Abu Dhabi. We had an interesting programme to work on, with various things to test and different tyre compounds to try. The test was productive and delivered a really big amount of data to correlate with that from the simulator. To be at the wheel of a Ferrari is always a privilege and it was a fantastic feeling."
Red Bull:
There was a new name in the car for Red Bull, as Simulator Development Driver Jake Dennis joined Max Verstappen for the test. The former GP3 driver had a difficult act to follow as Verstappen topped the timesheets on day one.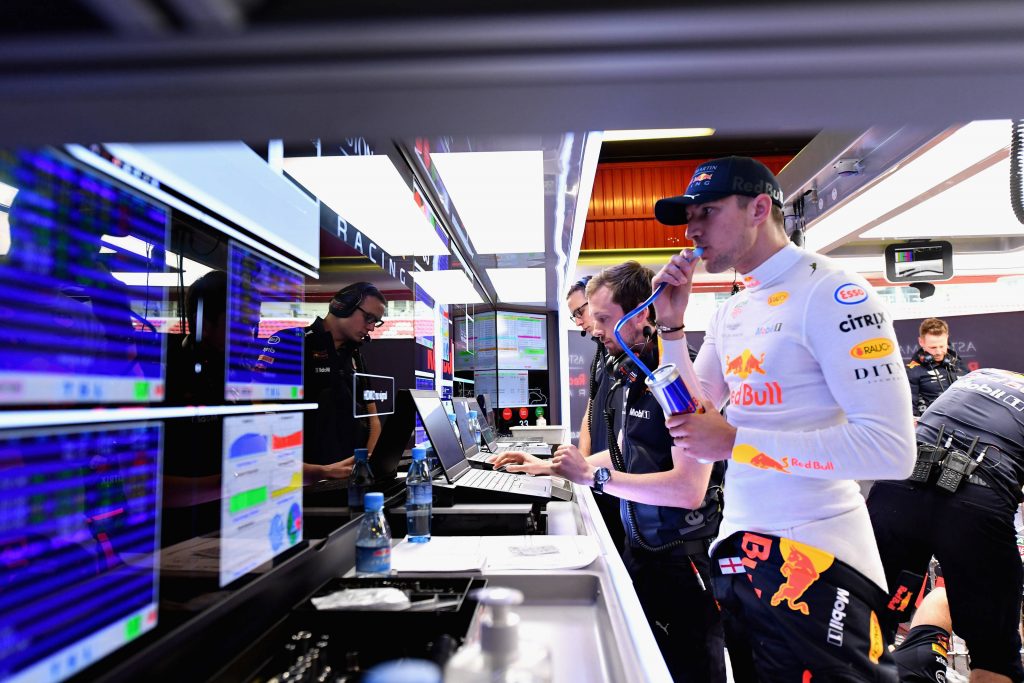 With the Dutch driver putting in a heavy workload on Tuesday, Red Bull focused on evaluating test items targeted at upcoming races with Dennis, in what the team described as an engineering biased day. As well as giving the Briton experience in the car, the team hopes the outing will help Dennis with his work in the simulator.
After his first time in the RB14, Dennis said: "Obviously it's a big step up from what I'm used to in GT racing but I got used to the speed and the grip quite quickly and we managed to get through the whole run plan in the end. The morning session went pretty smoothly and then in the afternoon I managed to get quite a few laps under my belt, which was good. It was nice to change a few things to give me a proper representation of the difference between the simulator and real life. So we have a few things to work on back in Milton Keynes to help Max and Daniel and make it even more realistic for them."
Renault:
Fresh from his first win in F2, Renault reserve driver Jack Aitken got to test a hybrid-era F1 for the first time, as he and Carlos Sainz were in the car for the team. Aitken's efforts in the car including a range of stint lengths to help the British-Korean driver get acclimatised to the RS18, as well as carrying out aero and mechanical evaluations. He completed 120 laps and ended the day sixth out of 13 drivers.
Aitken said: "Today was an amazing experience for me driving a contemporary Formula 1 car for the first time. I was a little surprised how quickly I adapted to the car as I was up to speed quite smoothly in the morning. It was a busy day with a packed programme! We got through it really well, with both the team and myself able to learn a lot through the day. Overall, an awesome day with a lot of laps on the board and plenty of data to analyse so I'm a happy man."
Can't begin to describe today, but to sum up, so frickin' awesome. Thank you @RenaultSportF1 for trusting me (fools…) 😇😈 pic.twitter.com/S10zn3VR2h

— Jack Aitken – 한세용 (@JaitkenRacer) May 16, 2018
Sainz showed impressive pace on the opening day of the test, finishing second in on the leaderboard behind Max Verstappen, and ahead of Lewis Hamilton and Sebastian Vettel. Sainz ran a similar programme to Aitken, with the team keen to find ways to extract further performance from the car.
Force India:
Force India were one of the busier teams at the test, running one car for their own purposes and a second for Pirelli's tyre test. This meant the team used three different drivers over the two days, but gave Sergio Perez and Esteban Ocon the week off. Reserve driver Nicholas Latifi was in the team's car on day one before switching to the Pirelli car today. Mercedes young driver George Russell and GP3 driver Nikita Mazepin were also in the car for Force India.
Latifi, who was driving the VJM11 for the first time, had a strong showing in the team's car, finishing Tuesday with the fifth best lap time of the 13 drivers in action, while completing 107 laps of the circuit.
Speaking after the test, he said: "I was really looking forward to my first outing, especially after the disappointment of missing out on pre-season testing [due to illness]. It was a very good first day on track with the team and I finally had the chance to put to practice a lot of the procedures and processes that I had learnt in the simulator. I am pleased with how the day went; we ran smoothly with no big dramas. We completed lots of laps and I couldn't have asked for a better first day. I am glad I could help the team with their testing programme and I am looking forward to being back in the simulator with this new knowledge of how the car behaves on track."
It was a similar story for Mazepin today, as the team's development driver also finished fifth out of 13 drivers with a marginally faster time than the lap posted by Latifi on Tuesday. Mazepin said: "The conditions are very different compared to the last time I drove the VJM11 during the winter. The car feels so much better now and from the first moment I could feel the positive step the team made. I had my reference points from my work in the simulator so it wasn't all new for me, but it still felt much more consistent and easy to drive compared to pre-season testing. Our programme today included a mix of long and shorter runs working mainly on the softs and hypersoft. We had a small issue in the morning that prevented us from running as much as we would have liked, but we were able to catch up in the afternoon."
McLaren:
Like Force India, McLaren were working on their own testing programme, as well as running a car for Pirelli. Stoffel Vandoorne and reserve driver Lando Norris were out in both cars, while Oliver Turvey also did a stint in the Pirelli car.
Vandoorne was in the team's car on Tuesday with a programme aimed to work on shorter runs, as well as testing different components, settings and fuel loads. Norris stook to low-fuel runs in the Pirelli car, while Turvey ran a higher fuel set up, with Pirelli reporting that they were happy with the data collected from the second McLaren car.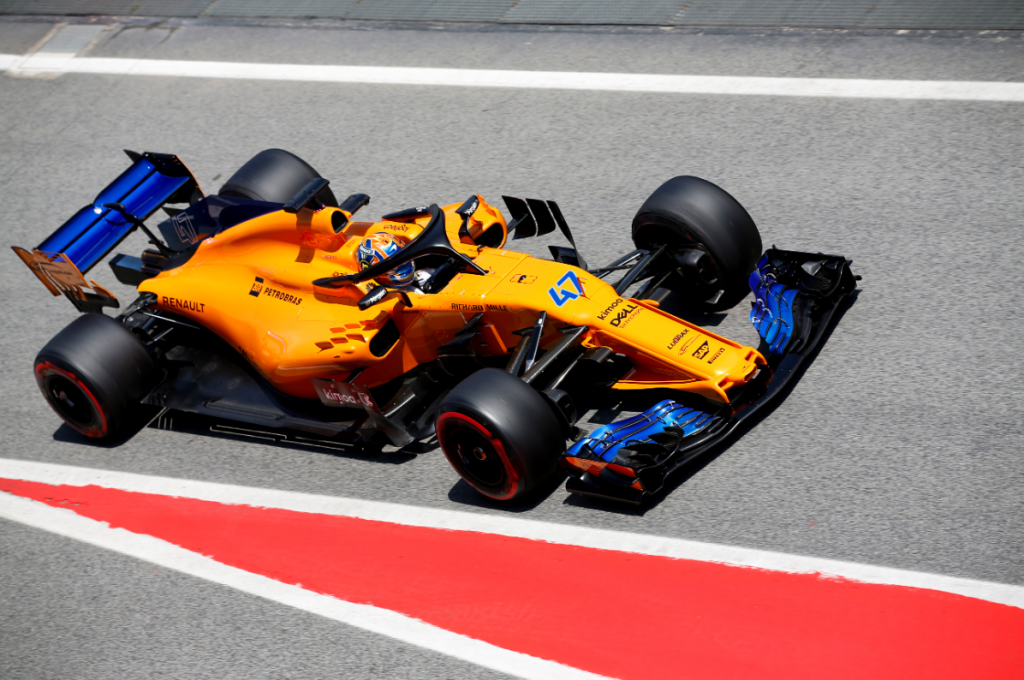 Norris and Vandoorne switched places today, with the F2 driver taking charge of team duties. His tasks includes correlating aero data on the new components, as well as working on set up changes for different tyre compounds.
Racing Director Eric Boullier was optimistic after the test, saying: "Today we completed another solid day of running with both cars. Lando benefitted from the experience of running in the updated MCL33 package for the very first time, and once again provided useful feedback. The team will now work on analysing the information to aid our development of the new components and to correlate our on-track findings with the numbers predicted in our simulations at the factory. I'm pleased to report we've completed two full test days with two cars and with no major issues. The data gathered has armed us with a lot of important information as we head into a very busy racing period leading up the summer break."
Haas:
Haas were one of only two teams to use their regular driver lineup at this test, with Romain Grosjean on duty yesterday before handing over the reins to Kevin Magnussen today. Grosjean, who caused a first-lap crash on Sunday, did a lot of work on the hypersoft tyre ahead of its debut at next weekend's Monaco Grand Prix. The Frenchman finished the first day fourth on the timing sheet.
Magnussen's programme didn't go entirely to plan today, as the Haas engineers spotted a problem with the data from his car, forcing him to stop the car on the circuit and resulting in a red flag. Although the team looked over the car, they weren't able to get it running again by the end of the test. Despite a shorter than expected day, Magnussen was still able to finish the day fourth fastest.
Grosjean said: "It's been a very good day and a very productive day for the team. We've done a lot of mileage and we haven't had any issues with the car. The circuit was a bit dirty, initially, in the morning. The grip was a bit low – it was fresh. It got better and we got some really decent running. We did some very good testing with the car. We've learned a lot about the different tires and setup work, which you don't get to do on a race weekend. The feeling was super good, and I think it was important to get back on the horse after not being able to complete the grand prix on Sunday. So, feelings were good. Hopefully, they stay there for Monaco and the rest of the season. I'm very happy with the job that everyone's done on the day."
Toro Rosso:
Toro Rosso grabbed the headlines when testing at Barcelona pre-season, showing impressive pace and reliability with the new Honda engine. That hasn't translated into results so far this season though, Pierre Gasly's fourth in Bahrain aside.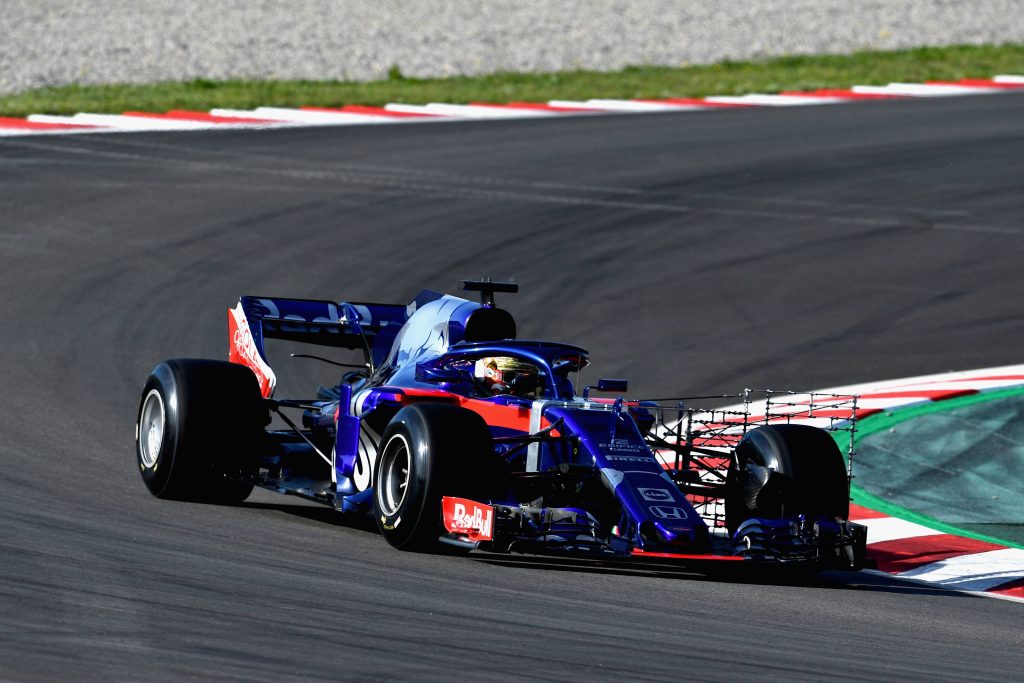 F2 driver Sean Gelael was on testing duty on Tuesday and this morning, before Gasly, fresh from his opening lap crash during Sunday's race, got in the car this afternoon. The team had limited running on Tuesday because of what the team called a chassis-related issue, which forced them to change the power unit. Once back up and running, the team focused on aerodynamic testing, cooling evaluation and tyre testing, claiming to have found some interesting directions which it will analyse and explore further. Gasly also had a reliability problem this afternoon, with a steering issue limiting his track time.
After completing his run in the car, Gelael said: "It was a long session this morning. I stayed in the car a lot and completed 83 laps! It was really fun, especially because yesterday, sadly, we had much less running. I'm really happy with today, I think the team had interesting ideas and developments, so that should hopefully be valuable for the upcoming races. It was a pleasure for me to contribute with a lot of race simulations, hopefully the testing items we ran will be successful and will make the car quicker!"
Williams:
Williams were another team resting both of their racing drivers, as official young driver Oliver Rowland and reserve driver Robert Kubica were in the car. Rowland was in action yesterday, with the team praising his efforts. He completed 121 laps in the car, allowing Williams to get through a number of test parts.
Kubica was back at the wheel today, having also taken part in FP1 in Sergey Sirotkin's car on Friday. Kubica's fastest time was almost a second quicker than Rowland's, leaving the Pole eighth out of the 13 drivers in action today, including full-time F1 drivers Pierre Gasly and Stoffel Vandoorne. The team hopes the data collected from Kubica's runs will help them set the car up for Monaco and beyond.
Kubica told the team's website: "There will be a lot of things to analyse and double check with all the data we gathered. It was an interesting day from a driving point of view but it will be more interesting for the guys back at the factory to look at the data and see what we can get out of it. With limited time we need to find the best way of fixing our issues. That's not something we will be doing in 24 hours. I am happy to help and I did my best as always."
Alfa Romeo Sauber:
Reserve driver Antonio Giovinazzi opened the testing programme for Alfa Romeo Sauber, before rookie driver Charles Leclerc took over today. Giovinazzi completed a varied workload on Tuesday, working on aerodynamics, mechanical tests and tyre work while operating a number of tyre compounds, finishing the day eighth fastest out of 13 drivers.
Leclerc ran a similar programme today, with the team praising his excellent performance and consistency to finish seventh. Sauber says it will use the data to start its preparations for the Monaco Grand Prix.
Leclerc said: "It was a productive day of testing for us. I feel comfortable on this track, as we have spent quite a bit of time here this season – for winter testing, the Grand Prix last weekend, and now the third test of the season. We tried out various car set-ups, and tested new aerodynamic parts. It was also interesting to drive on different tyre compounds and learn more about their behaviour. I am satisfied with the number of laps we completed. We collected a lot of data and will be able to learn from this and apply our knowledge in the upcoming races."
The full #F1Testing breakdown of the best times over our two days on the track.https://t.co/VXvV4KCkoS pic.twitter.com/kIpeT2UZQO

— Pirelli Motorsport (@pirellisport) May 16, 2018