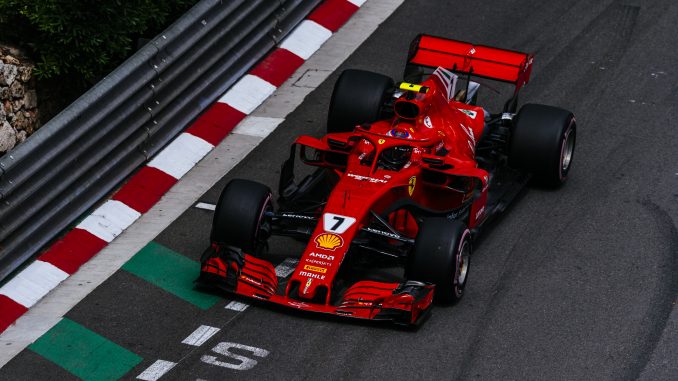 Kimi Raikkonen has been linked with a return to McLaren if Fernando Alonso leaves Formula 1 at the end of this season.
Sky Sports News claims McLaren would be interested in signing the Finn, who drove for McLaren between 2002 and 2006, if Alonso moves on at the end of the 2018 campaign. McLaren declined to comment on the report though, insisting they won't discuss driver matters.
The Spaniard is out of contract at the end of the current season, and has been heavily linked with a move to IndyCar following his recent victory at the 24 Hours of Le Mans, potentially leaving the team without an experienced driver.
Stoffel Vandoorne is also in the final year of his contract with McLaren, while reserve driver Lando Norris has been impressing in F2, so much so that he has received offers from other teams on the F1 grid. Vandoorne has rarely performed on par with Alonso in his time at McLaren, with many expecting Norris to take the Belgian's seat for 2019.
There's nothing to stop McLaren partnering Norris with Vandoorne for next season, but the duo aren't the most experienced drivers. Norris is only 18 and in his first season in F2, although his rise up the ranks has been impressive and rapid, while Vandoorne only had his rookie season in F1 last year, although he did stand in for an injured Alonso at one race in 2016.
Raikkonen is in a similar position to Vandoorne at Ferrari – he's regularly being outperformed by his teammate, with the team's next big thing ready to take his seat. Ferrari academy product Charles Leclerc has quickly established himself as a star of the future after Ferrari secured him a seat at customer team Sauber for this season. His performances have been so impressive that Ferrari are believed to be considering him as a potential teammate for Sebastian Vettel next season, despite the team's usual preference for more established race winners.
If McLaren do want an experienced driver to replace Alonso, they'll struggle to find one with more experience than Raikkonen. The 2007 world champion has entered 281 races, has 20 race wins and is closing in on 100 podiums since making his debut in 2001. Raikkonen will be 39 before the end of the current season, so whether McLaren would see him as a long term option is uncertain. He does have experience with Renault power units though, as he last race win came when he was part of the Lotus team in 2013. He's also proved he's prepared to return to an old team, having done so when he rejoined Ferrari.
Daniel Ricciardo is another driver linked with a move to McLaren if Alonso moves on. The Red Bull driver is out of contract at the end of this season, and had been thought to be on the radar of the top three teams. However, Valtteri Bottas has performed well at Mercedes this season, while Leclerc appears to be the preferred option at Ferrari, leaving Red Bull as the only option among the front runners. If Ricciardo doesn't fancy the prospect of racing with the Honda engine next year, McLaren could be an option for the Australian. He's recently spoken about Lewis Hamilton's decision to leave McLaren when they were winning races to join Mercedes ahead of the last batch of engine regulation changes. With new rules on the way for 2021, Ricciardo could see McLaren as an option in the longer term. He's won races more recently than Raikkonen and is almost a decade younger, as well as having plenty of experience with the current era Renault engine.
Alonso has revealed he won't make an announcement about his future until after the summer break, but if he wants to complete the Triple Crown of Motorsport with an Indy 500 victory, it seems likely he'll want to join the series full time. McLaren have spoken about setting up an IndyCar team, and Scott Dixon recently admitted he'd been approached by the team about a drive for 2019, seemingly confirming McLaren will be on the IndyCar grid next year.
McLaren might not be Raikkonen's only option for 2019 though. He was recently linked with a return to the World Rally Championship, having competed in the series in 2010 and 2011. Toyota confirmed they'd be open to letting Raikkonen test one of its WRC cars, which could open the door for the Finn to return to the series.