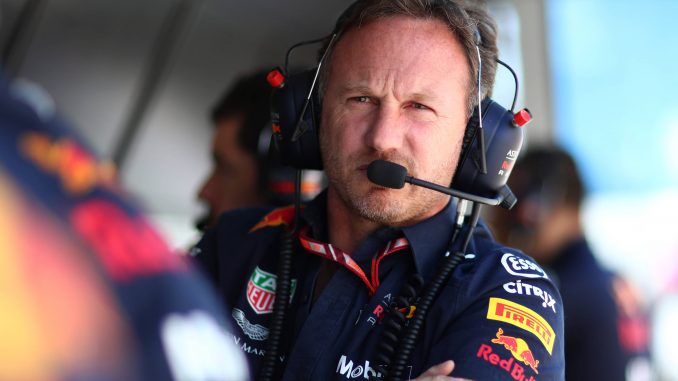 Christian Horner believes Red Bull will decide which engine supplier they'll use for 2019 by the end of the month.
The team is in the final year of its deal with Renault, and has held talks with their current supplier as well as Honda, who is supplying sister team Toro Rosso for the first time this season.
Although the team principal admits Red Bull may wait until after the French Grand Prix to make a decision so they can assess both engines' performances one more time, he insists they must make a decision soon or it will start to impact on next year's car. According to RACER, Horner expects the team to make a decision by the Austrian Grand Prix, which takes place at Red Bull's home track in two weeks.
Horner says its getting close to the time when the team needs to start thinking about how the engine will be installed in the chassis. Leaving the decision too late could be costly. McLaren and Toro Rosso didn't know they would changing engine supplier until September last year, resulting in both teams having to make changes to their car designs in order to accommodate a different power unit for 2018. McLaren weren't able to use their 2018 car properly until the Spanish Grand Prix, having to use an updated version of the 2017 car for the first few races.
Horner confirmed Renault's updated engine has delivered what was promised, but he believes Honda have made progress too, so the team has a lot of data to analyse. As well as making a decision based on performance and engineering, the team will also need to get the approval of team owner Dietrich Mateschitz.
Red Bull continue to perform well with the Renault engine, securing two race victories so far this season. However, they have still been hit by reliability issues, with Daniel Ricciardo retiring from the Bahrain Grand Prix before blowing an engine in practice in China and nursing his car to victory at Monaco, leaving them adrift from Mercedes and Ferrari in the constructors' standings. While Honda have struggled for reliability in the last couple of seasons with McLaren, Pierre Gasly's early finish at the Australian Grand Prix remains the team's only non-damage related retirement this season, although he did also suffer an engine failure in practice in Canada.