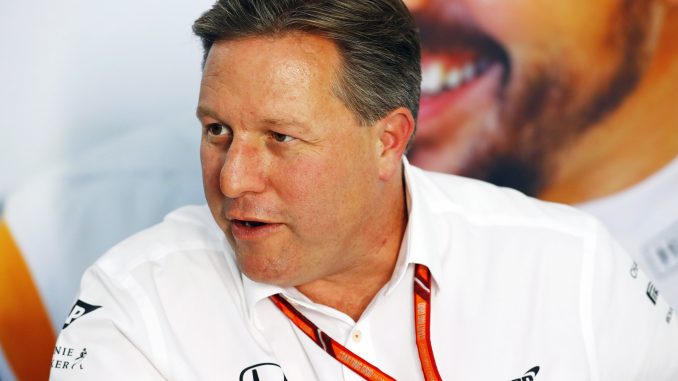 McLaren's Zak Brown says the team's switch to the Renault power unit has made attracting sponsors easier.
The Executive director revealed in an interview with Racer that the team will be announcing a number of new sponsors in the coming weeks.
Brown also described bringing in sponsorship during the team's partnership with Honda as "impossible", admitting that the arrangement with the Japanese manufacturer hurt McLaren on and off the track. Referencing Stoffel Vandoorne's failure to make the start of last year's Bahrain Grand Prix, Brown confessed the 2017 car was "pretty hard to sell" to potential backers.
Despite the struggles under Honda, Brown confirmed plenty of sponsors have been interested since it was confirmed the team will be using the Renault power unit from this year, admitting the commercial appeal of Renault was one of the main reasons McLaren decided to move away from the temperamental Honda engine.
Although the Renault engine appears to offer better performance and reliability compared with Honda, as well as the added interest from sponsors, Brown isn't expecting immediate results. He believes it will take a year or two before McLaren is where the team wants to be – presumably that means challenging for race wins and championships.
Sponsorship might not be the most exciting part of F1, but having the funds for research, development, new parts, new technology and staff is vital for success. The Renault engine is expected to be an upgrade, but McLaren have had to work to fit a differently-shaped engine in their car and will have to get to grips with how the engine performs compared to the Honda – all of which costs money. Even little things like changing the design of the team kit can add up – Force India got half way through last season before their pink clothing was ready after changing their livery for the 2017 campaign. Brown seems excited about the type of sponsor McLaren will be working with, insisting everyone the team has spoken to are brands fans will have heard of, with the first announcements expected before the end of the month.