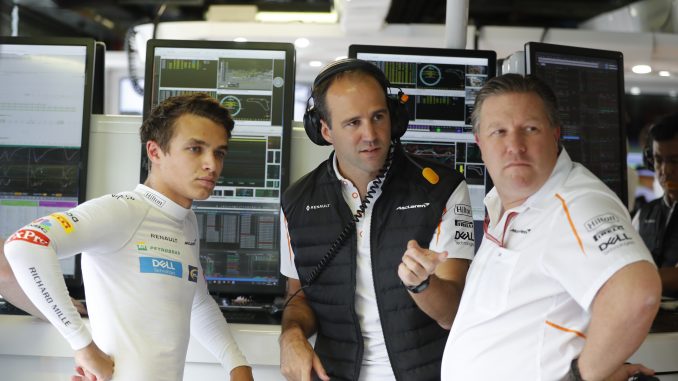 Hot on the heels of McLaren announcing Stoffel Vandoorne's departure from the team at the end of this season, the team have announced the the vacant seat is to be taken by 18 year old reserve driver Lando Norris. Norris, currently combining his reserve McLaren role with a seat in F2 for Carlin Motorsports, has driven the MCL33  in the last 2 FP1 sessions in Spa and Monza where he was able to post competitive times in each session.
The Somerset born driver currently sits 2nd in the F2 standings behind Mercedes Junior driver George Russell and has been widely tipped to race in F1 in the near future, either for McLaren or Toro Rosso, where he was rumoured to be taking Brendon Hartley's seat earlier this season.
Prior to his McLaren reserve role Lando was a frequent race and series winner in various junior formulae, winning the MSA Formula Championship in 2015, European Formula Renault 2.0 in 2016 and European F3 the following year. 2017 was also the year he made his F2 debut for Campos racing in Abu Dhabi before moving to Carlin for 2018 where he has so far taken one win and 7 podium finishes.
Zak Brown, CEO, McLaren Racing, said:
"We believe Lando is an exciting talent, full of potential, who we've very deliberately kept within the McLaren fold for exactly that reason.
"We already know he's fast, he learns quickly, and has a mature head on his young shoulders. We see much potential for our future together. The investment we have made in his budding career with simulator development and seat-time in the car has been well-deserved, as he has continued to prove his abilities both behind the wheel and in his work with the engineering team.
"Lando is an integral part of our plan for rebuilding our Formula 1 operation for the future, and he has already developed a strong relationship with the team.
Lando Norris said:
"To be announced as a race driver for McLaren is a dream come true. Although I've been part of the team for a while now, this is a special moment, one I could only hope would become reality.
"I'd like to thank the whole team for this amazing opportunity and for believing in me. I'm also extremely grateful for the commitment McLaren has already shown in my development, allowing me to build my experience in a Formula 1 car in both testing and on Fridays during the past two race weekends.
3Legs4Wheels had the privilege to chat with Lando earlier this year on one of our podcasts and you can listen back to that show here