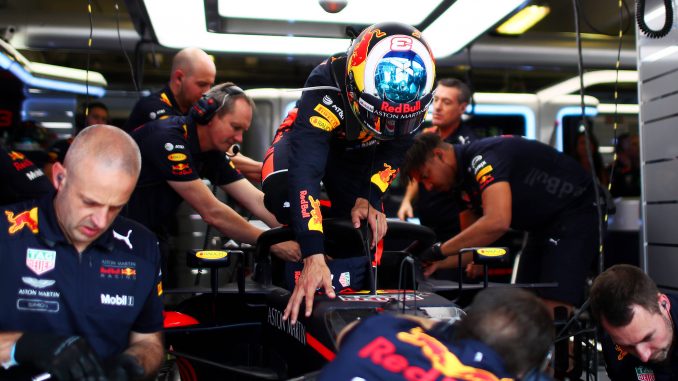 Renault have revealed Daniel Ricciardo will be the first driver to use its C Spec engine at this weekend's Italian Grand Prix.
The engine supplier isn't ready to introduce the engine to its cars and other customers, but Ricciardo has already had failures earlier in the season and is due to take a new power unit for the race at Monza, which will result in a grid penalty.
Renault's engine technical director Remi Taffin told Autosport the new spec is significantly more powerful than the engine currently being used by Renault, Red Bull and McLaren, and could be worth up to 0.3s per lap at Monza.
However, Renault warn the C Spec engine isn't as reliable as the current B Spec, which is why it's not being rolled out to all Renault-powered cars yet. Taffin claims Red Bull is in a position to use the engine and target improved performance without worrying about the teams immediately behind them in the championship. Red Bull are over 150 points ahead of fourth-placed Renault in the constructors championship, and almost as far adrift of Ferrari, giving Renault the opportunity to test the C Spec engine through its customer team without jeopardising its own battle with the likes of Haas and McLaren, who are all separated by just 30 points.
Red Bull had been expected to challenge Ferrari and Mercedes for the title this year, but just one podium from the last four races has left the team in a race of its own in the constructors championship. Reliability has been the main problem for Ricciardo. He's already taken one grid penalty in Germany for going over his allowance of engine elements, and risks further penalties if the C Spec Renault engine does lack reliability as eight races still remain this season. Despite his struggles with the Renault engine, Ricciardo will be joining Renault next year on a two-year contract.