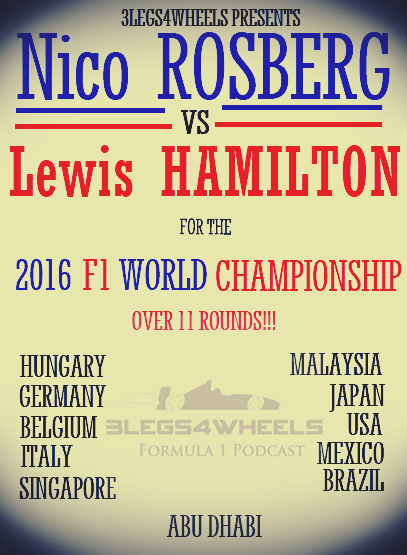 The big one. The single greatest prize in motor racing. One that many, many have dreamed of – myself included – as youngsters, but only very, very few make it into the sport; and of those who do, to become amongst the privileged few who actually get their name written into history as Formula One World Champion has even slimmer odds.
We're halfway through the 2016 calendar, (or to be more precise –  we will be when we're halfway through the Hungarian GP)  and it has become clear that much like previous years, there are only two drivers going to be in contention for the title in the second half of the season. Championship leader Nico Rosberg; and just one point behind him, current World Champion Lewis Hamilton. Both drivers are under the 3-pointed star of the silver arrows,  and so attack the remainder of the season from an equal footing,  virtually as though the first 10 races have been cancelled out but for the sake of one point. It's a straight fight to the end from here. Right?
Wrong.
Nico carried the momentum from last season into the beginning of this season, and with some very calculated driving and precision that befits a champion along with a helping of lady luck; and at one point Nico held a commanding 43 point lead over his great rival who has troubled him greatly over the last two years.  Rosberg's early season superiority was such that he took victory in the first 4 races of the season,  becoming only the third driver to win 7 in a row behind compatriots Michael Schumacher and Sebastian Vettel. (11 World Championships  between the two of them!)  The seemingly impossible-to-stop Lewis Hamilton from a dominant 2015 was nowhere to be seen, as his first 4 results read 2nd, 3rd, 7th and 2nd.
The 5th race of the season was Spain. Whichever way you looked at it then, or now (we mostly agreed on our Spanish GP review podcast that Rosberg was more to blame but could easily have been seen as a racing incident) both Mercedes were out before turn 4. After that point, for whatever reason, Lewis' luck seemed to change and his racing prowess returned. The odd reversal of fortunes seeped under the divide in the garage and back to Nico's side. The 5 races since Spain have yielded 4 victories and a 5th place for Hamilton whereas Rosberg's results read one victory, a 3rd, a 4th, a 5th and 7th place.
So where exactly am I going with this? Well, it seems the days of Mercedes' 1 – 2 domination are at an end, purely down to their own faults and by their own hand. They've only managed 2 finishes of that ilk – in Australia and Russia. It is this run of polar opposite results and luck for their two drivers that will decide the championship.
Fans in the resurgent Hamilton camp are buoyant because of the deficit that's been cut so dramatically and so quickly. But do not forget that Hamilton is on his last allocated power unit of the season already. Rumours are abound already that Mercedes have pinpointed which race weekend they will drop two – yep – TWO complete power units into Hamilton's 'pool' and incur him a 100+ grid penalty where he will start from the back of the grid.  Starting from the back of the grid and having to race to damage limitation (something he wasn't able to play out during the Chinese GP this year) is a huge ask, especially when you know that unchallenged, your main contender and team mate could very easily walk off with the full 25 points for that particular race. That's not a challenge that any driver chasing a championship would relish. Not even Lewis Hamilton.
Traditionally Lewis likes to stretch his legs a bit in the second half of the season and races strongly at most of the circuits the circus travels to after the summer break. Before that though is Hungary; where Mercedes were awful in 2015 but aside from that, Hamilton often enjoys good results in Budapest; as he does in Spa, Monza, Singapore, and a few others.  Rosberg did extremely well to claim victory in the final 3 races of 2015, so he has his strengths too.
So it's far from a straight fight to the finish. It's going to be a dirty fight, full of more on track action – and more than likely collisions. It's unlikely to be a title decided by dominant performances, and who can out race and out think the other; but a champion shall be crowned on making less errors, perhaps even having better luck. It's Rosberg v Hamilton, part three. But not as we know it.
For more 3legs4wheels opinions, insight and chat on this and other F1 related news, check out our latest podcast.