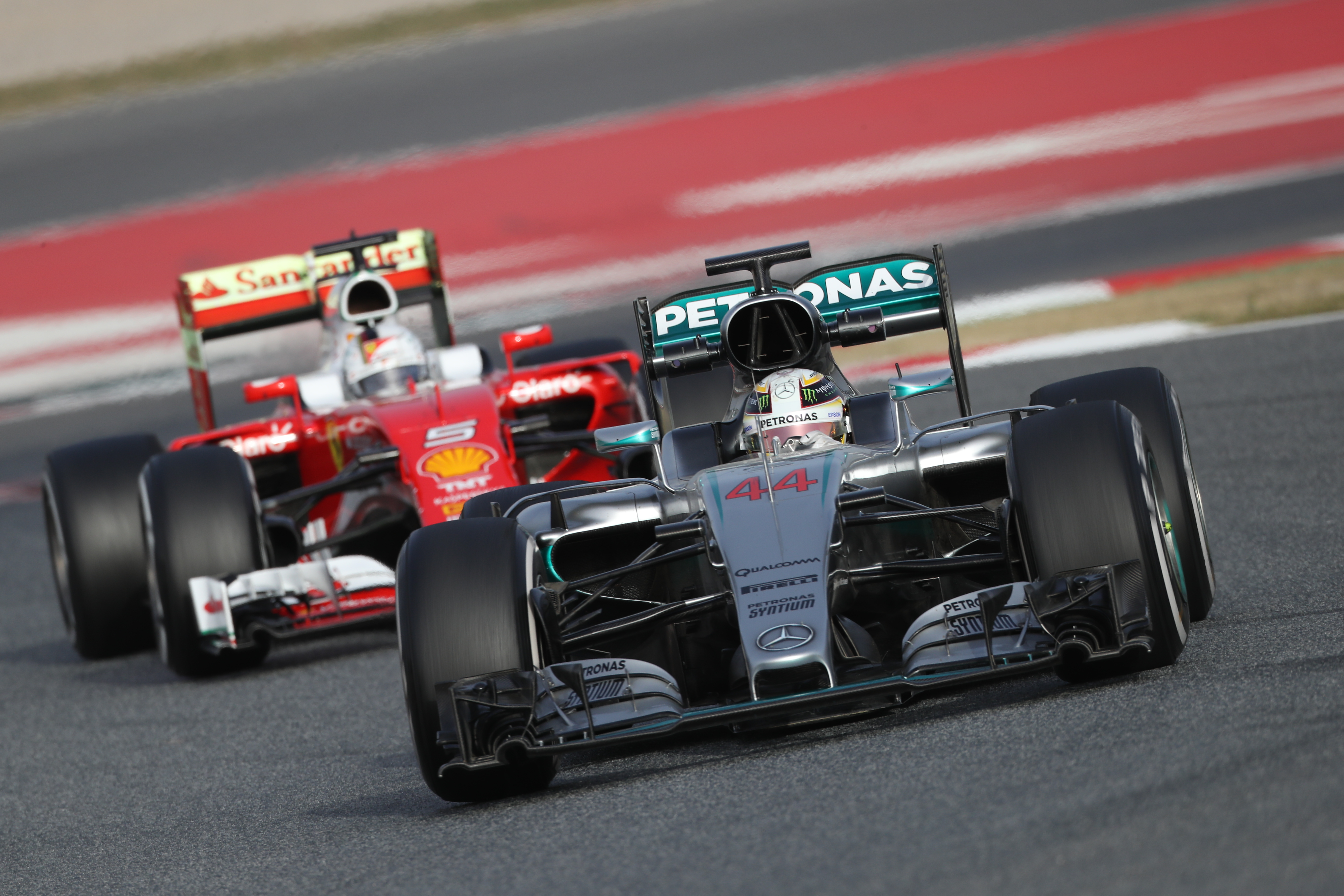 One of the greatest anticipations of any Formula One season is undoubtedly waiting to hear or read announcements from teams regarding their driver line up for the following year. We've already seen Max Verstappen and Daniil Kvyat swap roles in Red Bull and Toro Rosso respectively; so what other line up changes – if any at all can we expect along with the new rules for 2017? Let's take a look at the available seats and have a little bit of fun speculating who might fill them.

There's no point in going over ground already covered. Some teams have already declared their lineups so in no particular order but starting with the bigger teams: Mercedes have had a turbulent year by their own standards, but unless a major incident happens in the remaining races (This is F1, after all) then it's Hamilton and Rosberg.  Ferrari recently announced Seb and Kimi to stay for another year, and Red Bull have retained Daniel Ricciardo along with Max Verstappen.
Force India waited until Silverstone to tell the world that although highly regarded as a driver who could win races in the future; Sergio Perez will stay with the team along with Nico Hulkenberg. All fairly boring so far. Other drivers confirmed in their seats for 2017 are Carlos Sainz at Toro Rosso – becoming the first driver to enter a third season with the team, compatriot Fernando Alonso in the Mclaren Honda, and… well, that's it at the moment – so plenty of scope for rumour – but lets not get too silly in silly season, let's at least try to apply some logic to our not-so bold predictions.
The first interesting potential switch is at Williams. Out of contract veteran Felipe Massa seems to be on his way out of the team, and Valtteri Bottas hasn't yet been confirmed either. In a season where the car appears to be going backwards,  is a double driver change out of the question? Not at all.
Where would either driver go if they did leave the team? Despite his age and lack of decent results lately, Massa actually has options. Renault are essentially coasting through 2016 as a rebadged Lotus and wrote this season off very early on. Experience for a rejuvenated project such as Renault could prove a tantalising prospect for both parties, as the Enstone outfit look to return to winning ways. Any ailing team at the back of the grid would welcome the experience he brings, even if it were just for one season. Bottas on the other hand? Had been touted as a potential Ferrari driver in the past, but again has struggled with the car recently, and as there don't appear to be any seats available looking up the grid, so Valtteri and Williams may come to an agreement where he stays with the team.
Who would fill any vacant seats at Williams? It could well be a case of one veteran out, one veteran in if Jenson Button returns to the team where it all started way back in 2000. The school of thought being that Williams are concentrating on 2017 and would like experience but enthusiasm at the same time; no one fits that bill better than Jenson, who may become available if Mclaren don't offer him a new contract.
Daniil Kvyat has proven himself to be an excellent driver at times, scoring podiums for Red Bull when they didn't supposedly have the car underneath them. His demotion to Toro Rosso is seen by most as a halfway house to being dumped by the organisation, and Williams could have their eye on him. Should Mercedes implode in the latter half of 2016 and his position becomes untenable, Nico Rosberg might also be in for a mouth watering return, although highly unlikely at time of writing. GP2 driver Alex Lynn has done some simulator work for the team and should be considered an outside bet.
Renault are an interesting prospect and a very unknown quantity for next year. Engine upgrades appear to be strong,  their driver line up perhaps not befitting a team that has such aspirations. Kevin Magnussen on one hand is enjoying somewhat of a resurgence after his unceremonious dismissal from Mclaren, but Jolyon Palmer is struggling – and not just results wise. He looks often frustrated, tense and uncomfortable in his current position. His future is unclear, and with the experienced Felipe Massa hovering, as well as Jenson Button wishing to keep his options open, young JoPo's days could already be numbered.
Other drivers in contention for a seat at Renault include former Sauber test driver Sergey Sirotkin and French Mercedes test driver currently on loan at Renault, Esteban Ocon.
Mclaren already have Alonso under contract, but with Button's future so uncertain and a driver waiting in the wings in the form of Stoffel Vandoorne; it is hard to look past anything other than a pairing of the Spanish double champ and the Belgian rookie. No other drivers appear to be interested in Mclaren or vice versa. Button could go to Williams, as already mentioned; or seek solace with Mark Webber in WEC.
Toro Rosso have Carlos Sainz at the wheel for 2017, with the ruthless Helmut Marko expected to cut Kvyat loose. Pierre Gasly is the heir apparent in the Red Bull young driver program, with the strength of that talent pool being diminished with the fast risings of Ricciardo, Kvyat, Sainz and Verstappen in the last few years. Anyone other than Gasly? It would appear not,  as the teams like to keep things very internal.
Sauber have secured financial help for the future, which might mean they rely less and less on their pay drivers. Ericsson and Nasr, who both had an explosive start to their Sauber careers have reportedly had a very sour working relationship and they have not dealt well with the car being poor. Title sponsor Banco do Brasil comes from Felipe Nasr, so a departure for him could take him to Manor; aside from that it's difficult to see where the frustrated young man would drive.  Marcus Ericsson also brings cash, but has also brought inconsistency to his performances and if he left Sauber, I'm afraid it could be the end of his F1 career if not retained by Sauber.
Who would the Swiss team bring in? Much depends on the new owners. Dani Kvyat could be in with a shout, as could any driver who wants to stay in F1 but can't secure a seat higher up the grid. Jolyon Palmer could be an option too.
Haas have had an impressive first season so far, and will want to improve their competitiveness as well as retaining some consistency. Romain Grosjean is practically a naturalised American citizen with the 28 points to date he has scored securing his hero status. This alone is probably enough to ensure the Swiss-born Frenchman goes again with the team for a second season in 2017.
Esteban Gutierrez however has not shown the same promise and could well be on his way out. He came along as part of the deal with Ferrari and has not performed as a Ferrari project driver might.  All he has done so far is clarified why he was given the boot at Sauber after two years, and unless Manor pick him up for whatever reason, it may be difficult for him to stay in the sport. Potential replacements for the Mexican include American Alexander Rossi, Dani Kvyat and current test driver Charles Leclerc.
Finally Manor. Indonesian driver Rio Haryanto has proven that he has that one lap pace needed to qualify well but lacks race pace.  Funding his seat this year has been via a text campaign in his homeland and without major racing prowess on display on an extraordinary level I doubt that he will be able to retain his seat at Manor, or negotiate successfully elsewhere. Pascal Wehrlein on the other hand is a Mercedes protege, and the youngest DTM champ of all time. He may well be retained to give him the experience in the sport before he prepares to move up to the main Mercedes team in a couple of years.  There doesn't appear to be a suitable seat for him further up the grid – unless Williams struggle financially and Mercedes offer Pascal as part of an engine deal.
Who could take any of the vacant seats at Manor Racing? Take your pick. Test driver Jordan King, other Mercedes youngster Esteban Ocon, either current Sauber driver – Nasr or Ericsson. Dani Kvyat, Esteban Gutierrez, Jolyon Palmer. A whole load of GP2 drivers. Not somewhere you'd want to place your money!
Shall we be bold about this and make a list then? Please by all means get in touch through our Facebook page or tweet us @3legs4wheels with any suggestions or amendments to this list. Longer comments can be sent to [email protected] we may even read out the best ones on next week's podcast! Whilst you're here, if you haven't already checked it out – our latest podcast; and remember  – this is only a little bit of fun!
MERCEDES: Hamilton & Rosberg
FERRARI: Vettel & Raikkonen
RED BULL: Verstappen & Ricciardo
WILLIAMS: Button & Bottas
FORCE INDIA: Perez & Hulkenberg
MCLAREN: Alonso & Vandoorne
RENAULT: Magnussen & Sirotkin
TORO ROSSO: Sainz & Gasly
SAUBER: Nasr & Kvyat
HAAS: Grosjean & Leclerc
MANOR: Wehrlein & King