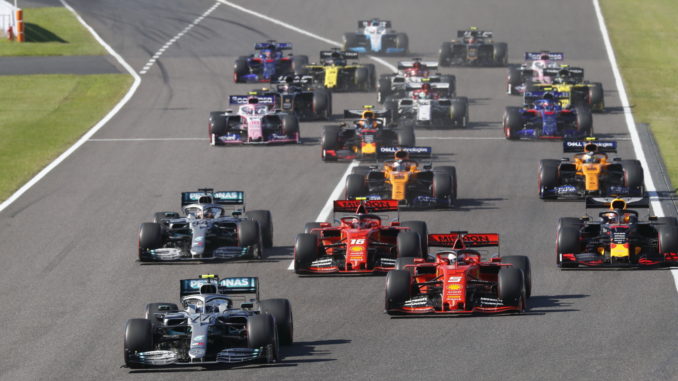 The 2020 F1 season currently contains 22 races and runs from March to December, however the Chinese Grand Prix is currently postponed due to the current Covid-19 outbreak and no alternative date has been given for it. Here's our guide to the who, what and where for this year, which we'll update as more information comes out from the teams and F1.
This season features the same 10 teams as last year, with a new name for the Toro Rosso team, now being branded as Alpha Tauri with their new sponsorship deal with the RedBull clothing label. This year there's one rookie driver on the grid (Nicholas Latifi) and one driver returning from a year away (Esteban Ocon). In a turnaround from last year, 8 of the teams have the same lineup as we saw at the end of last season in Abu Dhabi
Mercedes-AMG Petronas Formula One Team – Car F1 W11 EQ Performance – Engine: Mercedes
44 Lewis Hamilton
77 Vatteri Bottas
Scuderia Ferrari Mission Winnow – Car SF1000 – Engine: Ferrari
5 Sebasitan Vettel
16 Charles Leclerc
Haas F1 Team – Car VF-20 – Engine: Ferrari
8 Romain Grosjean
20 Kevin Magnussen
McLaren F1 Team – Car: MCL35 – Engine: Renault
2 Lando Norris
55 Carlos Sainz
BWT Racing Point F1 Team- Car: RP20 – Engine: Mercedes
11 Sergio Perez
18 Lance Stroll
Aston Martin RedBull Racing – Car: RB16 – Engine: Honda
23 Alex Albon
33 Max Verstappen
Renault F1 Team – Car: R.S.20- Engine: Renault
3 Daniel Ricciardo
31 Eteban Ocon
Alfa Romeo Racing Orlen – Car: C39 – Engine: Ferrari
7 Kimi Raikkonen
99 Antonio Giovinazzi
Scuderia Alpha Tauri Honda – Car: AT01 – Engine: Honda
10 Pierre Gasly
26 Daniil Kvyat
ROKiT Williams Racing – Car: FW43 – Engine: Mercedes
63 George Russell
6 Nicholas Latifi (R)
Testing is even more limited during the season with the 2 days of testing after the Bahrain Grand Prix and 2 days at the Circuit de Barcelona not taking place this year due to the expanded (before postponements) calendar. Pirelli will be running private tyre tests during the season, once safe to do so and we expect the usual young drivers test to take place in early December after the last race in Abu Dhabi
Pre Season:
Barcelona Feb 18-20
Barcelona Feb 25 – 27
Tyre Tests:
Young Drivers Test
We were scheduled to have a record breaking 22 races this season,but the Covid-19 pandemic has put paid to that. Currently all the original dates for race up to and including the French Grand Prix have been called off. F1 hope to have a modified calendar out sometime during the first half of May with a start in Austria at the Red Bull Ring currently penciled in as the season opener over the weekend of the 3rd to the 5th of July with other European races to follow. Certainly for the first part of the season, all races will be "behind closed doors" events with no fans in attendance. We will of course continue to monitor the situation and update the calendar as soon as dates are confirmed.
The rules this season are pretty much unchanged from 2019 as F1 prepares for a major shakeup in 2021 ,with the only major change being that teams now get an extra MGU-K due to the extra race. One other thing of note though is that cars will now have 2 fuel flow meters installed after Ferrari may or may not have gone against the fuel flow regulations last year. Missing the weighbridge during practice sessions will now not carry an automatic disqualification from qualifying and penalties for these, along with the severity of penalties for jump starts will be down to the stewards.
Young drivers will now gain Super-Licence points for taking part in FP1 sessions, up to a maximum of 10 per season, to fast track F2 drivers into F1