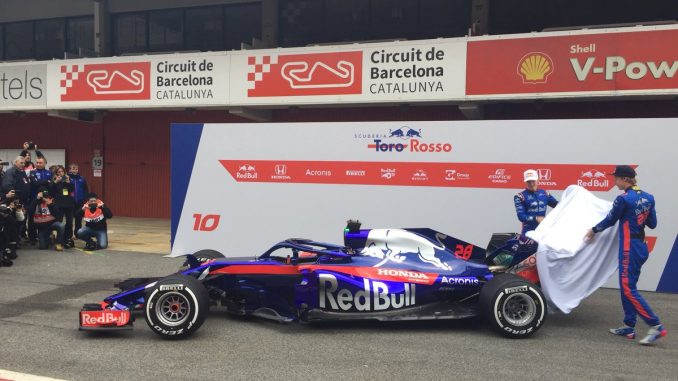 Toro Rosso were the final team to formally launch their 2018 car when Pierre Gasly and Brendon Hartley removed the covers from the STR13 in the pitlane at Circuit de Catalunya this morning.
The car has a similar livery to 2017, but the team have reworked their race suits and team kit to more like the colour scheme on the car.
It's not the first time we've seen the car, as images leaked from their filming day last week, forcing the team to tweet a picture of the STR13 on the track ahead of their launch.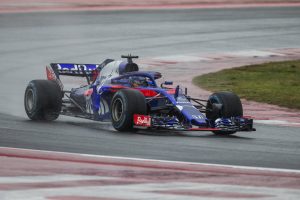 This will be the first Toro Rosso car to use Honda power units after the Japanese manufacturer ended its partnership with McLaren. Honda hasn't been a reliable engine supplier since returning to F1, but Toro Rosso have insisted they haven't had problems with the power unit so far, firing up for the first time earlier this month before enjoying a glitch-free promotional day in Italy last week.
All cars have added the Halo device for 2018. Toro Rosso's looks different to those seen an other cars, as they've added some wing detailing on top of the structure, which is said to be strong enough to withstand the impact of a double decker bus, giving the driver enhanced head protection.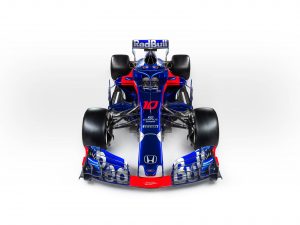 Speaking to the team's website ahead of the start of testing, Hartley said: "I'm looking forward to a lot of new challenges and I'm particularly excited about the first event. Australia isn't a home race for me, but when I was back in New Zealand, every second or third person I met told me they were coming to watch in Melbourne. So I'm hoping to see a lot of New Zealand flags there. Generally, I'm looking forward to the whole season as this is something I've dreamed about my whole life.
"What is very clear from all of the meetings we've had so far is [Honda] are working very hard. I have to say there's a lot of positive energy around the factory about this partnership with Honda and it is a huge opportunity for our team. I'm also really looking forward to meeting Honda's sushi chef! F1 cars are sexy and an aerodynamicist's dream, but the halo looks like an add-on rather than an integral part of the car. But I understand the safety aspect and, from working with it in the simulator, it won't change much for us when we are driving."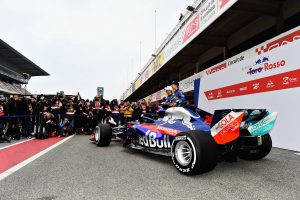 Gasly added: "It's a big year ahead and I'm super excited about it all, starting testing and then the first race isn't that far away. I just want to smash it for the 21 races that we have ahead of us. I always want to be the best and try my hardest. It's true that this is F1 and, even if in the last few years I've been fighting for wins, podium finishes and titles, this year that might be a little bit more complicated! But it doesn't change my aim of always doing the best I can with the equipment I'm given.
"Brendon and I have four days each [in pre-season testing] and I hope we can manage good mileage and maximise our time on track, getting through a lot of work. We need to find the right direction to work in and get comfortable with the car. Having Honda with us is also a big change and we just need to get plenty of track time to be ready for Melbourne."
The team don't have long to find out how the car works, as pre-season testing gets underway in Barcelona this morning.