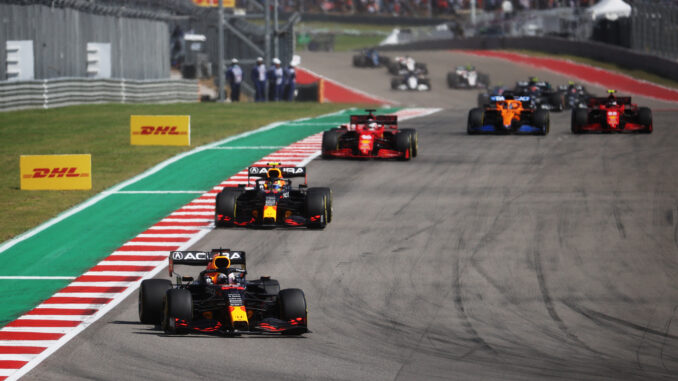 Max Verstappen held off pressure from Lewis Hamilton in the closing stages of the race at Circuit of the Americas to secure victory at the United States Grand Prix.
The championship leader and current title holder were joined on the podium by Sergio Perez, giving Red Bull the team's 200th podium finish.
Verstappen tried to push Hamilton onto the dirty line off the grid, but the reigning champion had better traction off the line to take the lead into the first corner.
There was contact further back as Nicholas Latifi spun Lance Stroll around, while Esteban Ocon had to pit early for a new front wing after getting clipped by Antonio Giovinazzi.
There was a closely fought battle between the McLarens and Carlos Sainz, with Daniel Ricciardo going wheel to wheel with the Ferrari before coming out ahead.
Despite losing the lead, Verstappen looked the quicker of the two drivers at the front of the field, and after failing to overtake the Mercedes he came in to pit before his title rival.
Mercedes left Hamilton out a couple of laps longer, but on fresher tyres Verstappen had been able to overturn the deficit, and was comfortably ahead by the time the Briton rejoined the track.
Pierre Gasly was the first drive to retire as he suffered a suspension failure just 16 laps into the race, forcing him to gently nurse the car back to the pits.
The two oldest drivers on the grid tangled while battling into turn one, with Fernando Alonso squeezing Kimi Raikkonen to the edge of the track, before the Finn pulled ahead.
The Spaniard continued to trip over the Alfa Romeos, with Antonio Giovinazzi battling hard, but the Italian eventually had to yield after passing Alonso off track.
After a brief virtual safety car to allow a marshall to clear some debris, Verstappen triggered the second round of pitstops, with Perez coming in on the next lap, but Mercedes told Hamilton to stay out.
Hamilton stopped eight laps later, coming out 8.6s adrift of the championship leader, but Verstappen's advantage was cut to less than two seconds with six laps to go.
There was double disappointment for Alpine as Esteban Ocon was called into the pits to retire due to an issue at the rear of the car, with Alonso reporting a similar problem shortly after, ending his race prematurely.
Despite an issue getting around some back markers in the closing stages, Verstpapen did just enough to hold on to the lead, extending his lead at the top of the drivers standings, while Hamilton took the extra point for fastest lap.
Provisional classification:
1 Max Verstappen (Red Bull)
2. Lewis Hamilton (Mercedes)
3. Sergio Perez (Red Bull)
4. Charles Lerclerc (Ferrari)
5. Daniel Ricciardo (McLaren)
6. Valtteri Bottas (Mercedes)
7. Carlos Sainz (Ferrari)
8. Lando Norris (McLaren)
9. Yuki Tsunoda (AlphaTauri)
10. Sebastian Vettel (Aston Martin)
11. Antonio Giovinazzi (Alfa Romeo)
12. Lance Stroll (Aston Martin)
13. Kimi Raikkonen (Alfa Romeo)
14. George Russell (Williams)
15. Nicholas Latifi (Williams)
16. Mick Schumacher (Haas)
17. Nikita Mazepin (Haas)
DNF:
Fernando Alonso (Alpine)
Esteban Ocon (Alpine)
Pierre Gasly (AlphaTauri)