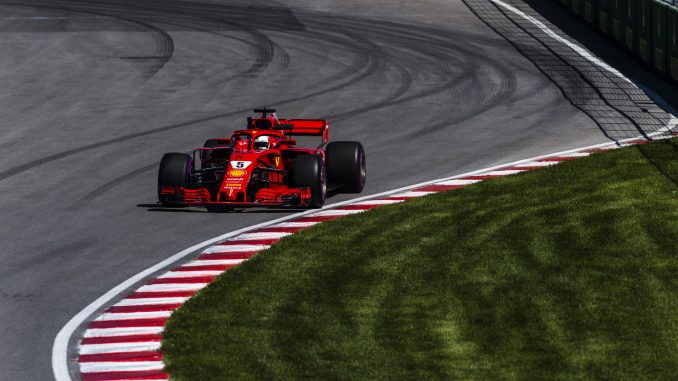 Sebastian Vettel broke the track record in qualifying at Circuit Gilles Villeneuve to put his Ferrari on pole position for tomorrow's Canadian Grand Prix.
Valtteri Bottas was the first driver to complete a sub 1:11 lap at the start of Q3, but it was Vettel who ended the session fastest with a time of  1:10.764.
Kimi Raikkonen couldn't match his teammates efforts, running wide early in his final flying lap to leave him fifth, while Lewis Hamilton made a mistake on his first timed lap in the top 10 shootout.
Daniel Ricciardo had been fastest in Q2 and was the first driver to set a new track record in qualifying, but he was off the pace in the final part, although Max Verstappen managed to split the Mercedes cars, having been the fastest driver throughout practice.
Both Force India and Renault cars made it into the top 10, with Nico Hulkenberg proving to be the best of the rest from the midfield battle.
Qualifying was over before it started for Romain Grosjean as the Frenchman's Haas began smoking before he left the pitlane. His mechanics pushed him back to the garage but were unable to repair the car before the end of Q1, leaving Grosjean unable to set a qualifying time.
Marcus Ericsson's attempts to make it through to the second part of qualifying were scuppered when he scraped a wall, while Lance Stroll damaged his tyres while trying to improve his lap time, leaving both Williams cars in the bottom five for the fifth time this season.
While Ericsson struggled, Charles Leclerc made it through to Q2, and was able to set a time quicker than both of the McLaren drivers, who will start from 14th and 15th, while Kevin Magnussen narrowly missed out on a spot in Q3.
Brendon Hartley came into this race weekend amid reports that Toro Rosso have been looking to replace him, but the New Zealander put in a strong qualifying performance to start four places ahead of teammate Pierre Gasly.
Provisional qualifying result
1 Sebastian Vettel (Ferrari)
2. Valtteri Bottas (Mercedes)
3. Max Verstappen (Red Bull)
4. Lewis Hamilton (Mercedes)
5. Kimi Raikkonen (Ferrari)
6. Daniel Ricciardo (Red Bull)
7. Nico Hulkenberg (Renault)
8. Esteban Ocon (Force India)
9. Carlos Sainz (Renault)
10. Sergio Perez (Force India)
11. Kevin Magnussen (Haas)
12. Brendon Hartley (Toro Rosso)
13. Charles Leclerc (Alfa Romeo Sauber)
14. Fernando Alonso (McLaren)
15. Stoffel Vandoorne (McLaren)
16. Pierre Gasly (Toro Rosso)
17. Lance Stroll (Williams)
18. Sergey Sirotkin (Williams)
19. Marcus Ericsson (Alfa Romeo Sauber)
20. Romain Grosjean (Haas)