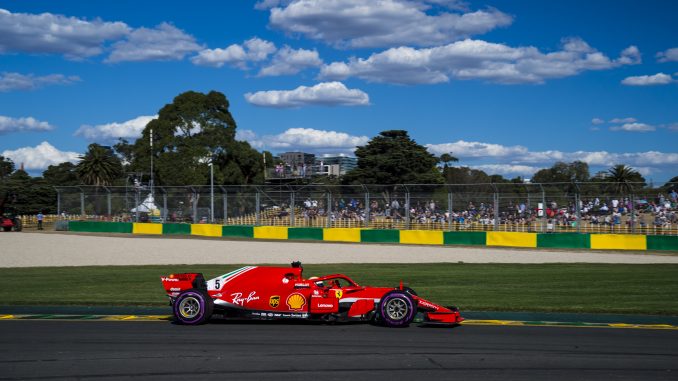 Sebastian Vettel made a winning start to the 2018 Formula 1 season, taking advantage of a virtual safety car to get ahead of Lewis Hamilton and teammate Kimi Raikkonen at the Australian Grand Prix.
Hamilton started from pole position and appeared to be heading for victory when he held off Raikkonen after the front two's pitstops, but Vettel stayed out for a longer first stint.
Kevin Magnussen made a strong start to the race, overtaking Max Verstappen through the opening corners to sit fourth, while his Haas teammate Romain Grosjean inherited fifth after Verstappen spun trying to pass the Dane. However, Haas suffered a double retirement in the space of two laps when both cars were released from the pitlane without tyres fitted properly, the second of which resulted in a virtual safety car as Grosjean came to a stop on the track.
The VSC allowed Vettel to make his stop while the lead cars were circling slower, bringing him out just ahead of Hamilton while the current world champion was unable to attack due to the VSC. As marshals struggled to clear the stricken Haas, a full safety car was deployed, keeping the field bunched for the second half of the race.
Haas's troubles and Verstappen's spin allowed Fernando Alonso to move up to fifth. The Spaniard remained under pressure from the Red Bull driver and Nico Hulkenberg, but had enough to hold off their challenge and claim his first finish is Australia since rejoining McLaren. Daniel Ricciardo also benefitted from his teammate's struggles, moving up to fourth to put the disappointment of his grid penalty behind him. He pressured Raikkonen for the final place on the podium in the closing stages of his home race, but was unable to get past the Ferrari.
Sergey Sirotkin suffered the first retirement of the season just four laps into his F1 debut, pulling off the circuit with what appeared to be a braking problem. Marcus Ericsson soon followed, coming into the pits with a problem, while Toro Rosso's Pierre Gasly was forced to retire with an engine failure.
Valtteri Bottas tried to make up places after his crash in qualifying left him with a five-place penalty. The Mercedes struggled to make passes on track, but an aggressive tyre strategy and problems for others enabled him to finish in the points.
Australian Grand Prix provision result:
1 Sebastian Vettel (Ferrari)
2. Lewis Hamilton (Mercedes)
3. Kimi Raikkonen (Ferrari)
4. Daniel Ricciardo (Red Bull)
5. Fernando Alonso (McLaren)
6. Max Verstappen (Red Bull)
7. Nico Hulkenberg (Renault)
8. Valtteri Bottas (Mercedes)
9. Stoffel Vandoorne (McLaren)
10. Carlos Sainz (Renault)
11. Sergio Perez (Force India)
12. Estaban Ocon (Force India)
13. Charles Leclerc (Alfa Romeo Sauber)
14. Lance Stroll (Williams)
15. Brendon Hartley (Toro Rosso)
DNF:
Romain Grosjean (Haas)
Kevin Magnussen (Haas)
Pierre Gasly (Toro Rosso)
Marcus Ericsson (Alfa Romeo Sauber)
Sergey Sirotkin (Williams)