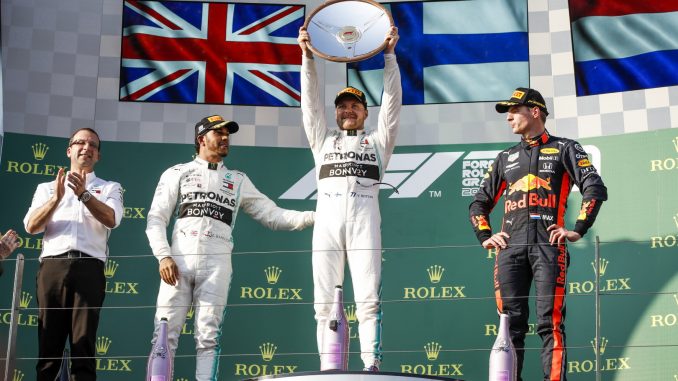 No-one came close to Valtteri Bottas as he cruised to victory at the 2019 Australian Grand Prix.
The Mercedes driver moved ahead of pole-sitter Lewis Hamilton before the first corner to end his barren spell, having failed to step on the top step of the podium during the 2018 season.
The Finn also set the fastest lap of the race, becoming the first driver to secure an extra point under the new rules.
Here's what the drivers said after the race:
Valtteri Bottas – 1st (Mercedes):
"This feels so good – I don't think I've ever had a race like this! We could not have asked for a better start to the season – getting maximum points for the team is a perfect result and we couldn't be happier. It's also an important result for me personally, I'm really pleased with how the race went. These things don't just happen – both the team and I have worked hard for this and it seems like the hard work paid off today. The key was the start; I think Lewis may have had a bit of wheel spin, so I was able to take the lead. My race pace was really strong, I could pull away and build a gap. In the end, I managed to get the fastest lap as well, which of course means an extra point this season, so I went for it. It can be a little risky with worn tyres, but I had it all under control. I'm very, very pleased with today, but it's only the first race and we have another 20 races to go."
Yess!! 🏆

A winning start to the season 2019 🇦🇺

Feels so good. And very proud of us @MercedesAMGF1 🙏🏼

Thank you#VB77 #F1 #AUSGP pic.twitter.com/H6SrtHxyEq

— Valtteri Bottas (@ValtteriBottas) March 17, 2019
Lewis Hamilton – 2nd (Mercedes):
"It was an incredible weekend for the team, we're leaving Melbourne with maximum points. Valtteri did an exceptional job today – congratulations to him. I had a pretty straightforward race today; I lost position at the start and my race was pretty much done and dusted after the first corner. Afterwards it was really about bringing the car home and bagging the points. I had to pit early to cover the pit stop from Ferrari, so I had a long second stint and drove super carefully to make sure I had tyres left at the end of the race. I'll bag the eighteen points I got today, keep working and come back recharged for the next one. It was a really great weekend for the team and I'm really happy for everyone. We showed a great performance today and we need to continue to build on this – we have a long season ahead of us."
Toto Wolff – Team Principal (Mercedes):
"That was a great day and an awesome drive for Valtteri – a perfect rebound after how last season finished. Over the winter, he recharged the batteries, reset, found his joy of driving again with the rally in Finland – then today it all came together for him. I can see again the young boy I first met over ten years ago and who dominated the junior series in 2008; it was a strong comeback and a really well earned win today. For Lewis, it was a harder afternoon – the start was not as good as Valtteri, then we had to pit him earlier than ideal to cover the risk of being undercut by Vettel. That gave him a long stint on the tyres and none of us knew if they would make it to the end, so it was hard to judge the right pace and he wasn't happy with the car balance; my feeling is that it can be tricky to find the sweet spot with these new cars and tyres, and probably we didn't manage that today with Lewis. Overall, though, a fantastic day for the team and a perfect result in the opening race – including the point for fastest lap."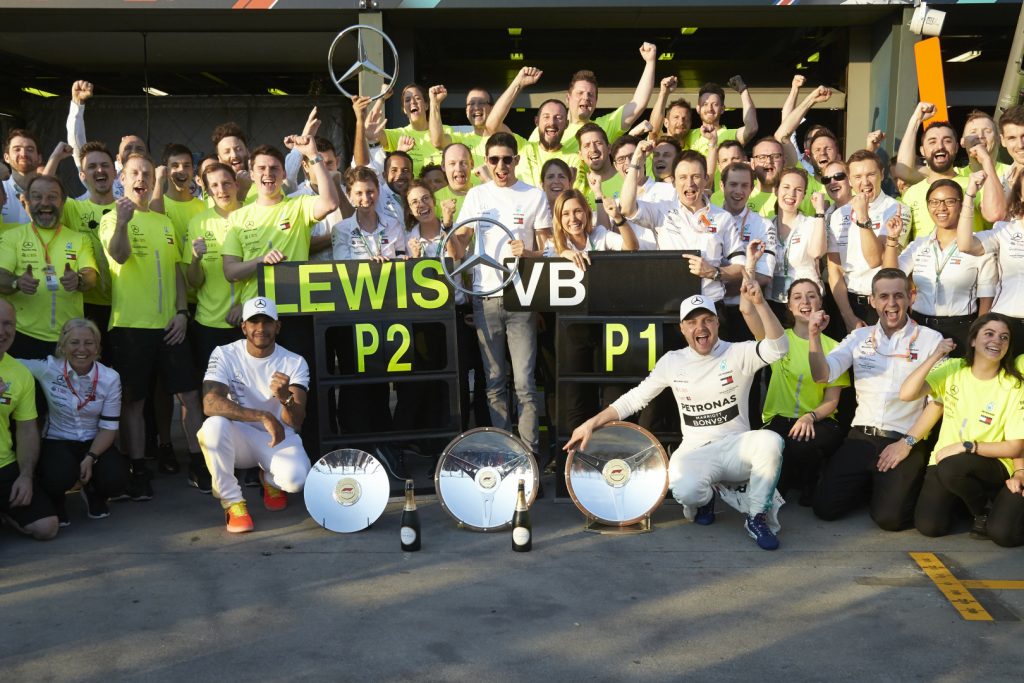 Max Verstappen – 3rd (Red Bull):
"I am very happy for the Team and also for Honda to finish on the podium today. Since we started working together it has been amazing and I am really enjoying the partnership, so this is a well-deserved third place for all of us. To be able to challenge Lewis at the end of the race and overtake Seb on-track, which around here is very difficult, is very positive. We had a little advantage with the tyres but it was satisfying to pressure Lewis even though I couldn't get quite close enough to overtake him. The car was working really well and we also look strong on the straights which is hopefully a good sign for the rest of the season. I heard this is the first podium for Honda since 2008 so I am very happy that I managed to achieve this for them today."
Sebastian Vettel – 4th (Ferrari):
"We were not happy with the car the whole weekend but today we struggled a lot. The reason I was so slow in the race was mostly due to the fact that the car could not find enough grip with the medium tyres that we fitted at the pit stop. As a team, we still got a decent amount of points from our fourth and fifth places, but this is not the result we were aiming for just a few weeks ago. So in the coming days, we will analyse the data in detail so as to be ready for the next race, which is not far away now. I'm sure that looking at all the information we have gathered here will give us a better understanding, but today, the result we got was the best we could do."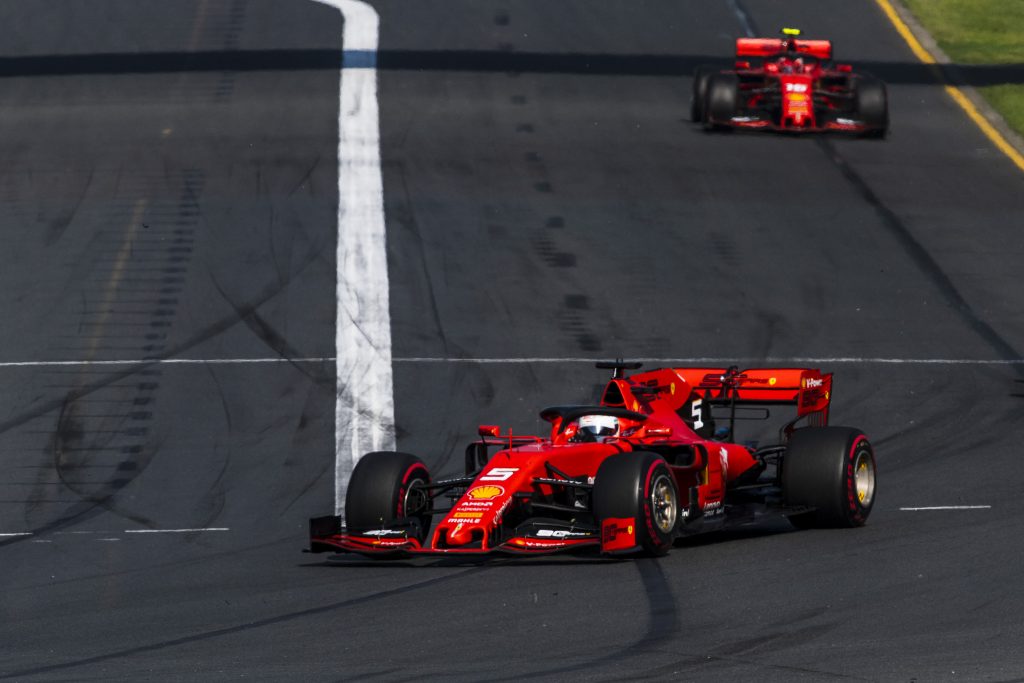 Charles Leclerc – 5th (Ferrari):
"I made a good start, to the extent that I managed to pass Verstappen and found myself alongside Sebastian, who was fighting a Mercedes. That meant I had to put my wheels on the grass at the exit of the first esses, which allowed Max to get in front of me again. At the start, the car was not so easy to drive and that led to me making a small mistake at the first corner, which cost me a handful of seconds. We decided to fit the hard tyres at the pit stop and, I have to say, that from then on, the car improved a lot and I was able to push. Towards the end, I closed on Sebastian, but the team decided to keep our positions, given that the top three places were not within our grasp today. Now, we will work with the engineers to try and understand why we were not as strong as we had hoped to be, even though we brought home a good points haul."
Kevin Magnussen – 6th (Haas):
"I'm very happy about today, it was a good result. I'm obviously sad for team not to have both cars get to the finish. Surely
Romain (Grosjean) would have been in a good position as well, especially after we both had such good qualifying yesterday, so
I'm gutted for his side that they didn't get anything out of today. P6 for me is very good, I'm happy with the day. I made a good
start and had a really good car from there. I was able to push the whole race and look after my tires. I'm really happy to start the
year like this."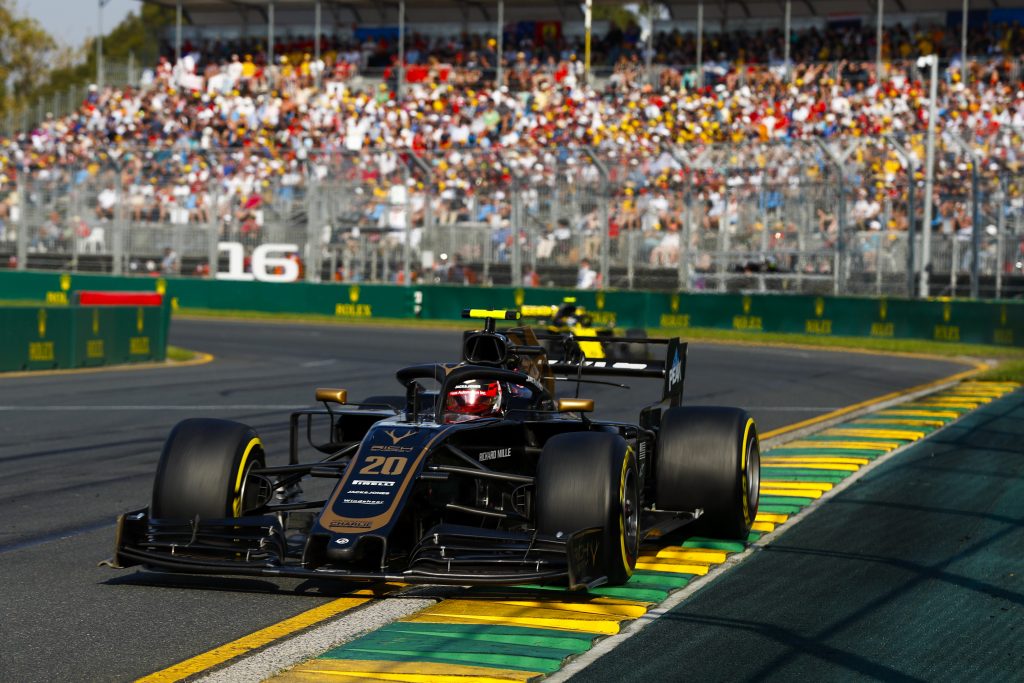 Nico Hulkenberg – 7th (Renault):
"It's a good start to the season with some solid points on the board. It was a tricky race – especially the final 10 laps – I was under pressure and really had to fight to hang onto seventh place. I'm pleased to pull that off. The start and the first lap made our race; it's so crucial to have track position around here and from there it was about managing the car and the tyres. We can be pleased with today, it's a positive result, but it also shows we have a lot of work ahead of us. We need to dig deep and continue finding performance especially to improve the car balance."
Daniel Ricciardo – DNF (Renault):
"I'm gutted, that's for sure. I made a good start, managed to get a good run on Perez and then moved to the side. I put a wheel on the grass, which didn't concern me, and then a massive bump caught me by surprise. It's unlucky more than anything and, unfortunately, that was our race run there and then. It all happened very quickly and it was a shame we finished like that. Nico showed in the race that the car belongs in the top eight and we'll be aiming for a smoother weekend in Bahrain and a strong result."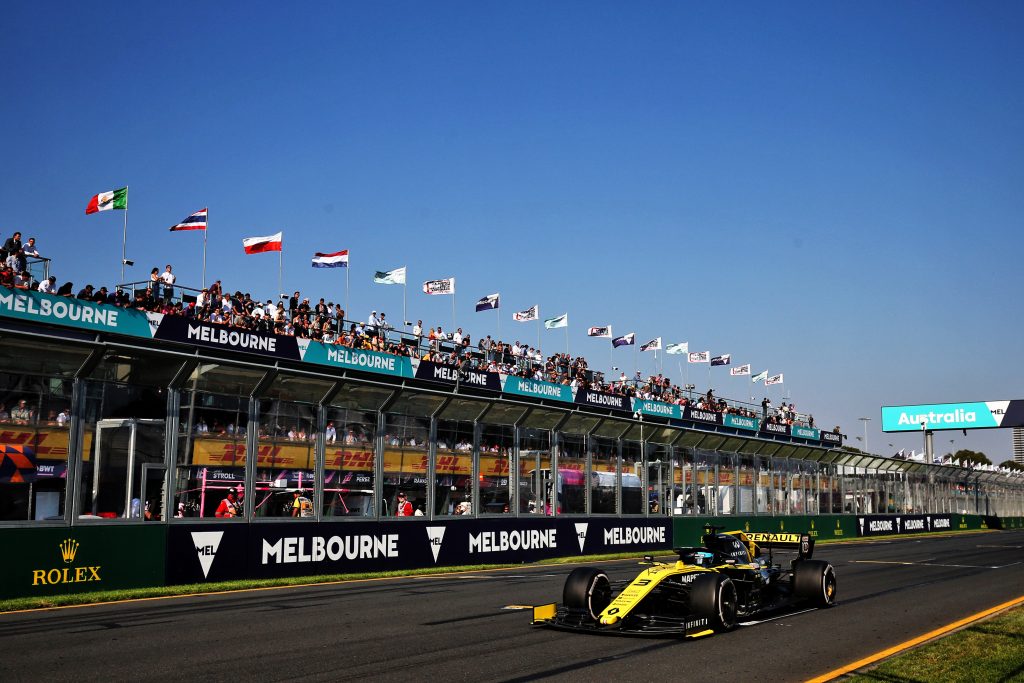 Mattia Binotto – Team Principal (Ferrari):
"Right from Friday, we didn't feel comfortable at this track. Even though we did a lot of work on set-up, we didn't find the right balance and even our qualifying performance demonstrated that we were struggling to adapt to the Albert Park track. Then, in the race, in the first stint, we tried to keep up. Charles made a slight mistake, which meant he could not stay with the leaders. After his pit stop, Seb's car never found the right grip level on the Medium tyres and so the driver was unable to attack those ahead of him. When he could no longer fend off Verstappen, we decided the most important thing was to get to the end, managing the tyres. When Charles caught up to him, it seemed wise not to take any risks. We leave Australia with a lot of data to analyse and we will use that to work out how to get back to our actual level of competitiveness for the race in Bahrain in two weeks time."
Romain Grosjean – DNF (Haas):
"I don't know what happened exactly yet. It just felt wrong. It's not been a good day. Before all that I was happy and up behind
Kevin (Magnussen). The new rules are great for following another car, but the tires are still what they were last year, as you push,
you slide, then you lose grip. Even though we can follow easier than in the past, overtaking is still complicated. Overall, today's a
shame as we've looked strong all weekend long, we were strong in the race as well."
Oh dear 🙈

— Romain Grosjean (@RGrosjean) March 17, 2019
Cyril Abiteboul – Team Principal (Renault):
"We're leaving Australia with mixed feelings and a contrast of positive and negatives. The main negative was Qualifying, where we had a number of issues that impacted our potential and starting position. That made Daniel's first race complex and we tried to recover positions at the start but we ultimately had to retire his car due to the damage. Nico managed to turn around the situation and had a very strong race. He was very smart and drove a good race to finish seventh. We know the car has much more pace than we have shown, especially in Qualifying, and it will be the priority of the next race to extract more from the initial platform with a smoother execution across the weekend while we work on our planned upgrades."
Kimi Raikkonen – 8th (Alfa Romeo):
Lance Stroll – 9th (Racing Point):
"I am really pleased with my race today – it has been a great day at the office. It's really nice to pick up some points on the first weekend of the season, but it wasn't easy. It was a really challenging afternoon, chasing Hulkenberg and Raikkonen ahead of me while also keeping Kvyat and Gasly behind me for most of the race. I was under a lot of pressure and it was very tight, but I am glad we managed to pick up two points. We were always planning to go long with our strategy: we were starting out of position so we knew the key was to make a good start and gain some places in the opening stages, which we did. After that, we had good pace and managed to hold off the cars behind us on softer tyres than ours. We saw today that it's going to be really close in the middle of the grid, but we are definitely in the fight."
Daniil Kvyat – 10th (Toro Rosso):
"It was an excellent race today! I'm happy with the way I drove and it was really enjoyable. There was a lot of positives to come from the race – it's just a shame about yesterday's qualifying as we had the opportunity to start a bit further ahead! We had good tyre management throughout the race and we definitely had the pace to fight for higher positions but, as we know, it's difficult to overtake around Albert Park. I tried to catch Stroll, but I was a bit on the edge and I couldn't make it. I had a good battle with Pierre towards the end of the race, I felt like I could fight him well and at the end it was satisfying to keep a quicker car behind almost the whole race. I know we have a good package with the car and the engine, so we need to keep developing it. I'm very optimistic for the next few races and I think it's possible to achieve good results."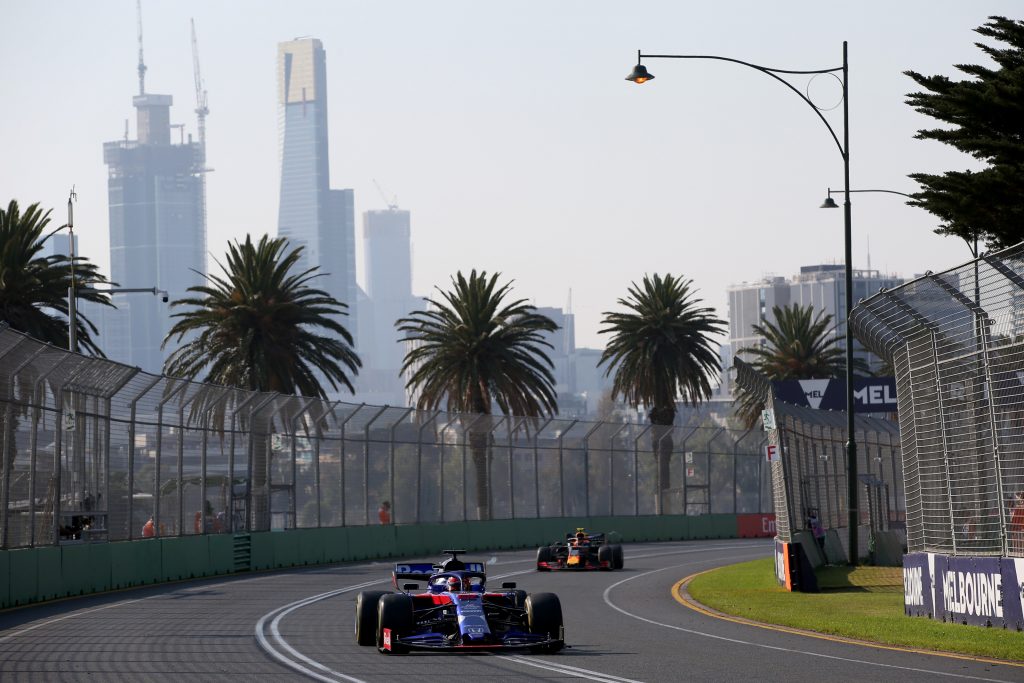 Pierre Gasly – 11th (Red Bull):
"It was a pretty difficult race. With the new bigger rear wings, I couldn't see the lights on the grid so I had to react with the cars around me and I lost a couple of places. Then I got stuck in traffic and even with the DRS, it's super difficult to overtake here plus I had some debris in my front wing which didn't help. I spent the whole race five tenths from the car in front but my tyres were just sliding and I couldn't get past. I pushed as much as I could and I tried everything but it wasn't enough to make it into the points. In general, the pace over the weekend was really good. In qualifying, we got knocked out of Q1 but I was happy with my first lap and it was just unfortunate that we didn't make it through. Bahrain is a race I really like and we've seen the car is competitive so we'll keep our heads down, stay focused and give a big push in two weeks' time."
Lando Norris – 12th (McLaren):
"The team gave me a good car, with enough pace for me to be in the top 10 but I made a couple of mistakes which cost me any chance of scoring points, so I'm a little disappointed. But it's cool to finish my first [F1] race and get it out of the way. I didn't make the perfect start, struggled to get ahead of a slower car and then had a big lock-up so I need to work on these mistakes. I'm annoyed with myself as there was more potential. Now I focus and look forward to Bahrain."
Had the car for points, but I didn't get 'em. First race out of the way though and got to say thanks to everyone at the track or back home on the sofa who gave me a nod this weekend. Special few days that I'll not forget 🥛 #AusGP pic.twitter.com/dXzRCb68E4

— Lando Norris (@LandoNorris) March 17, 2019
Christian Horner – Team Principal (Red Bull):
"A fantastic start to the season with a podium finish at our first Grand Prix with our new power unit partner Honda, who haven't finished in the top three since 2008. Max put in a remarkable performance today, and after a decent start and one of the day's fastest pit stops, he was able to take advantage of the C3 tyre and make a great pass on Sebastian. He went on to put Lewis under pressure for the rest of the race, but didn't get quite close enough. Pierre battled his way from P17 to finish just outside of the points, but at this track it's notoriously hard to overtake. He drove the wheels off the car and it's a shame that it wasn't rewarded with a point. He raced hard and I'm sure his time will come. After a promising season opener, we now look ahead to Bahrain."
Sergio Perez – 13th (Racing Point):
"I'm disappointed to come away from Melbourne missing out on points. It was quite a difficult race for me from lap one because I made a poor start and lost a couple of places before turn one. Overtaking was extremely difficult, so we tried the undercut with the strategy but it didn't really work out for us. After my pit stop I was stuck in traffic for the rest of the race. I was able to get ahead of Albon, when he made a mistake, but apart from that it was difficult to really show our pace."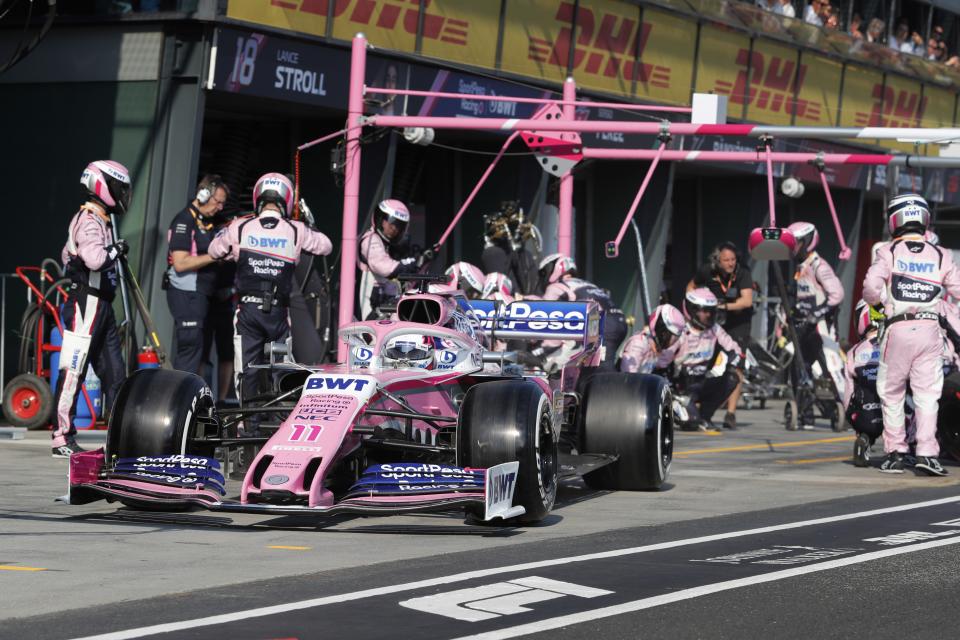 Gil De Ferran – Sporting Director (McLaren):
"Overall, I must admit that, although there were several positives to draw from this weekend in general, we come away from the Australian Grand Prix a little disappointed. Carlos had a good start, but unfortunately had to retire with an early mechanical failure. On Lando's side, the race was going well early on, until he was held up in traffic for some laps, which sealed his result outside the points. On the positive side, I'm pleased that Lando was able to put up a fighting performance in his debut grand prix and see the chequered flag."
Alexander Albon – 14th (Toro Rosso):
"Mixed feelings today! It was my first experience of a race weekend and I didn't really know what to expect. The race started off very well, I dropped the clutch and thought 'great, that was okay!' I made up two positions straight away and at that time we were in the mix, as I was already one position away from the points. That was pretty much as good as it got for me, though. We were in a battle with Giovinazzi, I think he was struggling with his tyres and everyone on that strategy lost out. All of the guys who stayed out on the harder compound behind overcut us. That compromised our race but I'm still happy with how my weekend went. I think we could have had points so that stings a little, but it was a good experience and I came away with a clean weekend, relatively speaking."
First F1 Weekend over with! Happy with how it went, a bit disappointed with the final result but lots of positives to take away! 😄 #ToroRosso #HondaRacingF1 #RedBull #AA23
📸: @GettyImages pic.twitter.com/CU4TKsJ3sy

— Alex Albon (@alex_albon) March 17, 2019
Carlos Sainz – DNF (McLaren):
"It's been a weekend to forget. I think we lost the MGU-K, which was a shame as the race was going well. I'd put yesterday behind me and I was feeling positive going into today. I'd done everything I wanted to do: I made a good start, overtaking four cars, getting in the fight for the points and starting to attack the cars in front. The car felt good, we had strong pace and I was fighting with other cars that ended up in the points today, which shows us that points could have been possible. This one hurts, but this is Formula 1. My season has started with a really unlucky weekend but hopefully we can start having more positive results from Bahrain onwards. I'm happy to put this one behind me and keep pushing."
Jody Egginton – Deputy Technical Director (Toro Rosso):
"In terms of pace, the race was very positive for Dany with the prime to base strategy, allowing him to extend his first stint. He then put some very strong times in the second stint to be able to take home one hard-earned point. Alex faced a few more challenges, having to manage brakes in traffic early on. However, he has put in a solid performance in his first F1 race and he learnt a lot, which I am sure he will put to good use in Bahrain. In summary, on one hand we leave Melbourne positive as our new car has shown some good performance. On the other hand, we have not executed the best possible qualifying or race, which is a bit frustrating as there was more on offer. We now switch our focus to final preparations for the next race in Bahrain, the plan being to build on the positive signs shown here."
Antonio Giovinazzi – 15th (Alfa Romeo Racing):
Per tutto il weekend sono stato letteralmente travolto dall'affetto di tutti i tifosi italiani 🇮🇹🇮🇹🇮🇹
Per me è un grande onore, sarà un campionato lungo, sono certo che ci divertiremo 💪 💥#AusGP #F1 #AG99 pic.twitter.com/8sDZAGhjxR

— Antonio Giovinazzi (@Anto_Giovinazzi) March 17, 2019
Otmar Szafnauer – Team Principal (Racing Point):
"I'm delighted to see Lance score points in his first race with us. It was a very mature drive and he thoroughly deserves this result. Scoring points is a great way to start the season after the huge effort back at base and trackside over the last few months. It's a shame Sergio's strategy didn't work out because we had a chance to get both cars in the points today. We saw, once again, that overtaking is extremely difficult around Albert Park and getting stuck in traffic after his early stop proved very costly. We take away lots of positives from this weekend and have learned a huge amount from all the testing we did in the lead up to the race. Now we switch focus to Bahrain and a very different track. We will keep pushing, keep developing and we hope to take a step forward and get both cars in the top ten in a couple of weeks' time."
George Russell – 16th (Williams):
"I feel happy that I brought the car home with no dramas. I physically feel fine and it was a good first race from my side but obviously it is disappointing that we are so far behind the pace. We did an additional pitstop to try all three compounds of the tyres, so that is unfortunately where we are at the moment. We have got a lot of work to do tomorrow to understand and hopefully improve from there. I am not interested in fighting Robert for last, we need to work together to make this right. Overall, I can be proud and pleased with myself because we went into this weekend knowing what to expect and I achieved pretty much all of my goals."
Thanks Melbourne, you've been a lot of fun! See you next year! 🇦🇺🙌 pic.twitter.com/hnJNeijOio

— George Russell (@GeorgeRussell63) March 17, 2019
Dave Robson – Senior Race Engineer (Williams):
"It was a tough day as you would expect but it was an achievement to bring two cars home. Robert had an unfortunate first lap, but once we got him back out with a new front wing he was able to settle down and he drove a good race on his comeback. It was George's Formula One debut and he has had a solid weekend all round and now has his first race under his belt. This should give both drivers some confidence moving forward. The pitstops the team carried out today were very good as always, and operationally the team did a good job with what we have at the moment."
Robert Kubica – 17th (Williams):
"It definitely wasn't an easy race and we knew that before the start. We opted to start on the hard tyre to get experience on them but, I got a good start for those tyres. In turn one, I was on the inside and on the exit of the corner one of the Red Bull's moved right to avoid another contact and we touched, damaging my front wing so I had to come in to box. Additionally, on lap three, I lost one of my mirrors, so the blue flags weren't easy. I was not in the best shape with some damage but, I know it sounds strange and I thought I would never say something like this, although it was very difficult I think there were some positives. I want to thank again everyone in the team."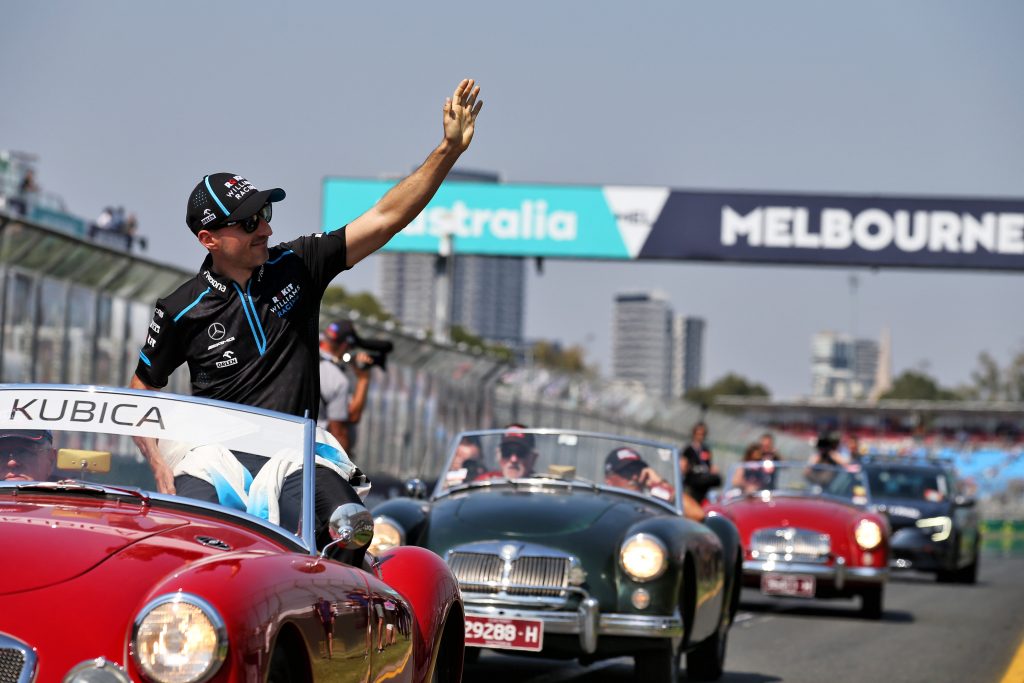 Pirelli: