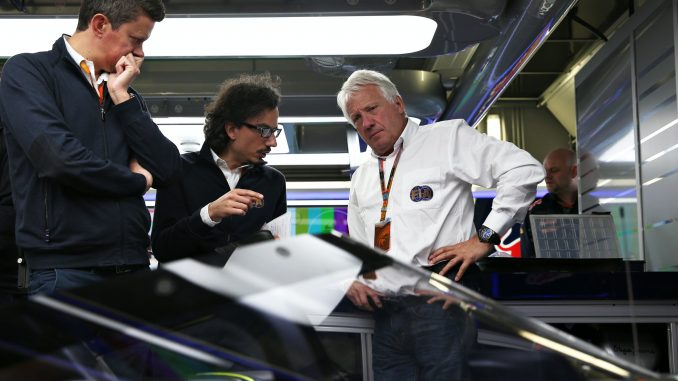 Formula 1 made a sad announcement this morning, less than a day before the first practice session of the season gets underway. Race Director Charlie Whiting has died in Melbourne at the age of 66 following a pulmonary embolism.
Whiting was a well-known figure to F1 fans, having been the sport's Race Director since 1997. He started his F1 career in 1997 when he worked for Hesketh, before moving to Brabham is the 1980s, ahead of his first role for the FIA in 1988.
It is with immense sadness that I learned of Charlie Whiting's passing. He was a central & inimitable figure who embodied the ethics & spirit of motor sport. @F1 has lost a faithful friend & a charismatic ambassador. All my thoughts & those of @FIA go out to his family & friends pic.twitter.com/RhCR1M5rJL

— Jean Todt (@JeanTodt) March 14, 2019
In a statement on Formula 1's website, FIA President Jean Todt led the tributes, saying: "It is with immense sadness that I learned of Charlie's sudden passing. I have known Charlie Whiting for many years and he has been a great Race Director, a central and inimitable figure in Formula One who embodied the ethics and spirit of this fantastic sport.
"Formula 1 has lost a faithful friend and a charismatic ambassador in Charlie. All my thoughts, those of the FIA and entire motor sport community go out to his family, friends, and all Formula 1 lovers."
Toto: "Charlie was a fantastic ambassador for our sport and a true guardian of its best interests; all of us who were lucky enough to know him will miss his ready smile and gentle humour. pic.twitter.com/lwauD4dQBb

— Mercedes-AMG F1 (@MercedesAMGF1) March 14, 2019
F1's Managing Director of Motorsports, Ross Brawn, added: "I have known Charlie for all of my racing life. We worked as mechanics together, became friends and spent so much time together at race tracks across the world. I was filled with immense sadness when I heard the tragic news. I'm devastated. It is a great loss not only for me personally but also the entire Formula 1 family, the FIA and motorsport as a whole. All our thoughts go out to his family."
Very sad and surreal news ahead the Australian GP. Can't believe it..
My thoughts are with the family and friends.
He's done so much for the sport we love.

Rest in peace Charlie#VB77 https://t.co/7N3GqTz8ec

— Valtteri Bottas (@ValtteriBottas) March 14, 2019
Ferrari released a statement from Team Principal Mattia Binotto, who said: "Charlie was a true professional and extremely knowledgeable, but more than that, he was a wonderful person, who always treated everyone with respect. A tireless and enlightened motorsport expert, he helped make F1 safer and better. He was a pillar of Formula 1. Our sport is diminished by his passing and we have lost a friend. He will be greatly missed."
Among the team's to pay tribute on Twitter, McLaren said: "Charlie will be remembered as one of the giants of our sport, as well as a great colleague. Our deepest sympathies and thoughts are with all his loved ones," while Williams said: "Charlie was a true legend of the sport and will be greatly missed."
Horrible news from Melbourne. All my thoughts goes to Charlie's family.
The motorsport world will miss you.
R.I.P. pic.twitter.com/zrKIpChFFA

— Charles Leclerc (@Charles_Leclerc) March 14, 2019
Shortly after the news was announced, the FIA's drivers press conference got underway, with those in attendance adding their condolences. Lewis Hamilton told the gathered reporters: "Obviously incredibly shocked this morning to hear the sad news and my thoughts and prayers are with him and his family. What he did for this sport, I mean, his commitment… he really was a pillar, as Toto said, such an iconic figure in the sporting world and he contributed so much for us, so may he rest in peace."
Sebastian Vettel added: "Well I guess I was as shocked as we all are still now, when I head the news this morning, especially because I spoke to him yesterday and walked the track for the first couple of corners together with him. Difficult to grasp when somebody is just not there anymore. To add to what Lewis said. I've known him for a long time and he's sort of been our man, the driver's man. Obviously there are regulations and all that and then there is us and he was the middleman. He was someone you could ask anything of, anytime. He was open to everyone at any time. His door was always open. He was a racer. He was just a very nice guy."
Deeply saddened about Charlie's passing. I always enjoyed a racing discussion with one of the most outstanding professionals in our sport. He will be very missed. All my sympathies with his family and friends. pic.twitter.com/OXUVESdgnc

— Carlos Sainz (@Carlossainz55) March 14, 2019
Daniel Ricciardo said: "I echo everything. Not the nicest news to walk into. Taken aback by it, for sure. I'll try to make it slightly more positive. As Seb said, he was there for us, and we gave him a hard time. We would really press him and push him and make him work, but he was always really receptive and you always felt like he was on our side. I guess we were like a broken record with a lot of the things we would complain about but he never really shut it down. He was always ears open. I think he did a lot for the sport. We'll have some very nice and positive memories of him."
RIP Charlie Whiting.