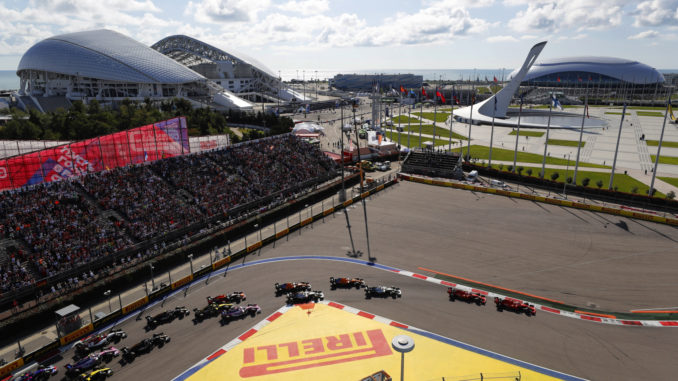 Mercedes were victorious for the sixth time in six editions of the Russian Grand Prix at Sochi Autodrom as Lewis Hamilton came out on top in the 16th race of the 2019 season.
Ferrari looked set for the win with Charles Leclerc starting from pole and Sebastian Vettel taking an early lead, but mechanical issues and a poorly-timed safety car cost the Italian team.
Valtteri Bottas joined his teammate on the podium, while Leclerc completed the top three.
3 Legs 4 Wheels looks at the drivers' reactions following the race:
Lewis Hamilton – 1st (Mercedes):
"This win feels like it has been a long time coming and it was just an incredible job from the whole team: never giving up, pushing forward, always trying to be innovative. It's incredibly inspiring to be part of that and amazing to have this result today considering how quick the Ferraris were in that opening stint. It was a really hard task to keep up with them, especially on the offset tyre, but we kept pushing and the car felt really good today. We thought that their soft tyres would drop off during that opening stint, but they had such good pace that I was struggling to keep up with them – and that's probably a little warning for us, because it looked like they got their calculations right in that regard.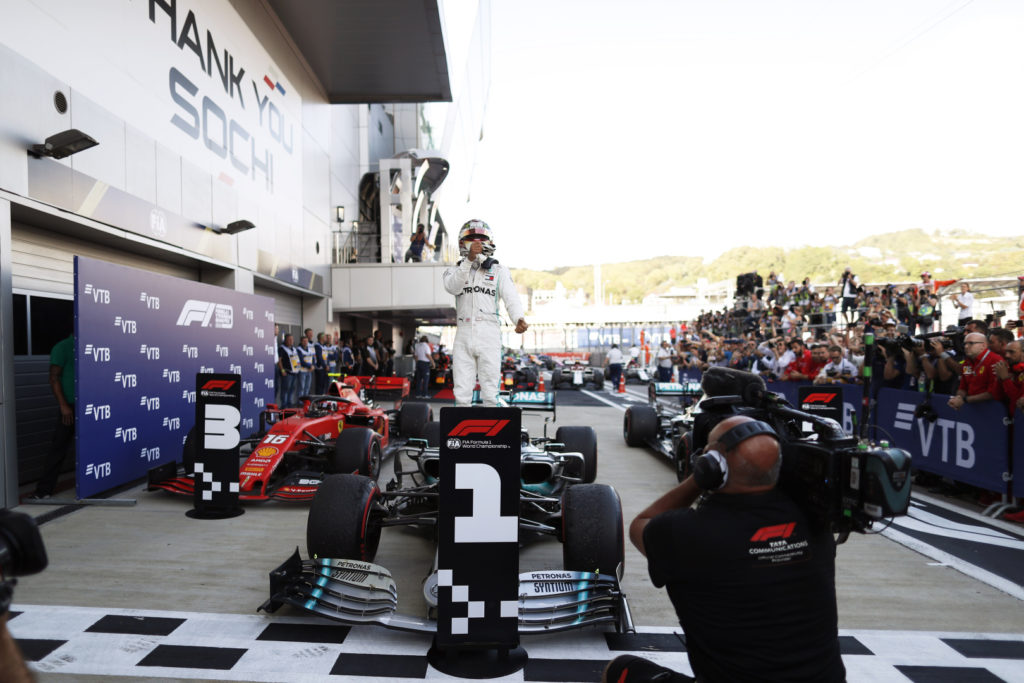 "I managed to stay within shooting distance, though, and started closing down the gap as their tyres started to drop. Charles pitted, then I started catching Seb, and we were in a good position to offset and go long – even had the Safety Car not come out, it would have been a really good race. Then everything fell our way, and after that it was a question of building the gap, saving the tyres but also getting to the finish as smoothly as possible. Looking ahead, of course the races are counting down but we are just trying to take things one race at a time, put one foot in front of the other and not stumble. When you have a battle like this, you're working flat out, turning over every stone and questioning every little thing you can do better. We love that challenge and I'm really excited for the next races."
Valtteri Bottas – 2nd (Mercedes):
"It's been a while since we last had a 1-2 and it feels really good to stand up there on the podium together again. It's really encouraging and motivating for the entire team. We knew a 1-2 would be tricky to achieve, but possible, so we spoke about all the different strategies that would give us a chance this morning. and I think we did a really good job as a team today. It's a really good result if you think about how much we were struggling yesterday. Ferrari had a quick car all weekend long, I think they were quicker as well today, so to walk away with a 1-2 means that we did a great job as a team in all other areas. I lost quite a bit of time when I was stuck behind Sainz in the beginning and I was also struggling to match the times on the Medium tyres, but it was a lot better in the second stint on the Soft tyres. I was under a bit of pressure after the Safety Car restart, but it was all under control. Ferrari has made some good improvements in the past few weeks, so we know that we need to keep pushing for Japan, but I'm looking forward to the challenge."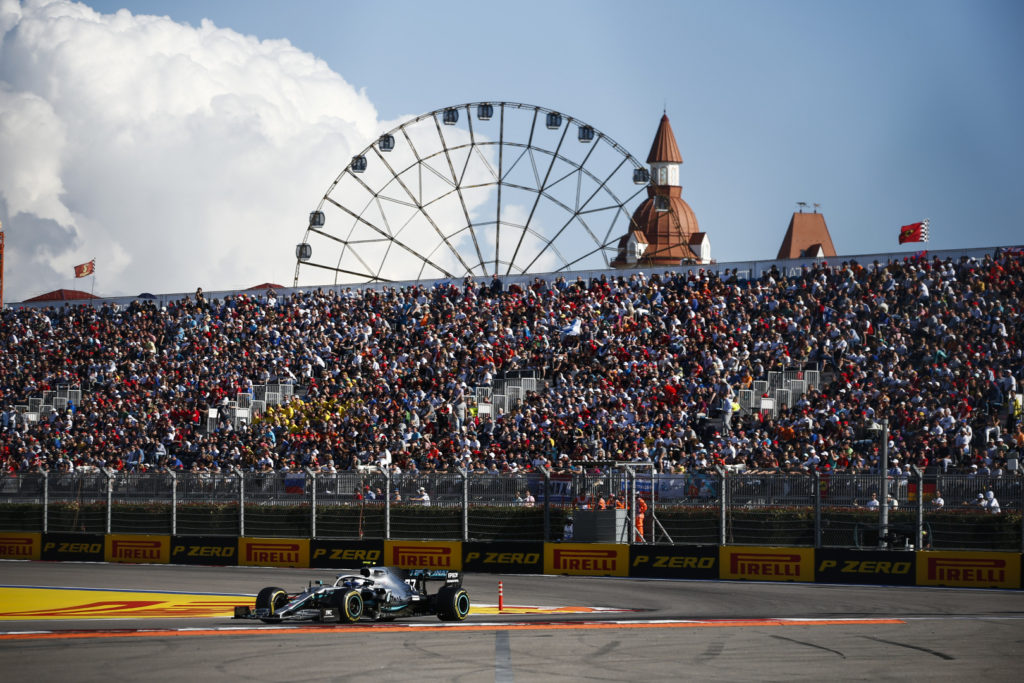 Toto Wolff – Team Principal (Mercedes):
"Today is one of those races that go to show the points are won on Sunday and not on Saturday – and that, most of all, you can never give up. We managed to take a one-two finish today even though we didn't have the quickest package and that is a very special feeling. We started on the Medium tyre and one of the reasons we did that was to have the flexibility to stretch the opening stint – both to take advantage of a possible Safety Car after Ferrari had pitted, but also to have the option of using the Soft in the final stint. So we were running it long, hanging it out there a bit and then the race came right towards us with the VSC for Vettel's failure. Both of our drivers did a fantastic job today: Lewis was relentless, keeping the pressure on and holding onto the Ferraris in the opening stint, then able to manage things well after the stop. As for Valtteri, we saw two years ago that he knows his way around this track with a Ferrari breathing down his neck, and he didn't put a foot wrong this afternoon even with huge pressure from Leclerc. But even in the joy of this win, we must not lose sight of the fact that we didn't have the best package here this weekend. We have some updates to come in Suzuka, but most of all we need to put our heads together over the coming days and understand how to maximise our package in Japan, so that we extract every bit of potential from it and come back stronger."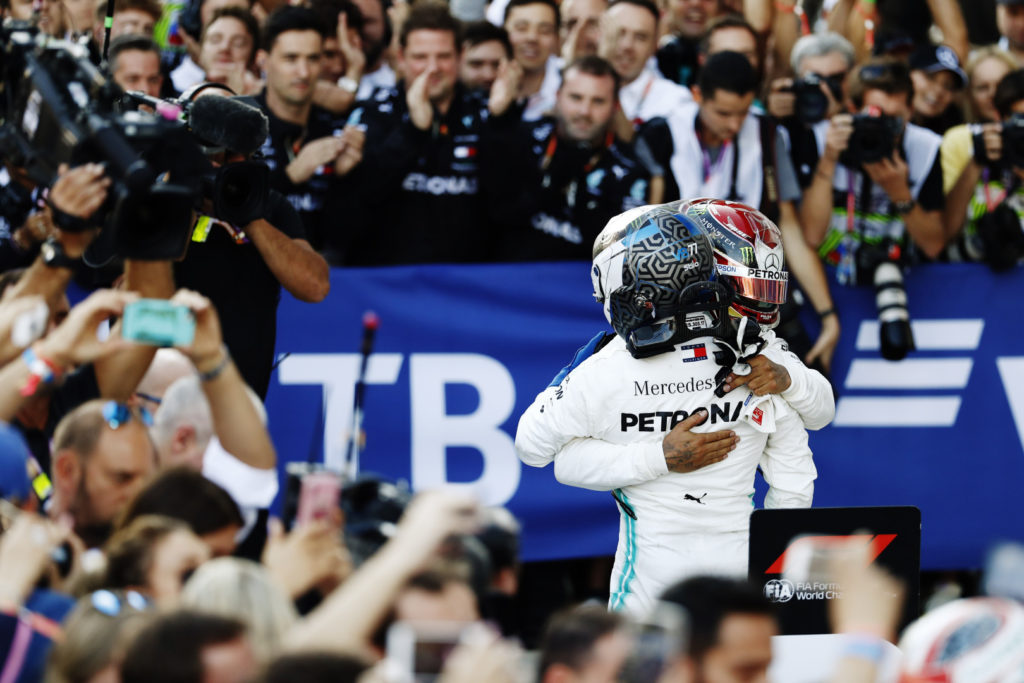 Charles Leclerc – 3rd (Ferrari):
"It was a tricky race. I think that we had a good strategy to give us the best result as a team. At the start of the race, I gave Sebastian a tow so that we could race at the front and get ahead of our competitors together. Then, after the safety car, things became a bit more complicated and we aimed to find the right timing to swap positions, which we did when Seb pitted. Unfortunately, there was an issue on Seb's car and he had to end the race early. From that point on it just didn't go our way anymore and it was not possible for me to overtake the two cars in front. After we had such a strong weekend, ending the race with one car in P3 and the other retired is not the best feeling. But we are confident of our potential and will head into the next races with determination and give our all to bring home the best possible results."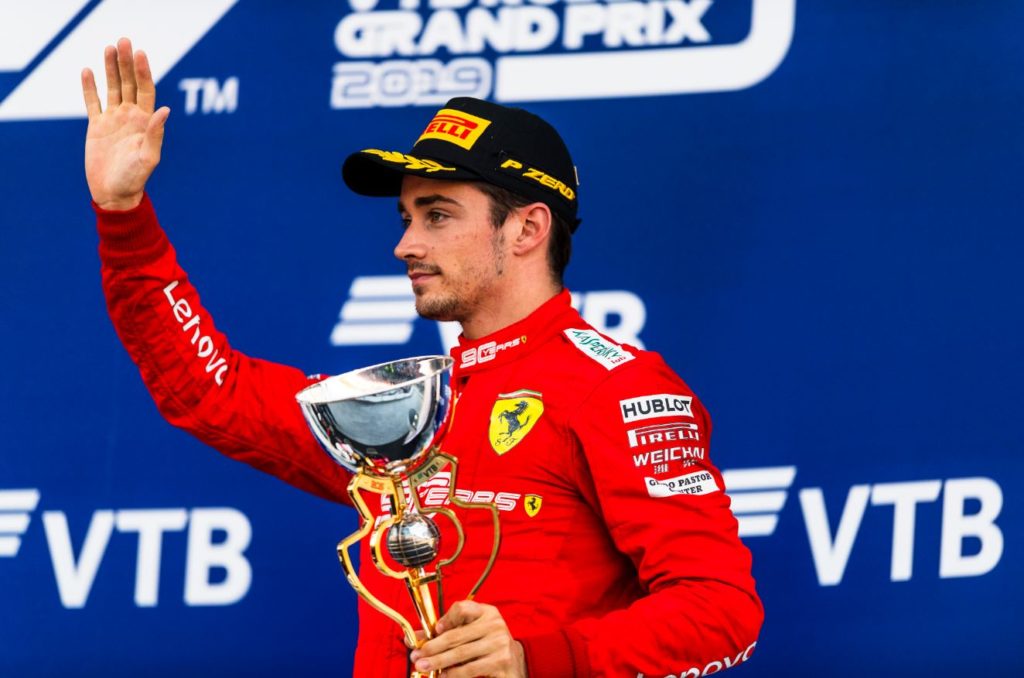 Max Verstappen – 4th (Red Bull):
"I think P4 was the best possible result today and we had a little bit of luck with Seb retiring, but I'm satisfied with the points we scored considering the penalties and pace of Ferrari and Mercedes. There wasn't too much going on for me once I cleared the mid-field traffic and from there I had a bit of a lonely race until the Safety Car closed us all up. We were clearly a bit slower than the top three today but at the end of the race it was also more difficult being on the medium compound tyre when the others were on the soft. For sure we maximised the result but of course we want to be scoring more podiums and victories so we still have work to do as the others are very strong. Now I'm looking forward to Suzuka and we want to do the best we can for all the Japanese fans at Honda's home race."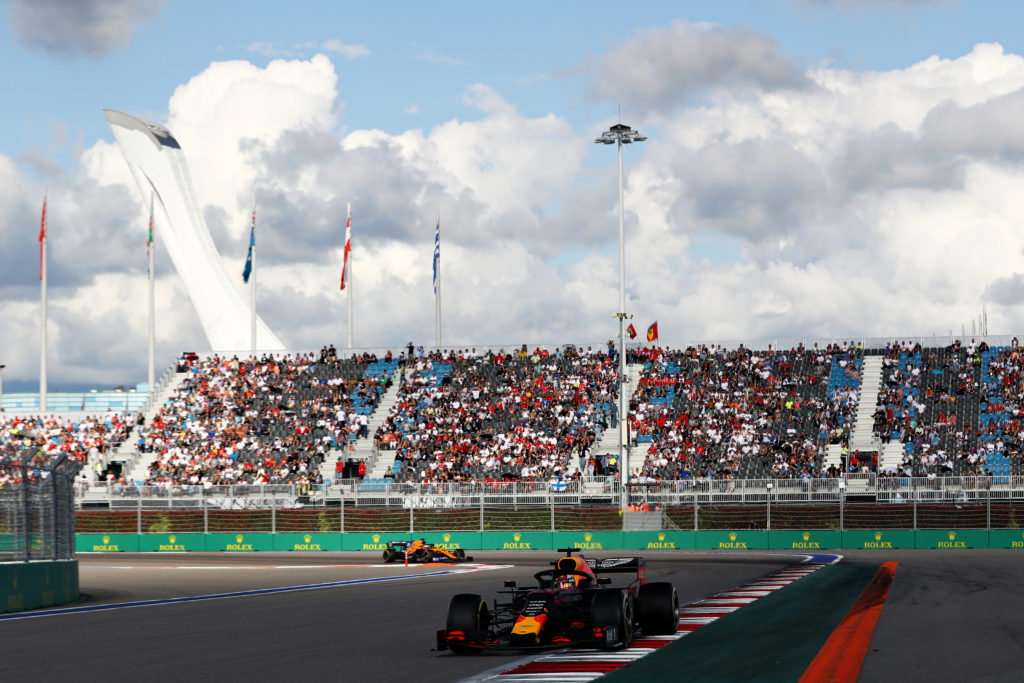 Mattia Binotto – Team Principal (Ferrari):
"We are disappointed because we did not do a perfect job today. To win, you need reliability and today we didn't have it. Unfortunately, it's not the first time this season that's been the case. Before the race, as always, we spoke with the drivers and we asked Charles to give Seb a tow, because that would be the best way for him to get ahead of Hamilton and for the two of them to be first and second come the end of the opening lap. In fact, Seb got a fantastic start, which allowed him to pass Hamilton even before the entry to the corner. Seb was very quick today and I am very happy with the way he drove. I have said it many times before, his strong point is the race and he proved that, running at a great pace. It was a real shame we had to tell him to stop. We asked him to park the car at that point for safety reasons, which obviously takes precedence over everything else. It's not the result we were hoping for, but after today, we are even more prepared for the fight. Our car is strong, as is the team and we are ready to give our all in the coming races."
Alexander Albon – 5th (Red Bull):
"It was a good race and I think P5 is the best we could have done. I wanted to bounce back and get a good result after yesterday's crash so I'm really happy with how the race went, although we probably got a bit lucky with the Safety Car. Morale was obviously a little bit low on Saturday night and it was a lot of work for the Team so this result is for them. Starting from the pit lane was never going to be easy but the pace was quite strong on the softs and it was a good haul of points. I started out of position and had some fun coming back through the field, but I don't want all of my races to be like that. I like boring races too so I'm hoping for a cleaner and smoother weekend in Japan. In the first stint I was struggling to get past Daniil and Pierre and it took me a long time. The downforce loss is immense when you're following in a train of cars which I think is because the track is designed a bit like a street circuit. Up to the race it had been a tough weekend but I'm getting more comfortable. I just need to get up to speed and in a rhythm earlier on in the weekend, but that will come with more laps and time in the car. With the exception of Abu Dhabi, all of the remaining tracks will be new for me so Suzuka will be difficult, but I like new tracks."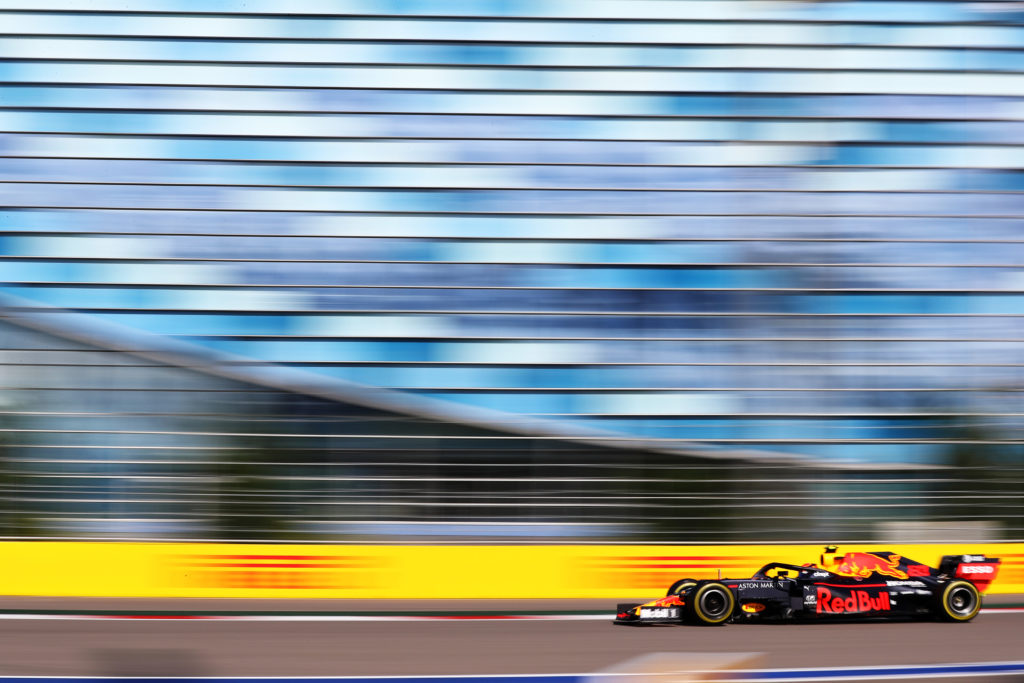 Christian Horner – Team Principal (Red Bull):
"It was a good performance from both of our drivers today. For Max, P4 was the maximum on the table having started from P9 and he made some great moves early in the race to move up the order. His pace at the end of the race was respectable but not quite enough to challenge the top three. Meanwhile Alex, who started from the pit lane, performed well to make his way through the field, making some great overtakes in what was another mature drive. To finish up in P5 was an impressive race from him and fourth and fifth was probably the maximum achievable for us today. We now look forward to the Japanese Grand Prix, Honda's home race."
Sebastian Vettel – DNF (Ferrari):
"Today, we are very disheartened. We wanted to finish first and second, but all we got was a third place. It's not the result we were hoping for. I got a good start and the first stint was pretty quick which allowed me to open up quite a gap. After the pit stop, I rejoined in second place but shortly afterwards the team asked me to stop the car because there was a problem with a hybrid component on my Power Unit. I hope the engine will be okay for the coming races. It has definitely been not our day today."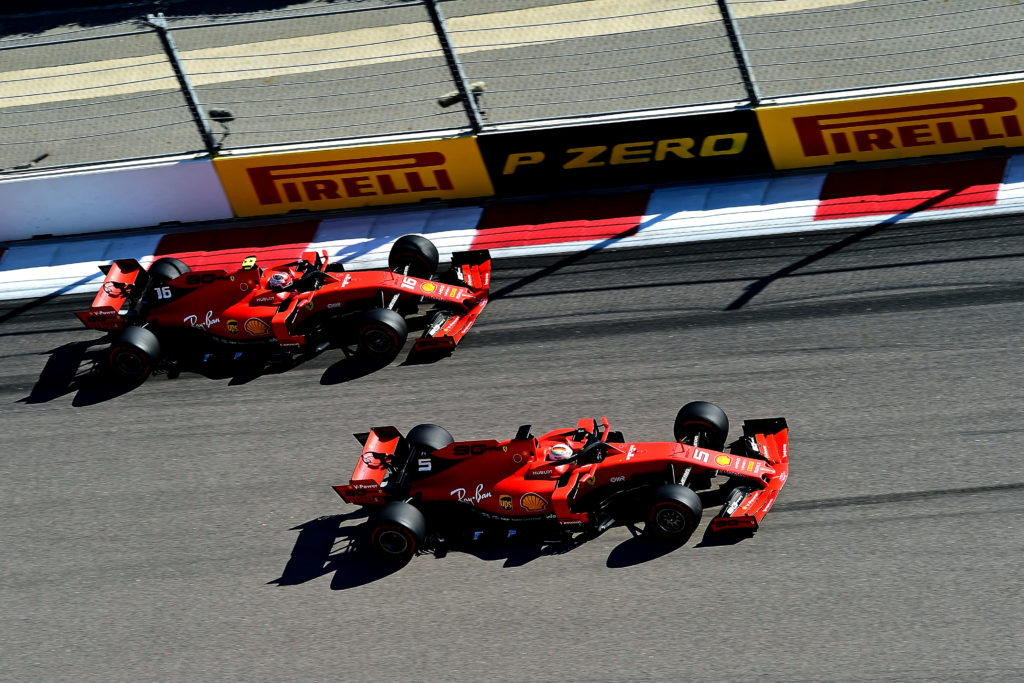 Carlos Sainz – 6th (McLaren):
"Very good race. A great start and a very solid execution from everyone today. It was great to fight the Mercedes into Turn Two, which was one of my targets today. From then on I could control the race and I had good pace all the way through, even though it was impossible to hold both Red Bulls. This was not an easy weekend for us, but we managed to put it together and take another best of the rest finish. Great performance from the whole team and double points again. Congratulations."
Smooth operation and back to where we deserve! Solid P6. Felt nice to fight boths Mercs at the start and both Red Bulls later, but we lacked a bit of pace to hold them off. Happy with best of the rest again though. Great job everyone. Another double points finish for the team 💪🏻 pic.twitter.com/PsPsmGeRgu

— Carlos Sainz (@Carlossainz55) September 29, 2019
Sergio Perez – 7th (Racing Point):
"It was a very good race for us today. I'm very pleased with how we maximised the result. I think it's been one of my greatest races that I can remember. We had a good start and great management throughout the stints, knowing when to fight and when to hold back, and that made a huge difference. We were unlucky with the timing of the Safety Car, but we recovered and we took every single opportunity. Since the summer break we've been on it and we've been scoring some important points. We worked hard for it today and we couldn't have done any better."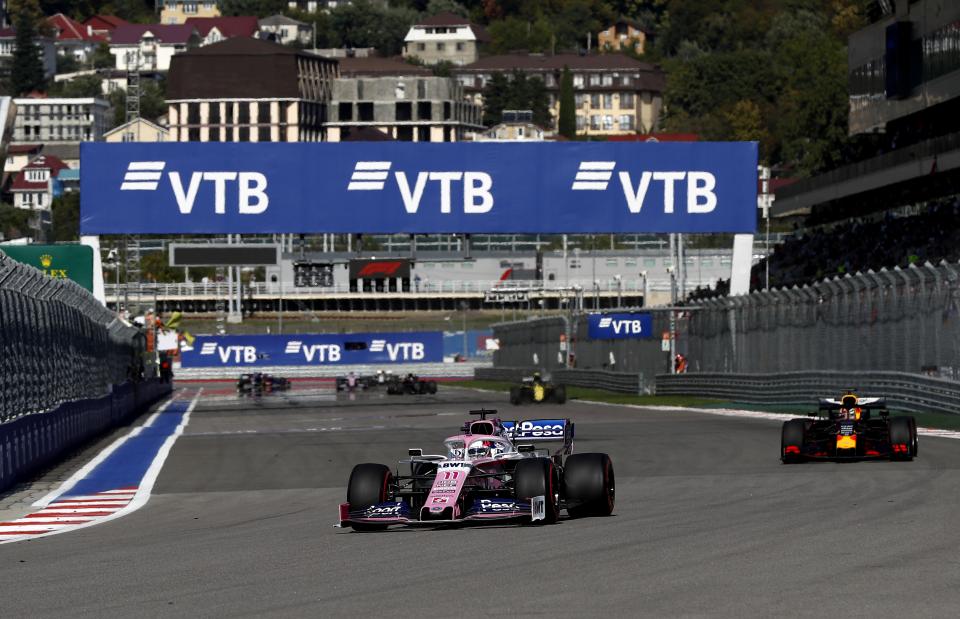 Lando Norris – 8th (McLaren):
"Today has been a positive day for the team with good points. Carlos and I both made good starts and gained positions. My first stint was reasonably good with decent pace, but then the VSC after my pit-stop shook things up. Cars came out of the pits from the VSC who were slower, preventing me from pushing as much as I wanted to, and then I was vulnerable to cars behind on fresher tyres. It was tough to keep the Renault and Racing Point behind. But overall a good weekend with more points for the team, a good reward for their hard work."
Andreas Seidl – Team Principal (McLaren):
"Today we got back to having two cars finishing in the points. It's a great team achievement particularly because everyone around us benefitted from the Virtual Safety Car and Safety Car at our expense. These 12 points are crucial in our ongoing battle to secure fourth position in the Constructors' Championship. Both Carlos and Lando did a great job today. They made excellent starts and put up a great fight throughout the race. It was also important that we had two solid pit-stops helping to contribute to today's results. We had a difficult Friday, but with support from home, the team managed to turn it around. We now look forward to Japan having scored over 100 points in the Constructors' Championship for the first time since 2014."
💯 👊💥

Thanks to today's results, we move onto 101 points in the Constructor Standings. #RussianGP 🇷🇺 pic.twitter.com/5mDoJC9kXq

— McLaren (@McLarenF1) September 29, 2019
Kevin Magnussen – 9th* (Haas):
"I think it's been a positive weekend in terms of our pace. In qualifying yesterday, it looked very good. I made a mistake unfortunately in Q2 and didn't go through to Q3, the car had been perfect. Today we had good pace again. I made a good start, gained a few positions, had a good first stint followed by a decent second stint, then I lost a few spots at the end and got a stupid penalty. That's how it is I guess. I had lost the position to Perez, lost a load of time, I had dirt on my tires, I'd already lost enough time. Then I get the penalty. I think though, I can speak for the whole team to say it's been a great relief this weekend to be in contention from the beginning. It's been a great job from the whole team to keep their heads up."
*Magnussen crossed the line 8th but had a 5-second time penalty for leaving the track and gaining an advantage, dropping him behind Norris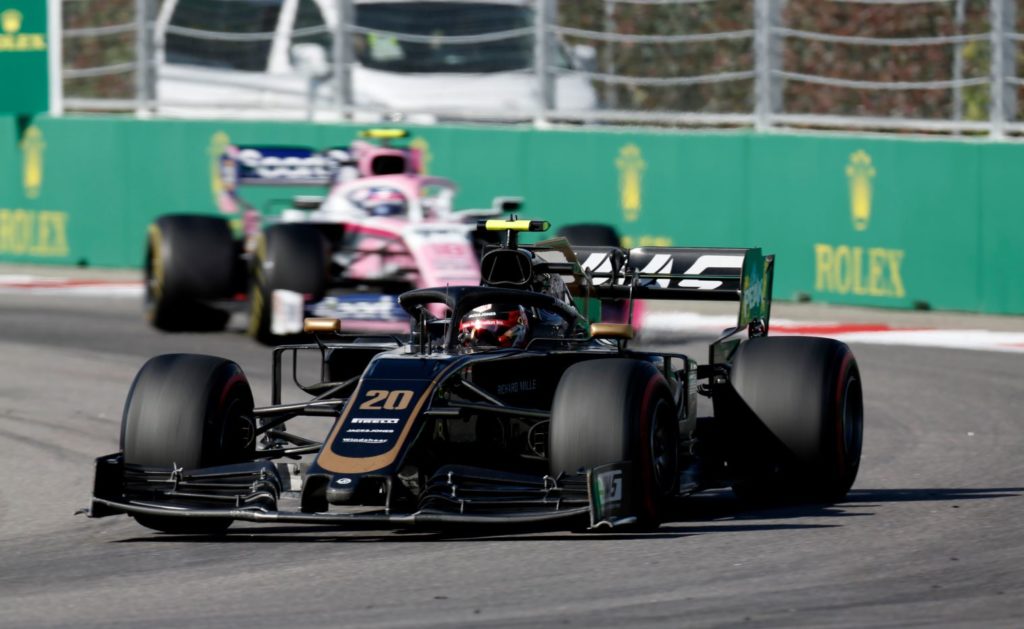 Nico Hulkenberg – 10th (Renault):
"It was a frustrating race as the car deserved to be better than tenth. Everything that could go wrong seemed to go wrong today: a poor start, a slow pit-stop and an unfortunate VSC timing. It's disappointing as the potential was there for a better result. I felt comfortable in the car all weekend, and it had been fairly solid, so to leave with one point is a little frustrating. The midfield is bunched up and it's going to be like that for the rest of the season. It'll be nip and tuck throughout and we need to ensure we're getting the maximum from races."
P10 in a bloody race 😬😤 !
It didn't really go our way today.. a poor start, a slow pit-stop and an unfortunate VSC timing.. Nevertheless, we scored points 4x in a row 💪🏼 Suzuka next! 👊🏼 #F1 #RussianGP

📸 @glenn_dunbar / @motorsportpics1 pic.twitter.com/FARtVj0JrX

— Nico Hülkenberg (@HulkHulkenberg) September 29, 2019
Otmar Szafnauer – Team Principal & CEO (Racing Point):
"We raced well today, making the most of the race circumstances, and splitting the tyre strategies across the cars. Strong opening laps from Sergio and Lance helped our cause, but the mid-race Safety Car kept the pack close together and allowed some of our competitors to make a second stop for fresher tyres – Hulkenberg, for example. The timing was not ideal for either car, especially Lance. We showed good pace over the final 20 laps with Sergio overtaking Magnussen for seventh place and Lance battling with Norris and Hulkenberg over the final points. It's a shame to miss out on getting both cars in the points, but given how the race unfolded, we welcome the additional six championship points."
Lance Stroll – 11th (Racing Point):
"It was a tough race today and to finish just outside the points is really frustrating. I spent a lot of time in traffic and I wasn't really happy with the balance of the car. I struggled to keep the tyres under control throughout and we were sliding the rears a lot – and that cost me at the restart when I got overtaken by Hulkenberg. The car was more competitive this weekend so there are plenty of positives to take away, but we just have to keep it going until the end of the season."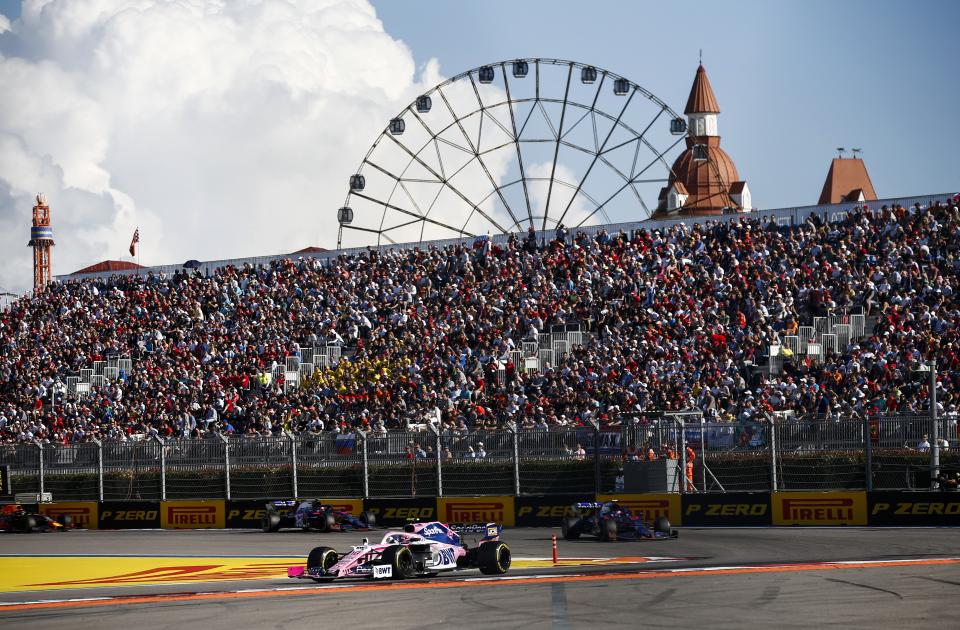 Cyril Abiteboul – Team Principal (Renault):
"Today's result is frustrating. Since the summer break, we've been strong in qualifying with both cars in the top ten. But, in three races out of four, things haven't gone our way and that was the case again today. The lap one collision forced Daniel to retire with damage, while Nico's race was compromised by a slow first-stop and an unfortunate VSC where he lost places with cars ahead able to pit under it. Once again, it's easy to blame various circumstances, but it would be too easy to rely on that. We simply need to do a better job and offer our drivers even better starting positions and straightforward races. The car has the pace, we need to focus ourselves on achieving that."
Daniil Kvyat – 12th (Toro Rosso):
"I had a strong and competitive race today. It was a good effort from the team to start from the back of the grid and finish very close to the points. I had a good start and some enjoyable battles, I was really fighting until the very last lap, so I'm happy with my race. It was a good Sunday in the end, especially considering the problems we had in the previous days. It's just a shame not to get the reward…the team would have deserved it."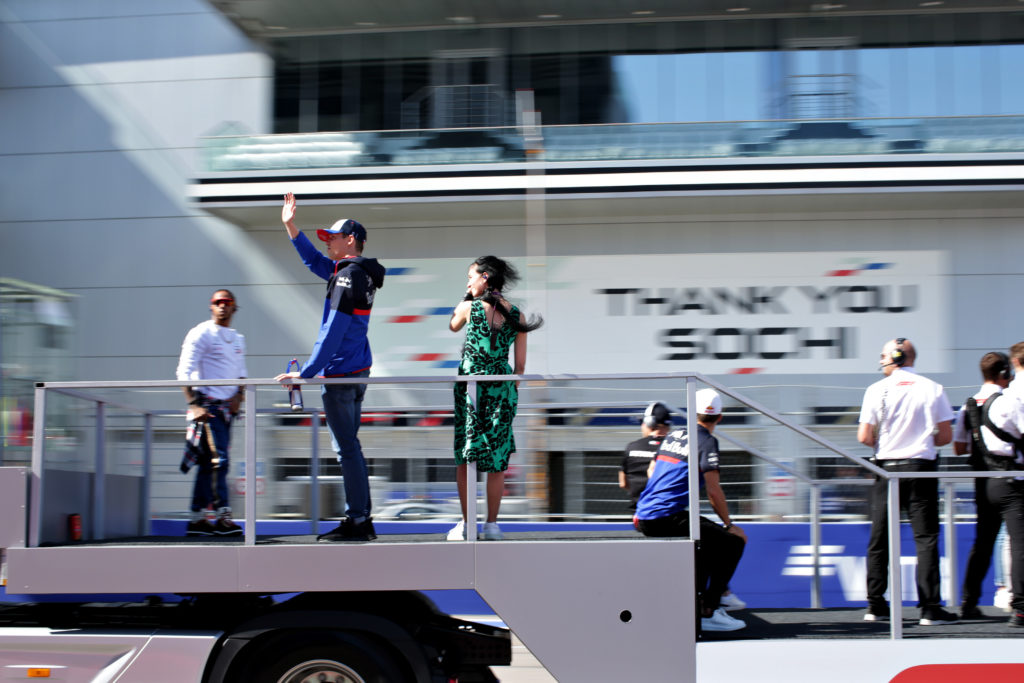 Kimi Raikkonen – 13th (Alfa Romeo):
"It was a very difficult race from the start. I jumped the lights and from that point we knew a penalty was coming. We tried our best and closed the gap with the rest of the field thanks to the Safety Car, but in the end we couldn't make up any more places than P13. The last four races have been very difficult for us, so we have to understand what has gone wrong and try to improve on it. We looked really strong in Spa, so the potential is there: we just have to get back to that level."
Pierre Gasly – 14th (Toro Rosso):
"It was a pretty challenging day for us. We didn't have the pace to fight for points today, I tried to do everything I could inside the cockpit but there wasn't much we could do. I had a good fight with Dany as you always have to try to fight for positions. At the time, I was pushing for P12, a position that allows you to think that something can always happen in front of you and you can finish in P10. I tried to do what I could, but we didn't have enough speed, so it was a tricky day. As today we underperformed compared to what we showed earlier this weekend, we now need to analyse and understand why to come back with better pace in Suzuka."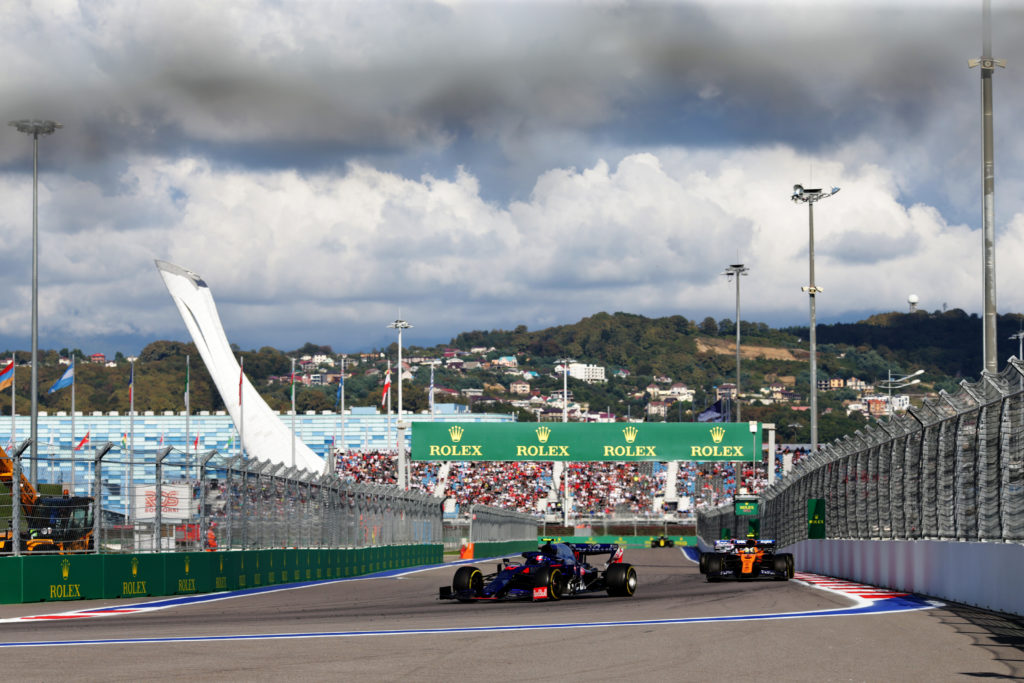 Romain Grosjean – DNF (Haas):
"There's not much to say, the footage is pretty clear. We've been working very hard all weekend, and we had a competitive car – we were going to go for points today. There was a huge amount of pressure on us to get into Q3 in qualifying yesterday, we don't know how often we'll get those chances. Obviously, our race was then ruined by turn four. I had no chance to react. It's a bit of a disappointing afternoon. It's hard to digest as I felt this was the weekend we could score. To be taken out on the first lap is very hard."
Antonio Giovinazzi – 15th (Alfa Romeo):
"It was definitely not the kind of race I was hoping for but it is what it is. I got stuck in the middle between Ricciardo and Grosjean on lap one: I don't know if Daniel knew I had Romain on the outside, but I ended up like in a sandwich. I tried to lift off and avoid contact, but that wasn't enough and we touched. We'll need to check if there was any further damage as it was quite a big hit and the car didn't really feel right afterwards."
Sapevamo che sarebbe potuta finire diversamente, ma il contatto iniziale ha compromesso la gara.
Credo che l'unica cosa da fare ora, sia mettere da parte l'energia e tornare in pista tra due settimane a scaricarla.#RussianGP 🇷🇺 🔜#JapanGP 🇯🇵 #Formula1 #F1 #AG99 pic.twitter.com/8GRWVuj0ty

— Antonio Giovinazzi (@Anto_Giovinazzi) September 29, 2019
Daniel Ricciardo – DNF (Renault):
"Unfortunately, our race was pretty much over from the start. I had too much damage on the car to carry on, which is a shame. It was a bit chaotic through Turn 2 and I had the inside line for Turn 4 where I thought I was safe. I got hit and had a puncture and damage to the floor. I'll look at it with the perspective that if I qualify higher up the grid then I'm less likely to be in the bad stuff. I'll take responsibility for that, but in terms of the accident, I was just a passenger."
Frederic Vasseur – Team Principal (Alfa Romeo):
"Unfortunately, this was another race that was compromised in the opening lap. Antonio made a good start and looked set to gain some places, but he found himself squeezed between Grosjean and Ricciardo. There was nothing he could do to avoid contact and sadly this damaged the car. We pitted Antonio for hards and a new nose, and then later on for softs during a Safety Car period, but he was always going to struggle to make up the gap. As for Kimi, a penalty for a false start meant coming back into the point from the back of the field was a tall order. It has been a few tough races, so we need to regroup and find our groove again for the final races of the season."
George Russell – DNF (Williams):
"It was a disappointing Russian Grand Prix. The car was feeling good, and then all of sudden after the pitstop there was an issue and the next thing I knew, I was in the barrier. It was a shame for the race to end like that as we were showing some strong pace."
Not ideal… pic.twitter.com/uTFvaL3Jzv

— George Russell (@GeorgeRussell63) September 29, 2019
Robert Kubica – DNF (Williams):
"This weekend has been very disappointing. You always have to try your best with what you have, and this is what I was trying to do. After George's DNF, the team decided to stop my car, to take care of the parts that we have on the car. We are not in an easy situation and Japan is around the corner."