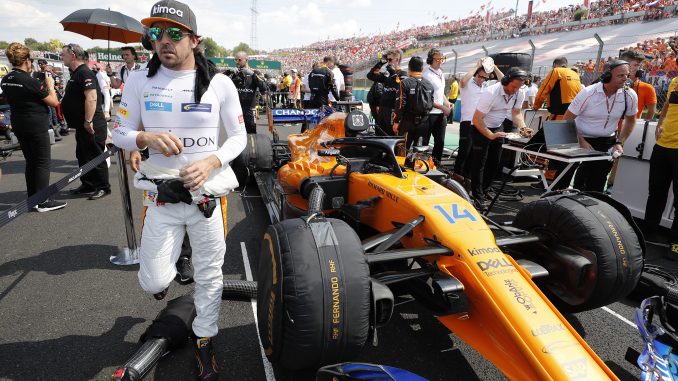 McLaren have announced that Fernando Alonso won't be racing in Formula 1 in 2019.
The team confirmed the two-time champion will be leaving the series at the end of the current campaign.
It's not yet been announced whether the Spaniard will be entering another series, such as IndyCar, or who will take his seat at the team next year.
In a statement announcing the move, McLaren Racing CEO Zak Brown said: "Fernando is not only an outstanding ambassador for McLaren but also for Formula 1. His 17 years in the sport, as arguably the pre-eminent driver of his generation and undoubtedly an F1 great, have added another layer to Formula 1's rich history.
"There is a time for everyone to make a change and Fernando has decided the end of this season to be his. We respect his decision, even if we believe he is in the finest form of his career. Our open dialogue with Fernando has meant we could plan for this eventuality. While evaluating his future during the past months, Fernando's competitiveness has been undimmed. He has continued to perform at the highest level throughout, as we know he will do in the remaining nine races of this year's championship."
Alonso added: "After 17 wonderful years in this amazing sport, it's time for me to make a change and move on. I have enjoyed every single minute of those incredible seasons and I cannot thank enough the people who have contributed to make them all so special. There are still several grands prix to go this season, and I will take part in them with more commitment and passion than ever.
"Let's see what the future brings; new exciting challenges are around the corner. I'm having one of the happiest times ever in my life but I need to go on exploring new adventures. I made this decision some months ago and it was a firm one. Nevertheless, I would like to sincerely thank Chase Carey and Liberty Media for the efforts made to change my mind and everyone who has contacted me during this time."
Alonso has been linked with a move to IndyCar in a bid to complete the Triple Crown of Motorsport, while he's also due to continue in the World Endurance Championship with Toyota until next year's 24 Hours of Le Mans.