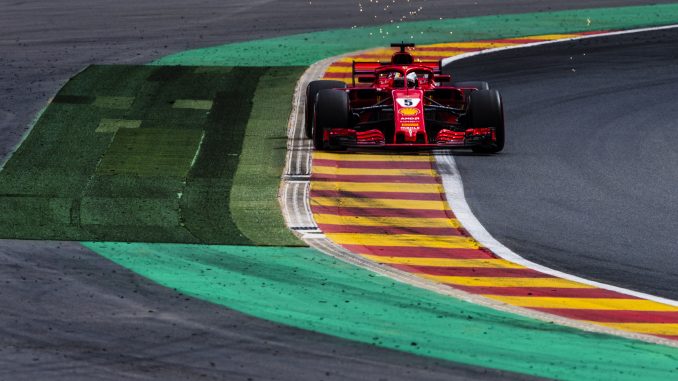 Sebastian Vettel has closed the gap to Lewis Hamilton in the drivers' championship with victory at the Belgian Grand Prix this afternoon, with Max Verstappen finishing third to complete the podium.
The safety car was out on the first lap following a huge shunt at the first corner which took three drivers out of the race. Nico Hulkenberg locked up heading into the first turn, hitting Fernando Alonso hard and forcing the Spaniard's McLaren over Charles Leclerc's Sauber, resulting in retirements for all three.
Just before the safety car came out, Vettel had time to use the slipstream from Hamilton's Mercedes to take the lead, and a slight mistake from the reigning champion on the restart ensured Vettel was able to hold onto the lead after the safety car came back into the pitlane.
Daniel Ricciardo also picked up damage in the collision and clipped Kimi Raikkonen's rear tyre, leaving the Ferrari with a puncture and damage to his rear wing. Ricciardo had to come in for a new rear and front wing on his Red Bull, which left him a couple of laps down, but he was able to rejoin the race before the safety car came in. Raikkonen tried to continue with damage, but eventually the Finn had to retire the car.
Hamilton came into the pits earlier than his championship rival in a bid to undercut the Ferrari, but Vettel did enough on his in-lap to remain in front, while Hamilton was caught up behind Max Verstappen, who had passed both Force India's to move up to third.
Valtteri Bottas started towards the back of the grid after taking new engine elements for this race, but the Mercedes driver made his way through the field to sit fifth after the pitstops. However, he pitted later than the cars around his so had fresher tyres to help him close the gap to Sergio Perez and pass the Force India with four laps left to take fourth position.
Ricciardo had returned to the race after undergoing repairs, but was unable to unlap himself with no further safety car periods, so Red Bull decided to retire the car to save engine mileage.
Marcus Ericsson and Sergey Sirotkin fought closely throughout the race, but it was the Swede who claimed the final points position, with Carlos Sainz also getting ahead of Sirotkin late on to leave the Russian still looking for his first points in F1.
Force India's double points finish ensures the team is no longer at the bottom of the team standings despite losing all their points from the first half of the season after the change in ownership.
Provisional result:
1 Sebastian Vettel (Ferrari)
2. Lewis Hamilton (Mercedes)
3. Max Verstappen (Red Bull)
4. Valtteri Bottas (Mercedes)
5. Sergio Perez (Force India)
6. Esteban Ocon (Force India)
7. Romain Grosjean (Haas)
8. Kevin Magnussen (Haas)
9. Pierre Gasly (Toro Rosso)
10. Marcus Ericsson (Sauber)
11. Carlos Sainz (Renault)
12. Sergey Sirotkin (Williams)
13. Lance Stroll (Williams)
14. Brendon Hartley (Toro Rosso)
15. Stoffel Vandoorne (McLaren)
DNF:
Daniel Ricciardo (Red Bull)
Kimi Raikkonen (Ferrari)
Charles Leclerc (Sauber)
Fernando Alonso (McLaren)
Nico Hulkenberg (Renault)