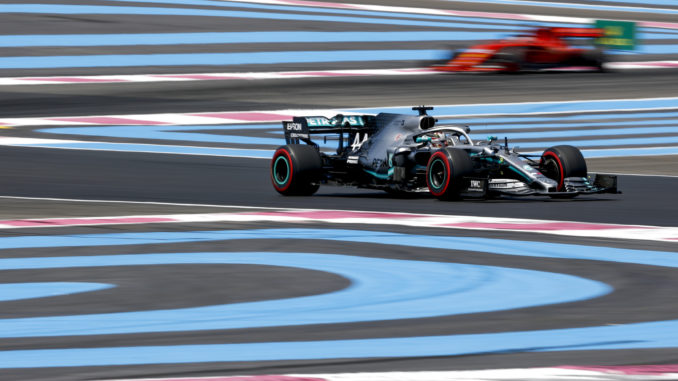 Lewis Hamilton secured a comfortable win at the French Grand Prix to extend his lead over teammate Valtteri Bottas in the drivers' championship. The Finn came in second, with Ferrari's Charles Leclerc completed the podium in a race which never really saw much threat to the top three.
Sebastian Vettel started down the order after struggling in qualifying, but soon started to move through the pack, overtaking the two McLaren drivers in the opening few laps.
Sergio Perez also climbed up the order at the start, but he gained places while running wide, resulting in a five-second time penalty for leaving the track and gaining an advantage.
Vettel stayed out longer than the rest of the front runners, attempting to close the gap to Verstappen through the overcut, but the Red Bull driver's pace was strong enough to keep the German back in fifth.
Kimi Raikkonen and Nico Hulkenberg were two drivers who started further down the order than they would have liked, both missing out on Q3 in qualifying yesterday, but the pair both put in long first stints to move into the points positions, with the Finn just staying ahead of the Renault driver after coming in a lap earlier.
McLaren's hopes of a double points finish came in to doubt in the final few laps as Lando Norris nursed the car around with a hydraulic problem. The rookie came under pressure from the Renaults and Raikkonen on the final lap, and lost out to all of them in his limping McLaren, just keeping the car ahead of Pierre Gasly to hold on for the final point.
With just six laps remaining, Romain Grosjean became the first retirement of the race as Haas instructed him to pit the car.
There was a brief virtual safety car period with three laps to go as a bollard came loose after being struck by Alexander Albon and rolled into the racing line, but the marshals were quickly able to collect it.
Vettel had a big gap back to Carlos Sainz, resulting in Ferrari bringing the four-time champion in for a second pitstop on the penultimate lap in pursuit of the fastest lap, which had been held by Bottas. Hamilton pushed hard in a bid to hold off Vettel's charge, initially improving on his teammate's time, but Vettel went quicker too set a new lap record and take the bonus point for the fastest lap.
The final result could change though, as Ricciardo's late move to get past Norris is being investigated by the stewards.
Provisional classification:
1 Lewis Hamilton (Mercedes)
2. Valtteri Bottas (Mercedes)
3. Charles Leclerc (Ferrari)
4. Max Verstappen (Red Bull)
5. Sebastian Vettel (Ferrari)
6. Carlos Sainz (McLaren)
7. Daniel Ricciardo (Renault)
8. Kimi Raikkonen (Alfa Romeo)
9. Nico Hulkenberg (Renault)
10. Lando Norris (McLaren)
11. Pierre Gasly (Red Bull)
12. Sergio Perez (Racing Point)
13. Lance Stroll (Racing Point)
14. Daniil Kvyat (Toro Rosso)
15. Alexander Albon (Toro Rosso)
16. Antonio Giovinazzi (Alfa Romeo)
17. Kevin Magnussen (Haas)
18. Robert Kubica (Williams)
19. George Russell (Williams)
DNF:
Romain Grosjean (Haas)