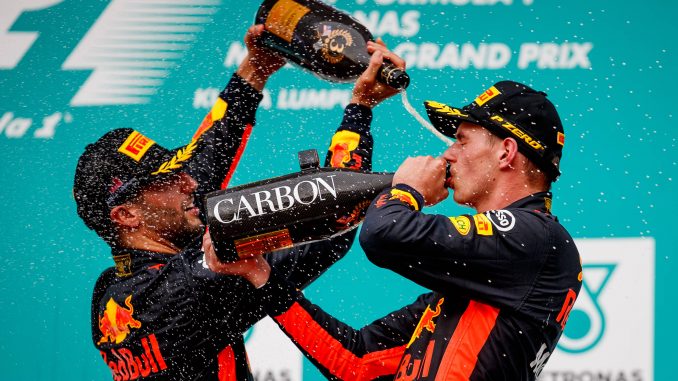 Podcast: Play in new window | Download
Subscribe: Apple Podcasts | RSS
This week on the podcast we take a look back at the best birthday present a 20 year old has ever had! Max Verstappen celebrated his birthday this weekend by taking a well-earned victory in the Malaysian Grand Prix the day after his 20th birthday (he's still too young to drink alcohol in Malaysia, but looking at the podium photo, that didn't stop him!)
There's the usual team by team review of the race and all the talking points that were thrown up from both the race and, strangely enough, the cooldown lap at the end after the coming together between Lance Stroll & Seabastian Vettel, which left the Ferrari with 3 wheels and the driver to get a lift (with his steering wheel) from a passing saUBER (sorry)
Also as it's a back to back race week, there's a bit of a preview of this weekend's Japanese Grand Prix as well at the Honda Owned Suzuka circuit. Will McLaren be an embarrassment in front of the Honda executives this weekend and what will be the changes that Ferrari have promised after slating their own engine team after both cars suffered in their last outing?
We've got the Formula Lee update as well and while Lee is still on holiday (massive thanks to Sian for filling in again) we've got another Who's Flooded Their Engine?
Thanks as always for your Tweets, Emails & Facebook messages and don't forget there's an extra show that you can get access to by pledging on our Patreon Page too.
Enjoy
As always, you can listen here or on Sticher and iTunes and most other podcast apps too along with TuneIn Radio